8 Best Braid Scissors: Snip Your Way to Fishing Success
When fishing, it's not just the reels and rods that should be of good quality to ensure an excellent angling experience. Things like braid scissors or hooks should also be top of the line to have an enjoyable excursion.
One of the most essential tools in your tackle box, braid scissors are frequently needed to set up the fishing line, change rigs, or deal with the occasional snag or tangle. That's why it's essential to invest in a sharp, decent pair that's reliable, durable, and gets the job done quickly.  
However, the long list of options available online can make it difficult to choose a unit that's just the right one for you. But with our reviews of some of the best braid scissors and an included buyer's guide, it's hard to go wrong!   
Top 8 Best Braid Scissors
With most braid scissors, it's difficult to cut the fishing line without fraying the ends. Luckily, simply choosing a good pair of braid scissors can make your fishing expedition completely hassle-free. 
A quality pair of braid scissors is worth its weight in gold. In this article, we've reviewed the top 8 braid scissors available so that you can find braid scissors that best suit your needs.
Our Top Pick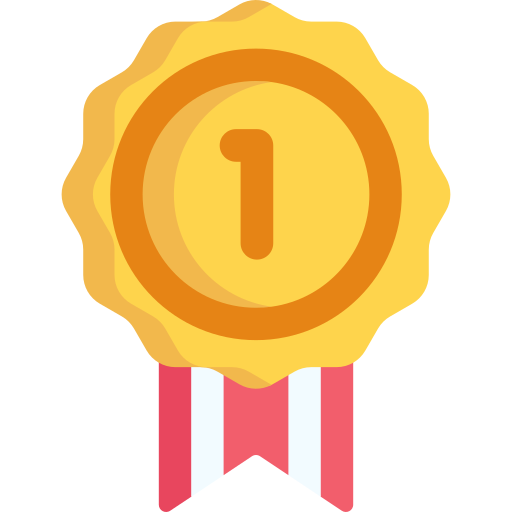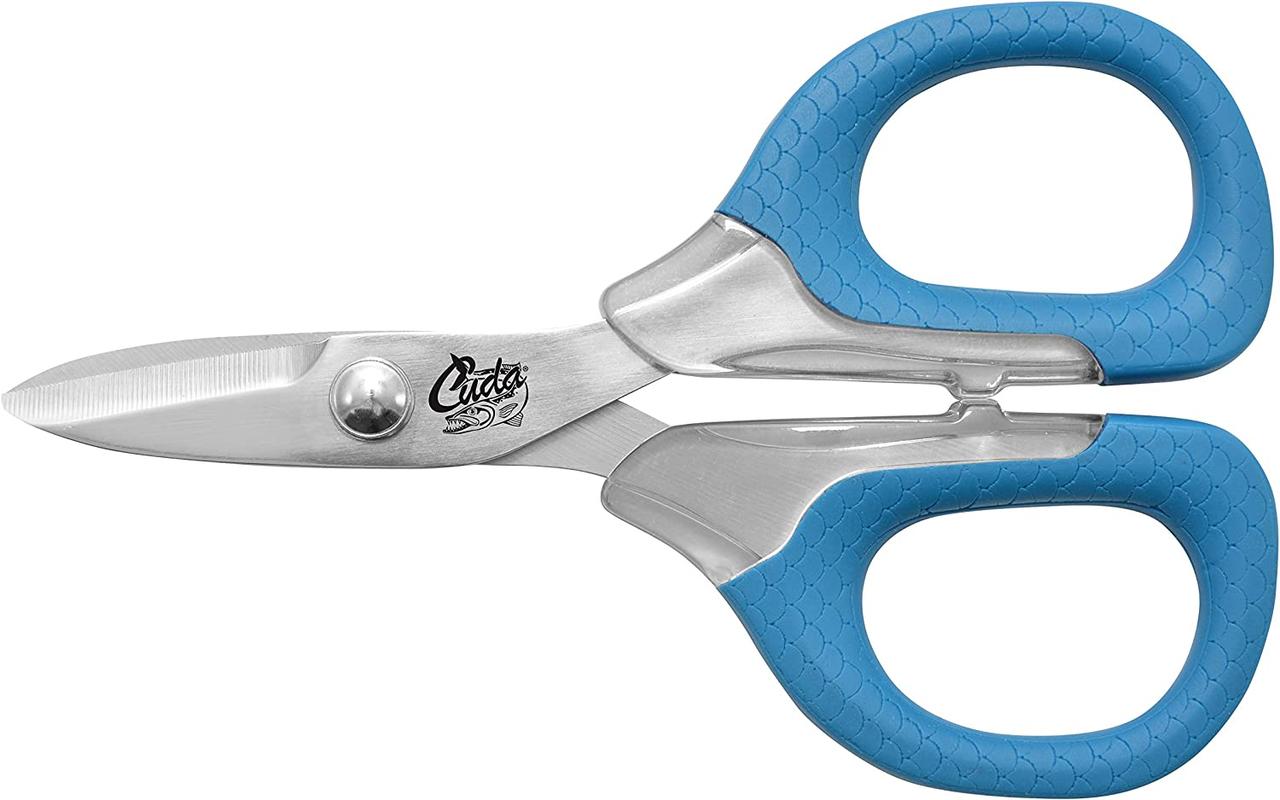 Editors Choice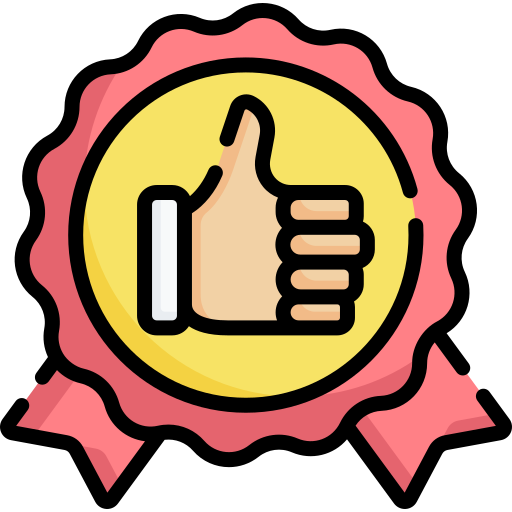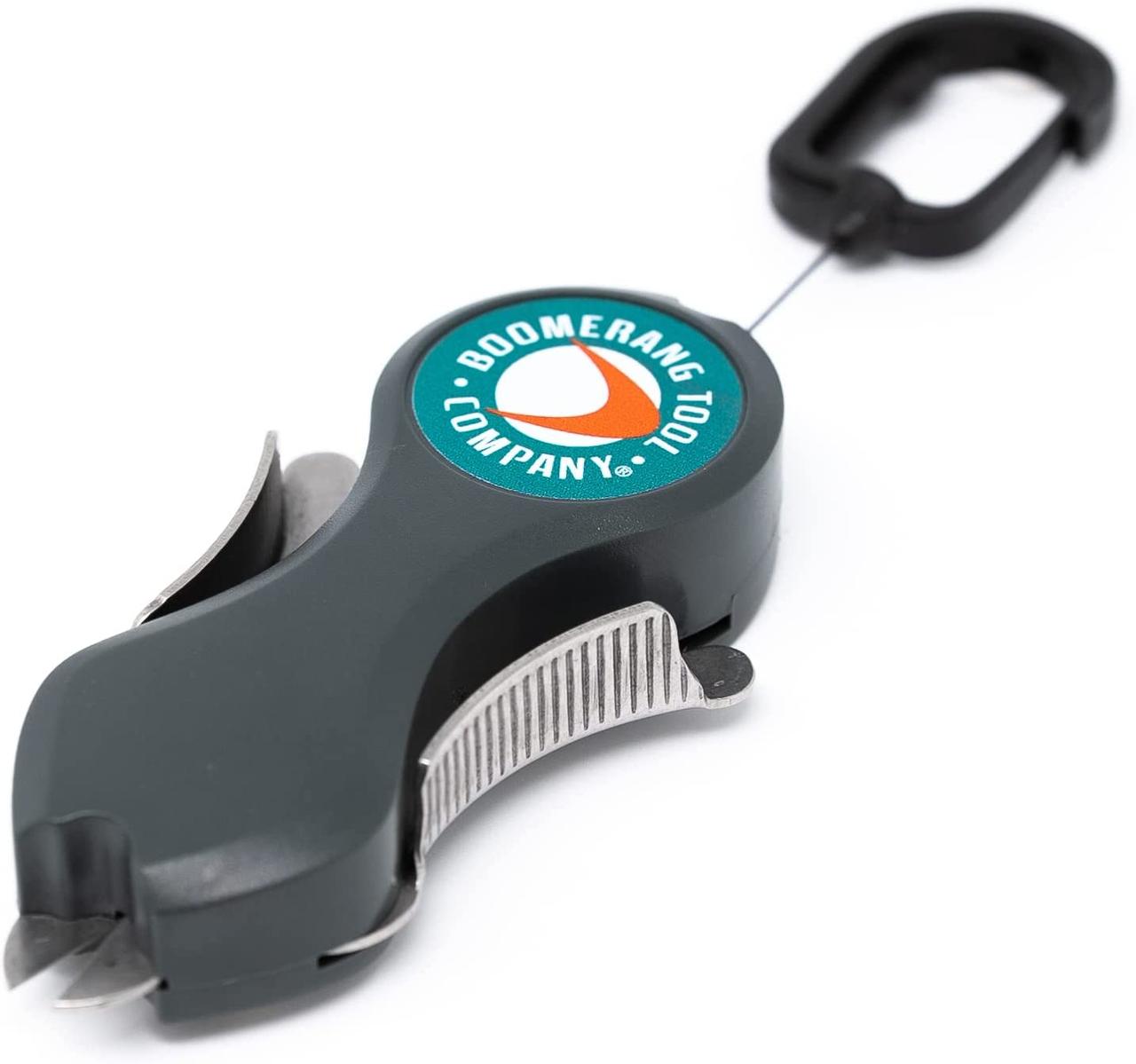 Best Value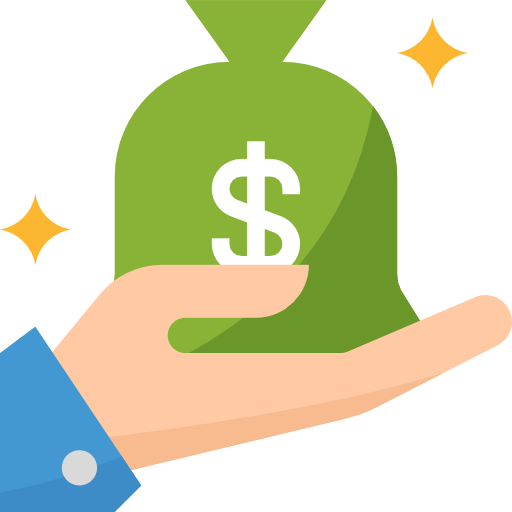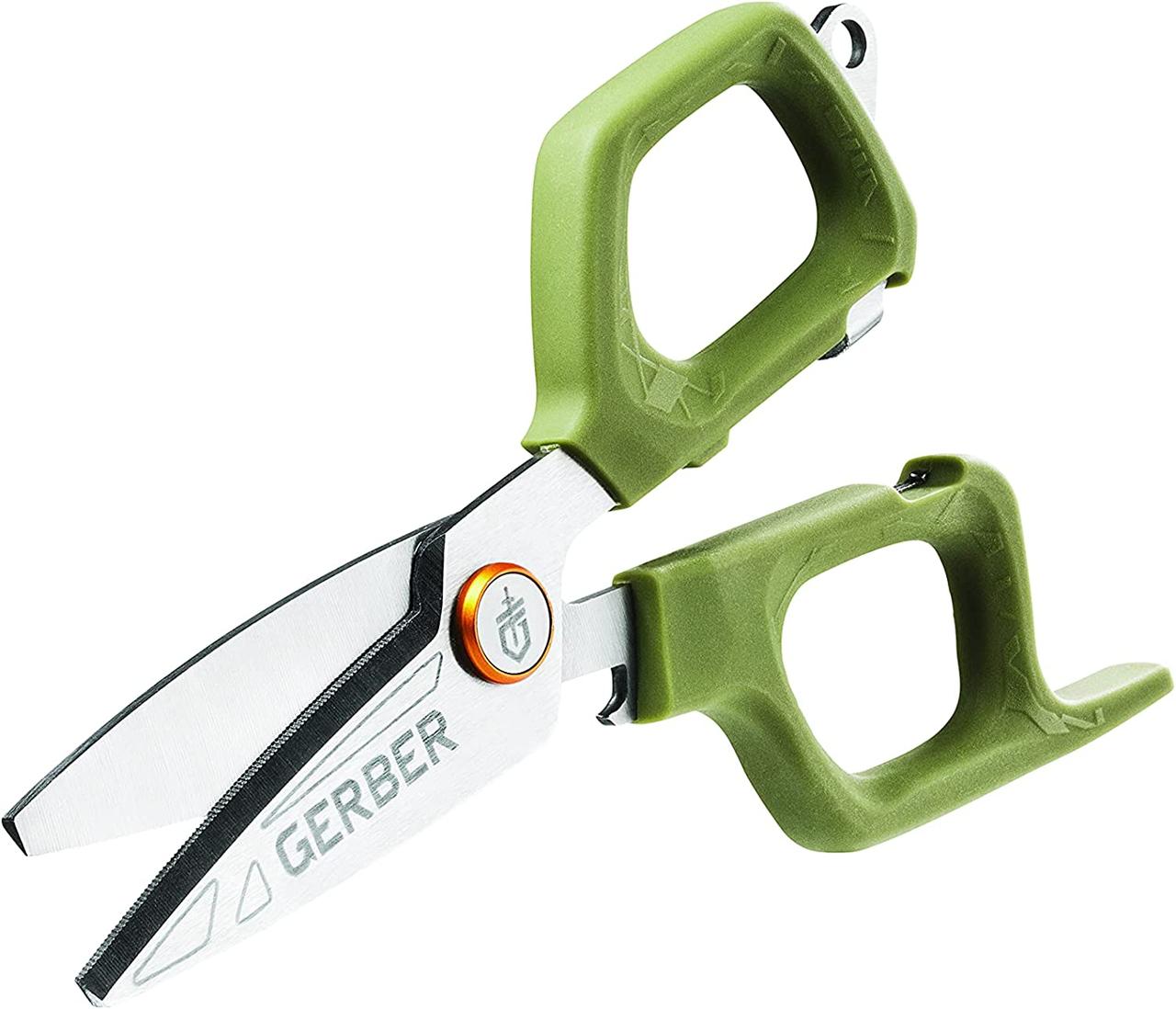 Disclosure: We only endorse products we've personally used or that have come highly recommended by our trusted peers. We're proud affiliates for some of the products on our site, and as such, we may get a small commission if you purchase through one of our referral links. However, there's no extra cost to you. Check out our affiliate disclaimer in our Privacy Policy if you'd like to learn more.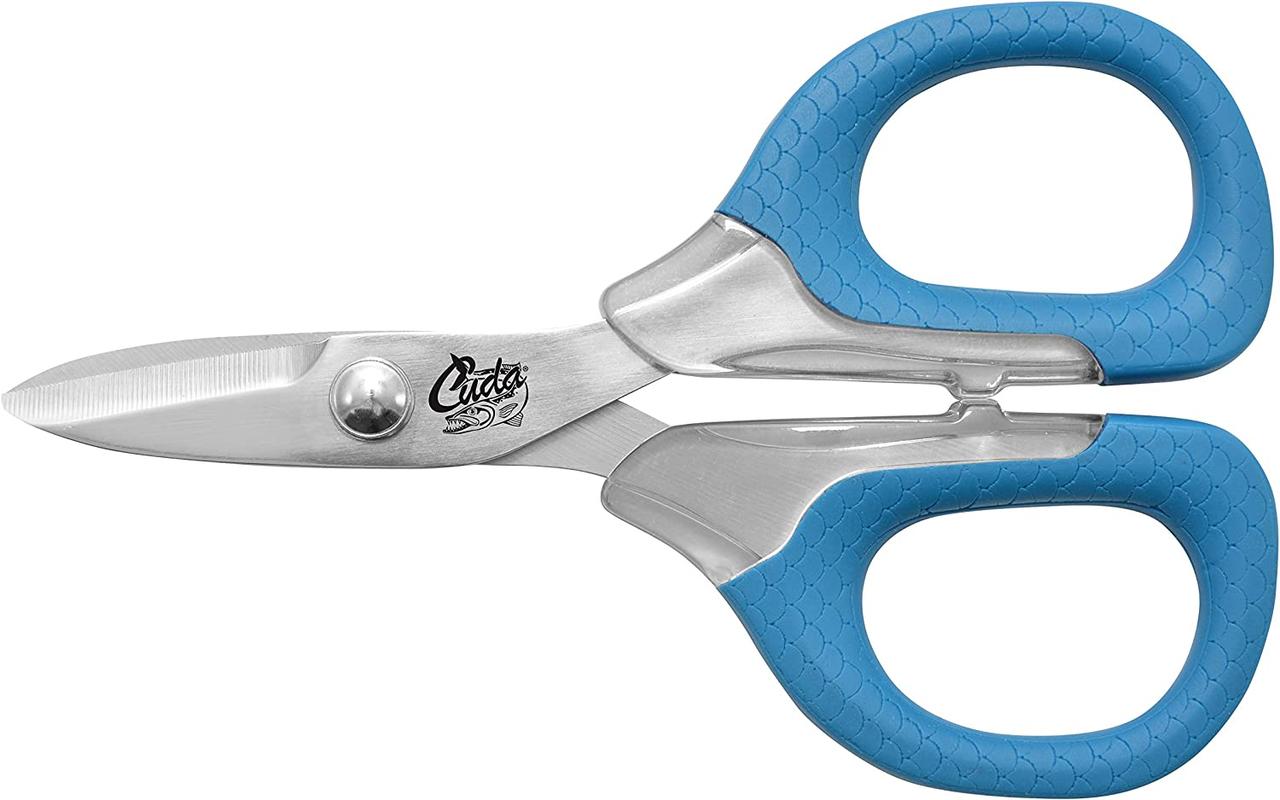 When it comes to fishing, these braid scissors stand out due to their excellent performance. Able to cut through various types of fishing lines, the Cuda 3" scissors are designed with titanium-bonded stainless steel blades that feature dual micro-serrations. 
As a result, these scissors not only remain sharp for a longer time, but also provide superior corrosion and rust resistance. They provide plenty of finger room, while their unique scale pattern design provides a comfortable and completely secure grip in all types of fishing environments. 
Their small size further makes them easier to carry in your fishing vest or tackle box. And with their serrated blades, you can be sure of a clean cut every single time. 
Final Thoughts
Three times stronger than steel, these heavy-duty scissors are sure to add convenience and comfort to your fishing experience. Along with being lightweight, small, and portable, they also boast a high-quality construction that ensures they stay sharp for a long time. And since they're able to cut through mono, braid, and fluorocarbon fishing lines, they're perfect for almost all fishing conditions.
Pros:
✔️ Full tang
✔️ Freshwater and saltwater resistant
✔️ Cuts braid, mono, and fluorocarbon
✔️ Dual serrated blades
✔️ Rust and corrosion resistant
✔️ Titanium bonded, stainless steel blade
Cons:
❌ Handle could be of better quality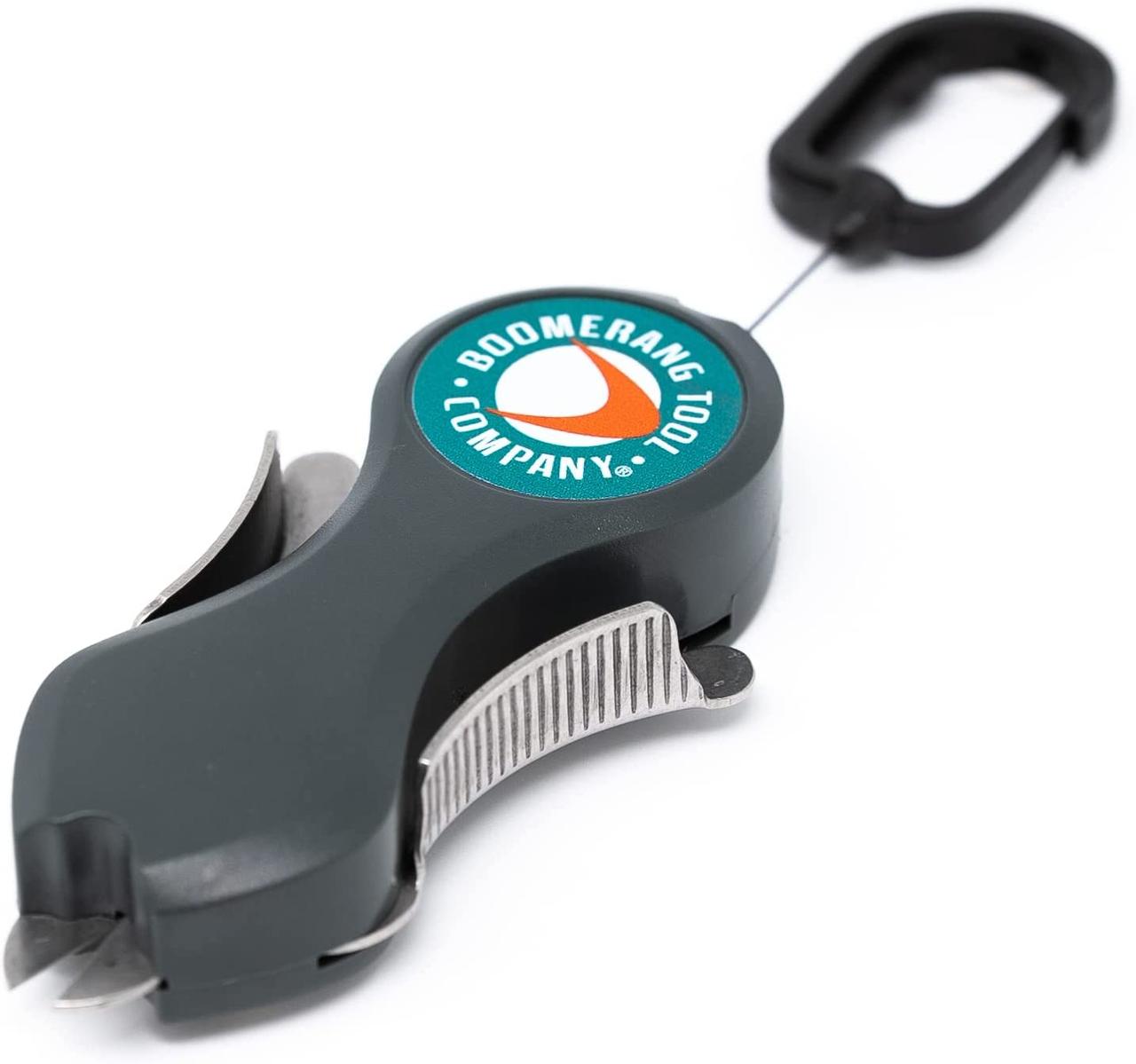 The Boomerang fishing snips are great for people who want to enjoy fishing without having to search around in the tackle box for their scissors or worrying about dropping them in the water. These high-performing scissors are able to cut through various kinds of fishing lines with just one click.  
Designed with 420 stainless steel serrated blades, the Boomerang fishing snips ensure a clean cut every time. They're durable and corrosion-resistant and come with a convenient 36" retractable tether so that your snips are always handy and never lost. 
The nylon carabiner allows you to easily attach these snips to your belt loop or vest. In addition, the integrated safety feature keeps these snips locked when not in use.  
Final Thoughts
The Boomerang Tool Company snips are a must for every toolbox. Highly convenient and completely safe, it's hard to lose these scissors as you can always keep them by your side with the retractable nylon tether. Their excellent performance ensures that there's no need for line tension for a clean cut.
Pros:
✔️ Retractable tether
✔️ Cuts mono, braid, and fluoro fishing lines
✔️ Stainless steel serrated cutters
✔️ Safe and convenient
✔️ Saves time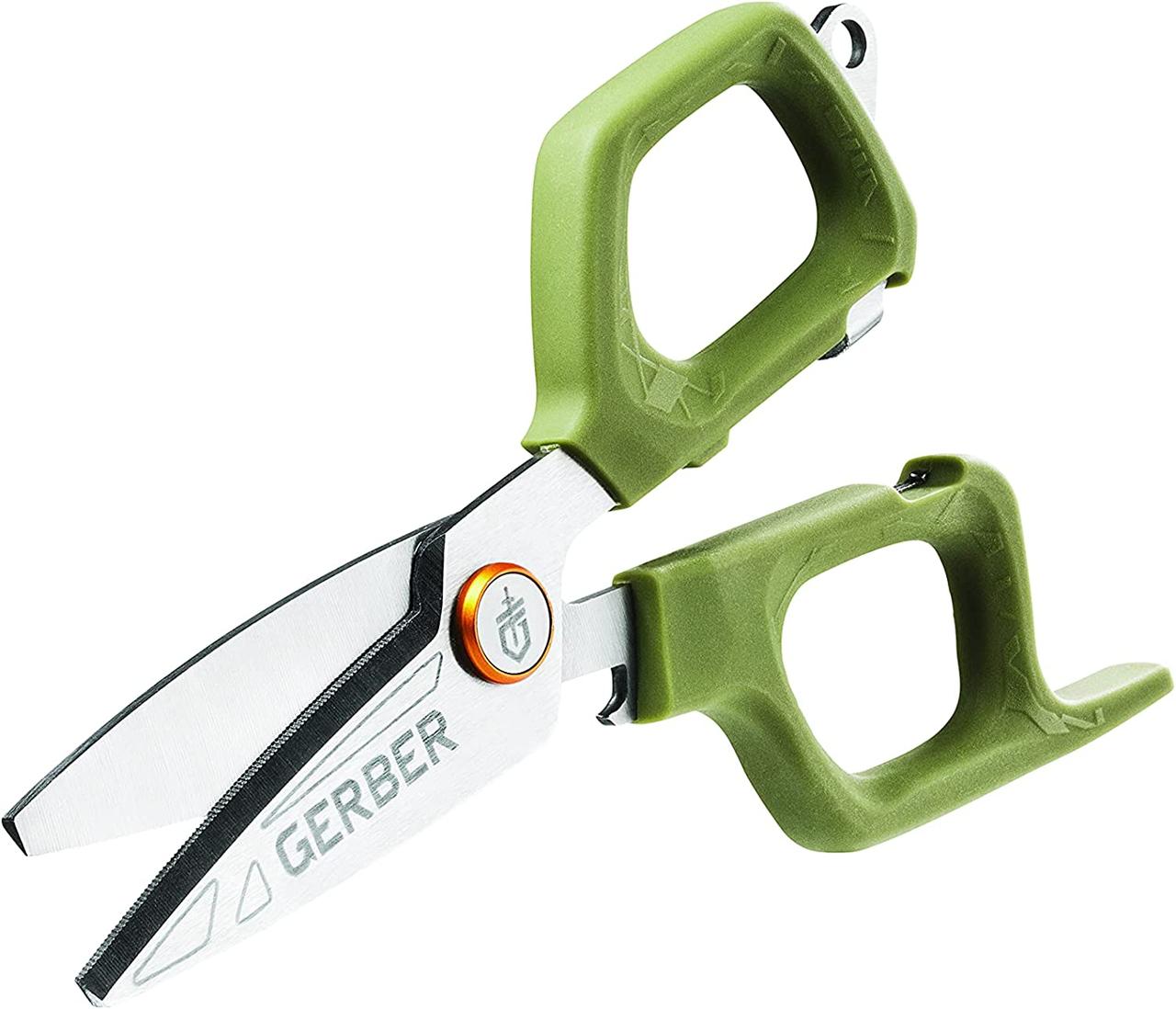 Next on our best braid scissors list is the Gerber Neat Freak Cutters: a pair that's quite popular among angles due to its high-quality construction and excellent performance. These scissors feature micro-serrated blades, which allows them to easily hold the braided line in place while you make the cut. 
The thick stainless steel blades are designed to provide a stable camber, allowing you to cut through not only thick lines, but filets and jig skirts as well.  
The Gerber Neat Freak Cutters feature a full tang construction, making them incredibly durable, while the pair's ergonomic bear hand grip provides good control and comfortable holding.  
Final Thoughts
Ergonomic, comfortable, easy to hold, and ensuring maximum leverage, these braid scissors are an essential addition to your gearbox. They come with a lanyard hole which allows you to attach them to your vest to prevent them from going missing. These scissors can also be used as a bottle opener, so you can crimp, cut, open, and do so much more with this versatile tool.   
Pros:
✔️ Dual micro-serrated blades
✔️ Lanyard hole to secure
✔️ Blunt nose tip
✔️ Bottle opener
✔️ Split shot crimper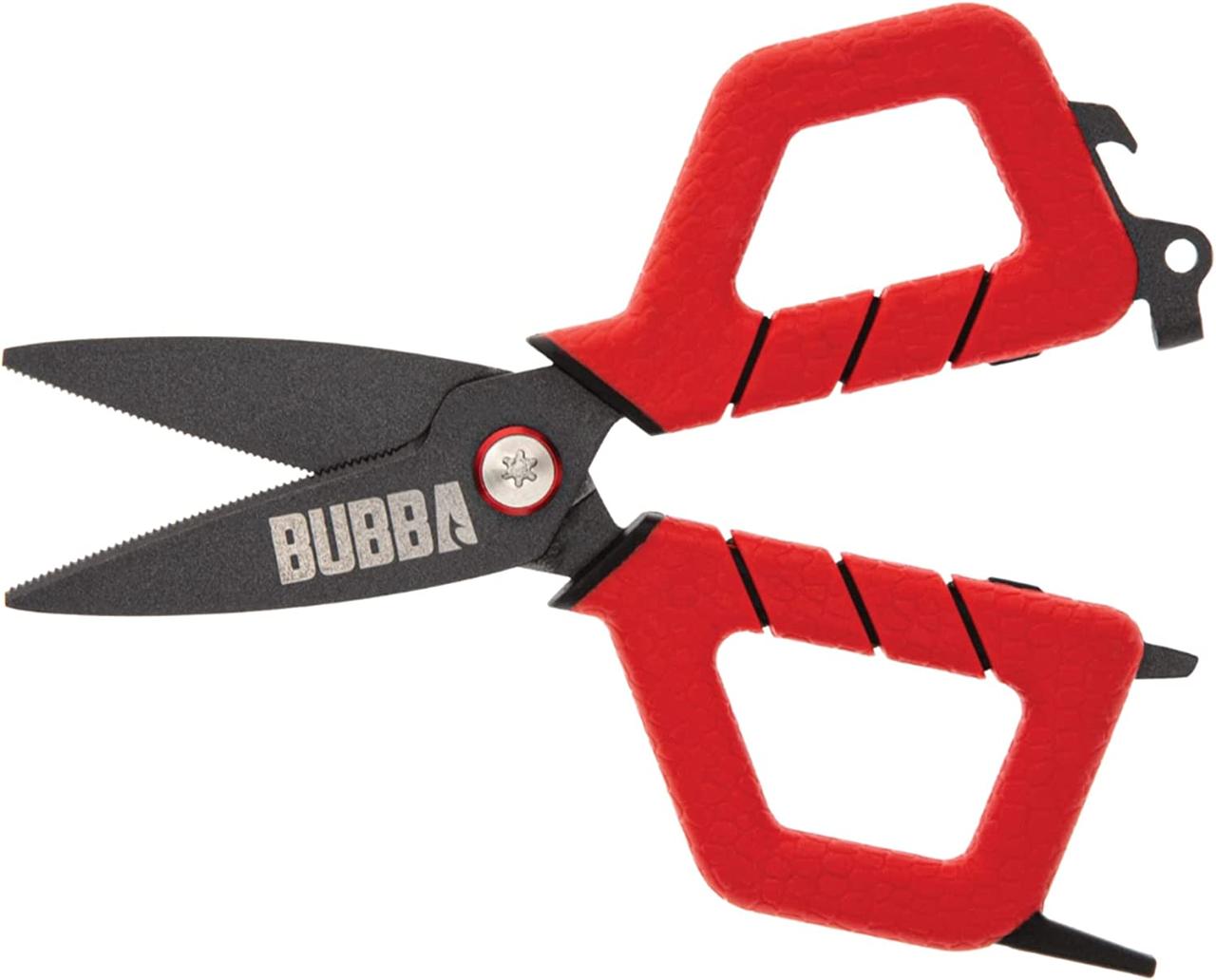 Another pair of fishing scissors that stands out on our best braid scissors list, not just because of its bright red color, but due to its outstanding performance, is the Bubba small shears. 
Durable, lightweight, and multi-functional, these cutters are able to cut braided, monocarbon, or fluorocarbon lines very easily. They're designed with titanium-coated nitrite blades and non-slip grip handles for your comfort. 
Plus, these versatile shears feature a full tang construction and can easily be stashed away in your pocket, bag, or boat. 
Final Thoughts
The Bubba Small Shears are equipped with heavy-duty blades with a micro-serrated finish that allows you to cut through the toughest braided lines with ease and effortless precision. Loaded with multiple convenient features like a lanyard hole, bottle opener, and a split-shot crimp tool on the handles, these iconic shears are sure to take your fishing experience to the next level. 
Pros:
✔️ Titanium-nitride coated blades
✔️ Non-slip grip handles
✔️ Full tang construction
✔️ Lightweight 
✔️ Bottle opener
Cons:
❌ Doesn't come with a sheath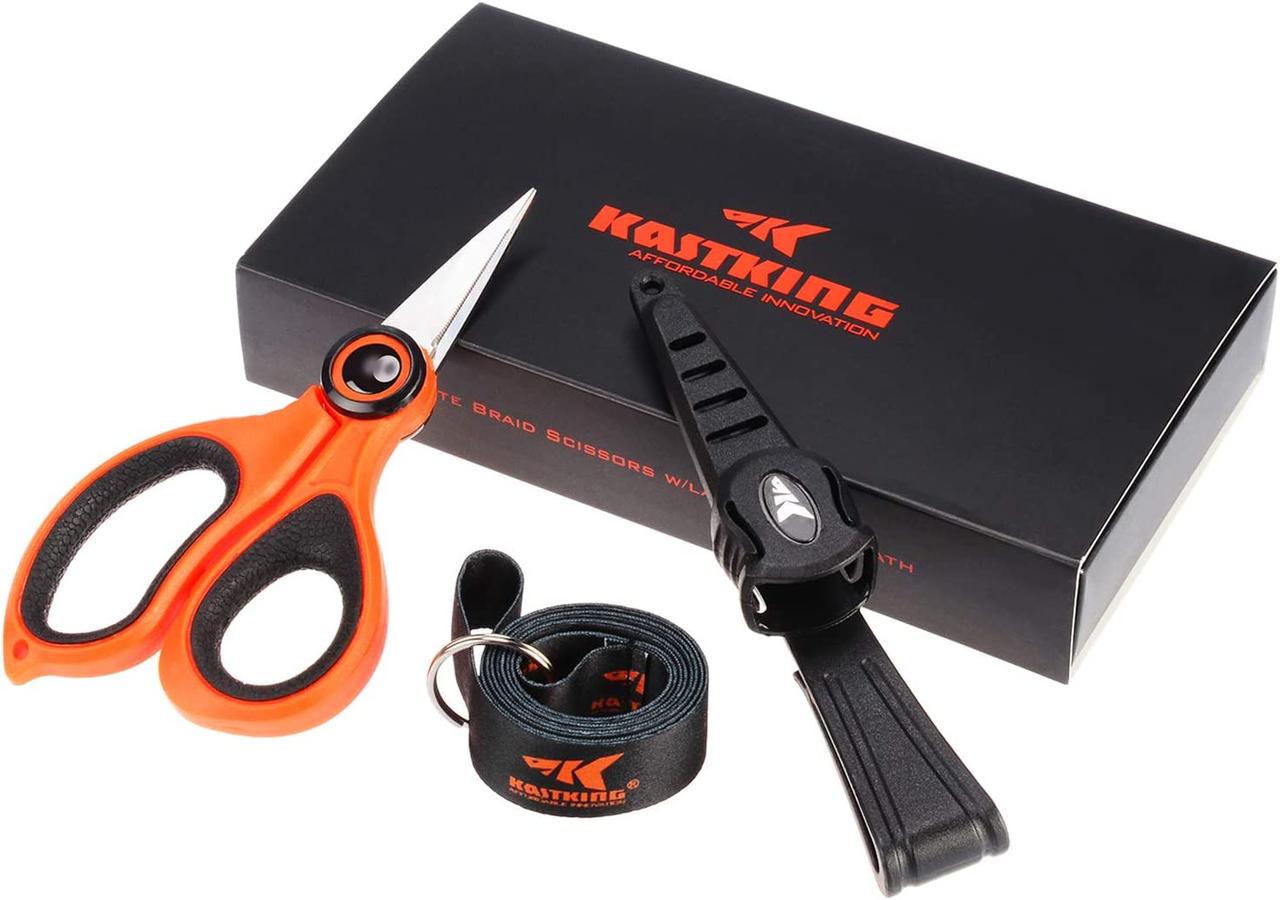 The KastKing Fishing Scissors are made with incredibly sharp Japanese stainless steel blades, making them an excellent option for cutting braided lines easily and quickly. In addition, these versatile scissors can also be used to cut fluoro and monocarbon fishing lines in both saltwater and freshwater environments. 
These units are designed with a durable and lightweight polypropylene frame that ensures perfect alignment of the blades. The wide finger slots make the KastKing Fishing Line Scissors very comfortable to use, while the non-slip TPR coating provides a sure grip.     
Final Thoughts
The KastKing Braid Scissors are quite handy and come with several useful features that make it easier to keep this tool close at hand. The specifically designed sheath that protects the blade while providing quick and easy access can be attached to the waistband of your shorts or worn on a belt for easy access. Or you can wear the sheath around your neck by using the provided lanyard.
Pros:
✔️ Japanese stainless steel serrated blades
✔️ Durable, lightweight handle
✔️ Non-slip grip
✔️ Sheath and lanyard included
Cons:
❌ Sheath could have better holding power
The next scissors on our best braid scissors list is a well-thought-out product with many convenient features. These professionally-made braid scissors are designed with very sharp, serrated blades for smooth and precision cutting. 
Preferred by fishermen worldwide, the Pafason 4.5" braided line fishing scissors feature a robust structure that cuts vigorous braid lines, thin steel wires, and lead sheets quite easily. 
The ergonomically-designed plastic handle and large finger holes ensure comfort, while the included safety cap allows you to keep this tool within easy reach. Its convenient size further means you can carry it easily in your pocket or attach it to your tackle box with the provided lanyard.
Final Thoughts
Constructed with high-quality stainless steel, the Pafason 4.5" braid fishing scissors offer durability and long-lasting performance. They come with a plastic cover that protects users from accidents while keeping the blade free from dust at the same time. With sharp, serrated blades, these scissors ensure easy, non-slip cutting, without any frayed ends.
Pros:
✔️ Stainless steel construction
✔️ Cuts without fraying
✔️ Comes with a protective cap and lanyard
✔️ Metal file insert
Cons:
❌ Lanyard is a bit short

The Rapala Retractable Scissors feature an innovative design that promotes performance and safety. The V-shaped cavity on one end of the cutters houses two razor-sharp blades that work by pressing the red grips on the side. 
Simply slide your braided fishing line into this 'V' cavity and squeeze the red handles. Once your work is done, these blades can be locked away until they're needed again. 
These scissors are also equipped with an integrated carabiner, making it easier to attach them to various surfaces. Boasting super sharp blades, the Rapala Retractable Scissors is ideal for trimming fishing lines cleanly and quickly. 
Final Thoughts
Uniquely designed, economically priced, and offering excellent performance, the Rapala Retractable Line Scissors offer an extra measure of convenience and safety. Its sharp blades are able to snip mono, fluoro, or braid lines with complete ease, while an integrated carabiner allows you to easily attach these cutters to your chest pack, fishing vest, etc.  
Pros:
✔️ Safe and efficient design
✔️ Blades are exposed during use only
✔️ Super sharp 
✔️ Convenient size
✔️ Carabiner attachment
Cons:
❌ Grips require a hard push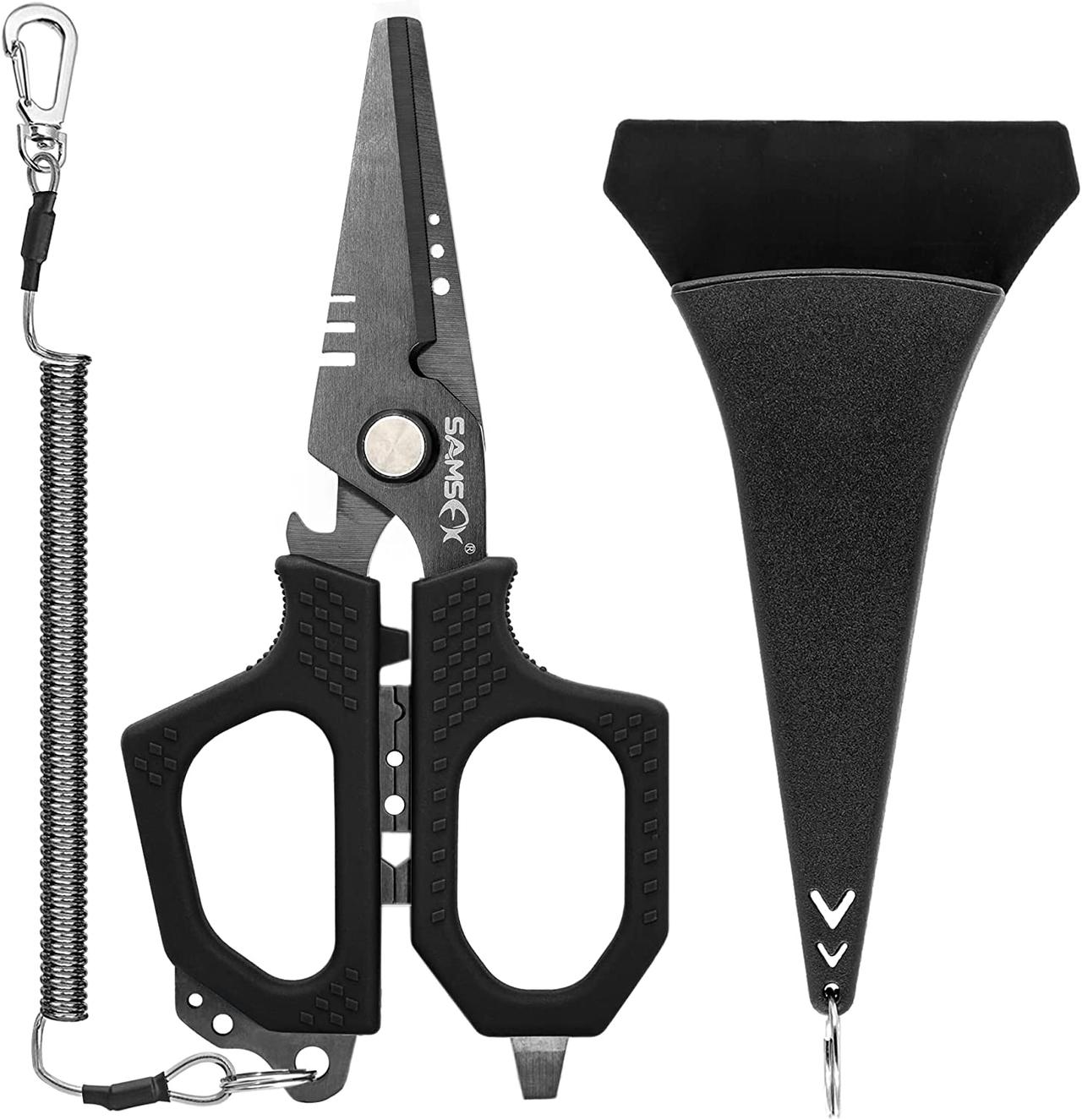 The last scissors on our best braid scissors list are an excellent option for fishing enthusiasts. These heavy-duty fishing scissors are designed with serrated blades that grip and hold the line firmly while you make the cut.
The SAMSFX Braid Line Scissors can be used to cut all kinds of fishing lines, as well as other things like rig sleeves, steel leaders, or shrink tubes. The stainless steel blades feature titanium-nitride coating that provides corrosion-resistant protection, while the wide finger holes allow you to use these scissors even while wearing gloves. 
Lastly, the included sheath makes it easier to attach these scissors to your fly vest, waist belt, or backpack for fast and easy access. 
Final Thoughts
Featuring a full tang construction, non-slip grip handles, a lanyard hole, and an enlarged finger hole design, the SAMSFX Braid Line Scissors are a great addition to your fishing gear. The micro-serrated blades cut not only braided, mono, and fluoro lines, but bait and fish as well, earning them a place on our list of best braid scissors.
Pros:
✔️ Blunt tip
✔️ Split shot crimper
✔️ Power notch
✔️ Non-slip grip handles
✔️ Bottle opener
Cons:
❌ Not suitable for saltwater fishing
William O'Reilly is an Australian land-based fishing enthusiast. He discovered his passion for fishing from the shore as a child, when his grandfather would take him out on the water and teach him the ropes. He encourages others to try land-based fishing and believes it is a unique and sustainable way to connect with nature.
He also advocates for responsible fishing practices and conservation. His passion for land-based fishing led him to pursue a career in writing about it, sharing his experiences, knowledge and thoughts about the sport, and inspiring others to appreciate and explore it.
You Might Also Like
If you enjoyed reading this blog post on the Best Braid Scissors, you might also be interested in:
Tags:
#Best Braid Scissors, #Best Braid Scissors 2023, #Best Braid Scissors Guide, #Best Braid Scissors Buyers Guide