Hooked on Comfort: 5 Best Fishing Stools You Need to Try
For most anglers, fishing is more than just a sport – it's a complete way of life. And for those who love spending hours, or even days, on the water waiting for their prize catch, having a practical and comfortable fishing stool is extremely important. Whether you're fishing on a pier, from a boat, or in a stream, a high-quality fishing stool can offer a comfortable place to just sit back and enjoy your surroundings. 
However, with such a wide range of options, choosing the best fishing stool can be quite a daunting task. To help make the decision easier, we've reviewed some of the best fishing stools that, along with being comfortable, are portable and durable as well. 
So, whether you're planning a week-long fishing excursion or a short day trip, you'll be able to find a fishing stool that will make the entire experience extremely comfortable and enjoyable.
Top 5 Best Fishing Stools
Unfortunately, there's no magical fishing stool that's perfect for every angler. Some prefer comfortable cushions, while others prioritize portability and freedom of movement above everything else. To help you find something that best suits your needs, we've compiled detailed reviews of five of the best fishing stools available in the market: 
Our Top Pick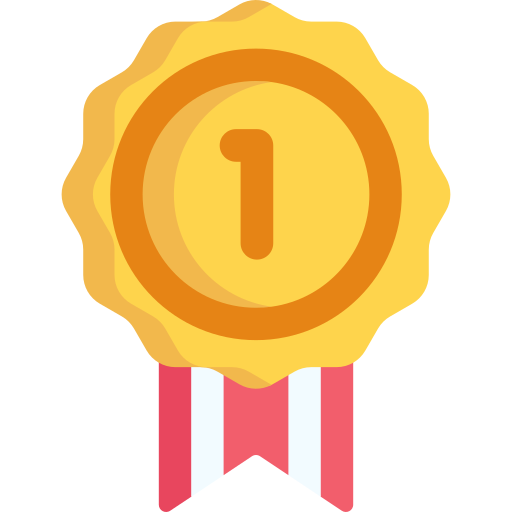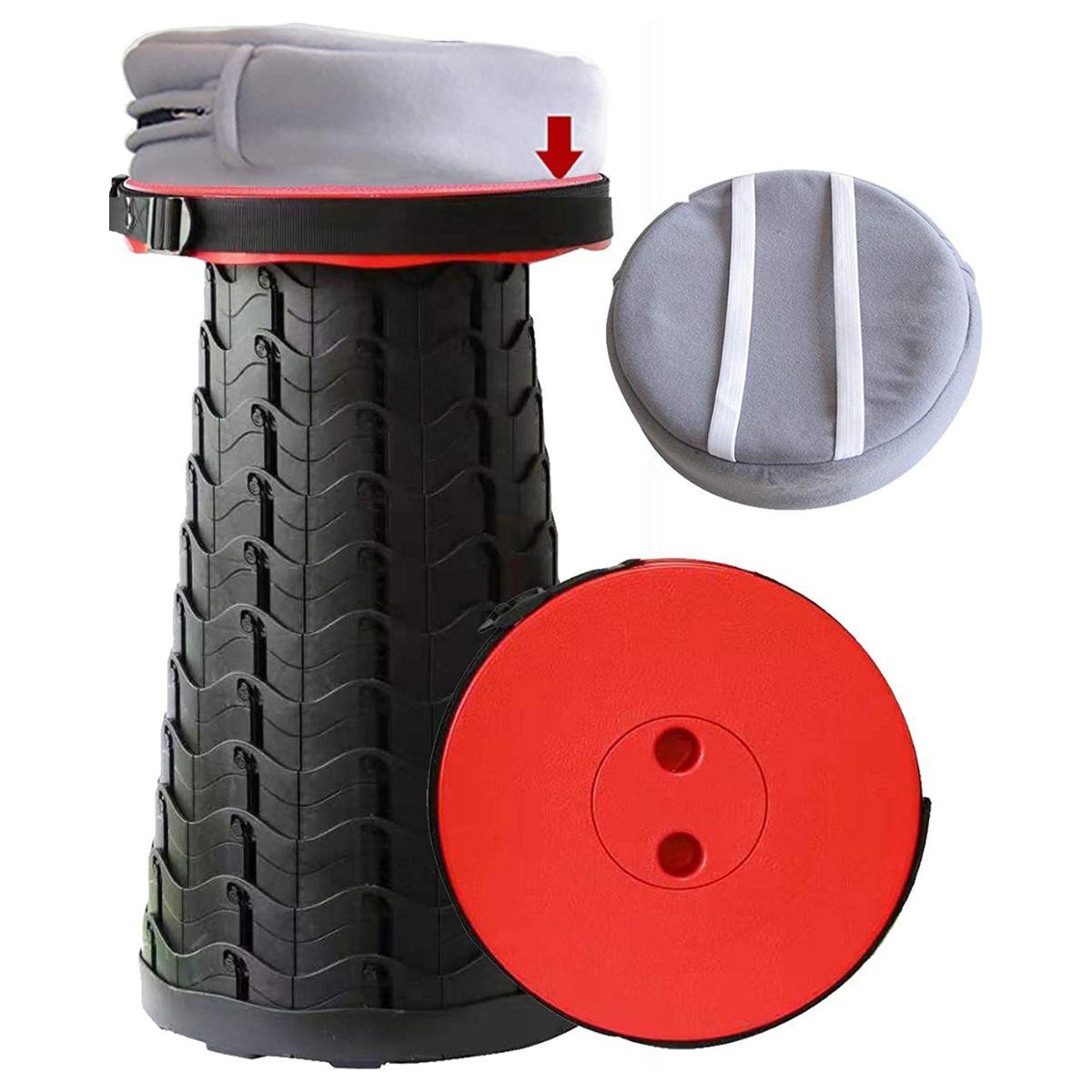 Editors Choice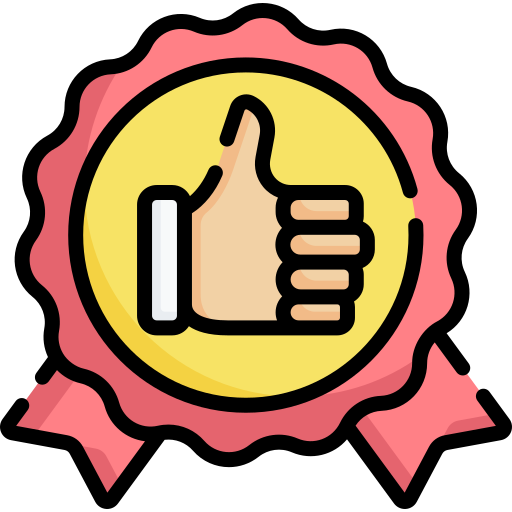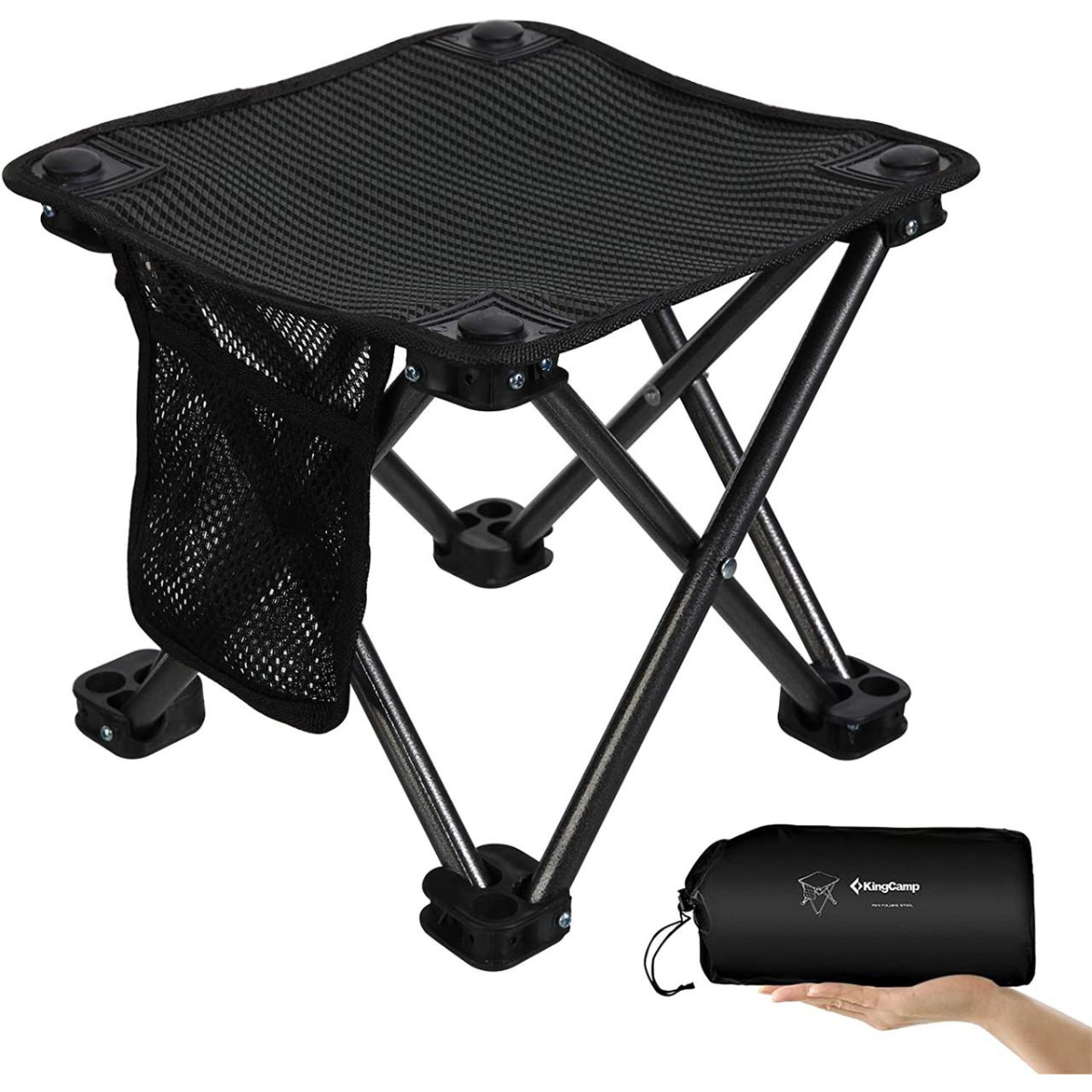 Best Value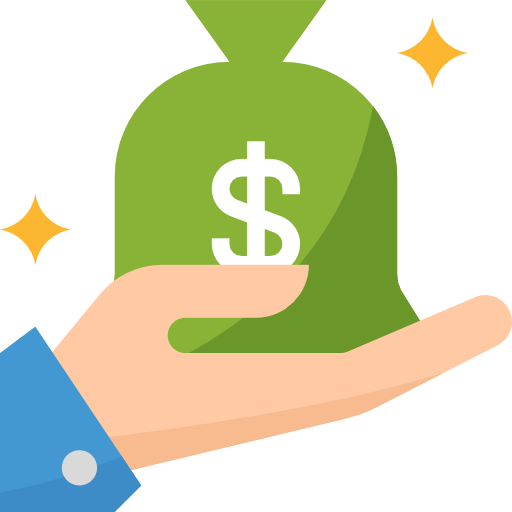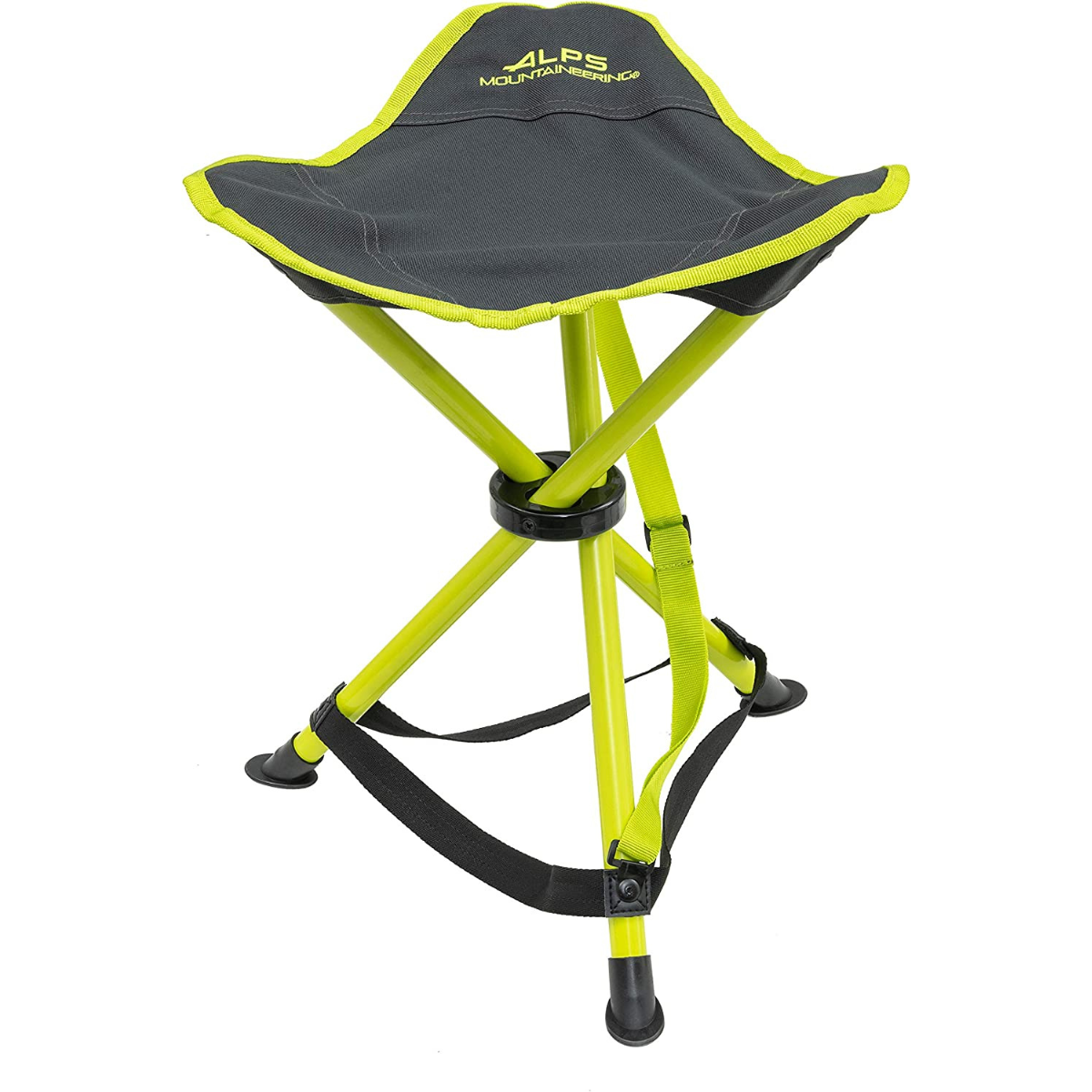 Disclosure: We only endorse products we've personally used or that have come highly recommended by our trusted peers. We're proud affiliates for some of the products on our site, and as such, we may get a small commission if you purchase through one of our referral links. However, there's no extra cost to you. Check out our affiliate disclaimer in our Privacy Policy if you'd like to learn more.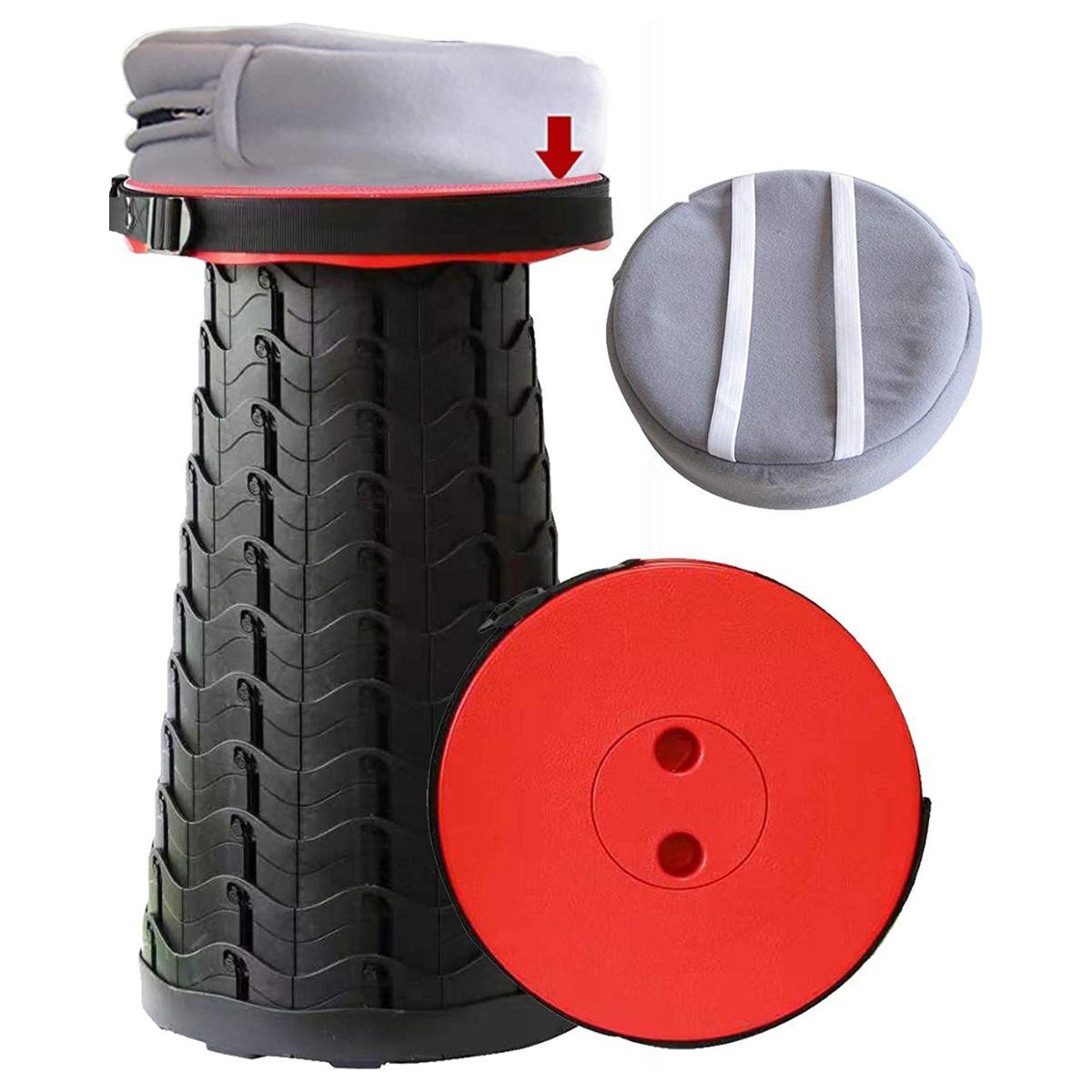 Featuring modified plastic material and a fish scale structure, the Deer's Life Telescopic Stool boasts remarkable strength and rigidity. With reinforced side support and a load capacity of up to 400 lbs, it's much more durable, stable, and tilt-resistant than other brands. 
It also comes with an adjustable height that ranges from 2.5 inches to 17.7 inches, making the stool comfortable and suitable for all ages. Its shoulder straps and hand straps further increase portability, so you easily carry the stool wherever you go. 
Thanks to its extremely comfortable cushion, the Deer's Life Telescopic Stool is perfect for both indoor and outdoor activities. So, you can use it in your kitchen, living room, or office, and even take it with you on your camping and fishing expeditions. 
Final Thoughts
The functionality, portability, and durability of the Deer's Life Telescopic Stool are what make it one of the best fishing stools available on the market. It's incredibly sturdy, has a good height, and folds up easily. It's also extremely lightweight, making it perfect for anglers who want a comfortable seat without any of the added bulk.
Pros:
✔️ Excellent strength and rigidity. 
✔️ Adjustable height for additional comfort. 
✔️ Included shoulder straps make the stool easier to carry. 
✔️ High-strength nylon enhances durability and longevity. 
Cons:
❌ Bit difficult to open.
❌ Cushion could have thicker padding.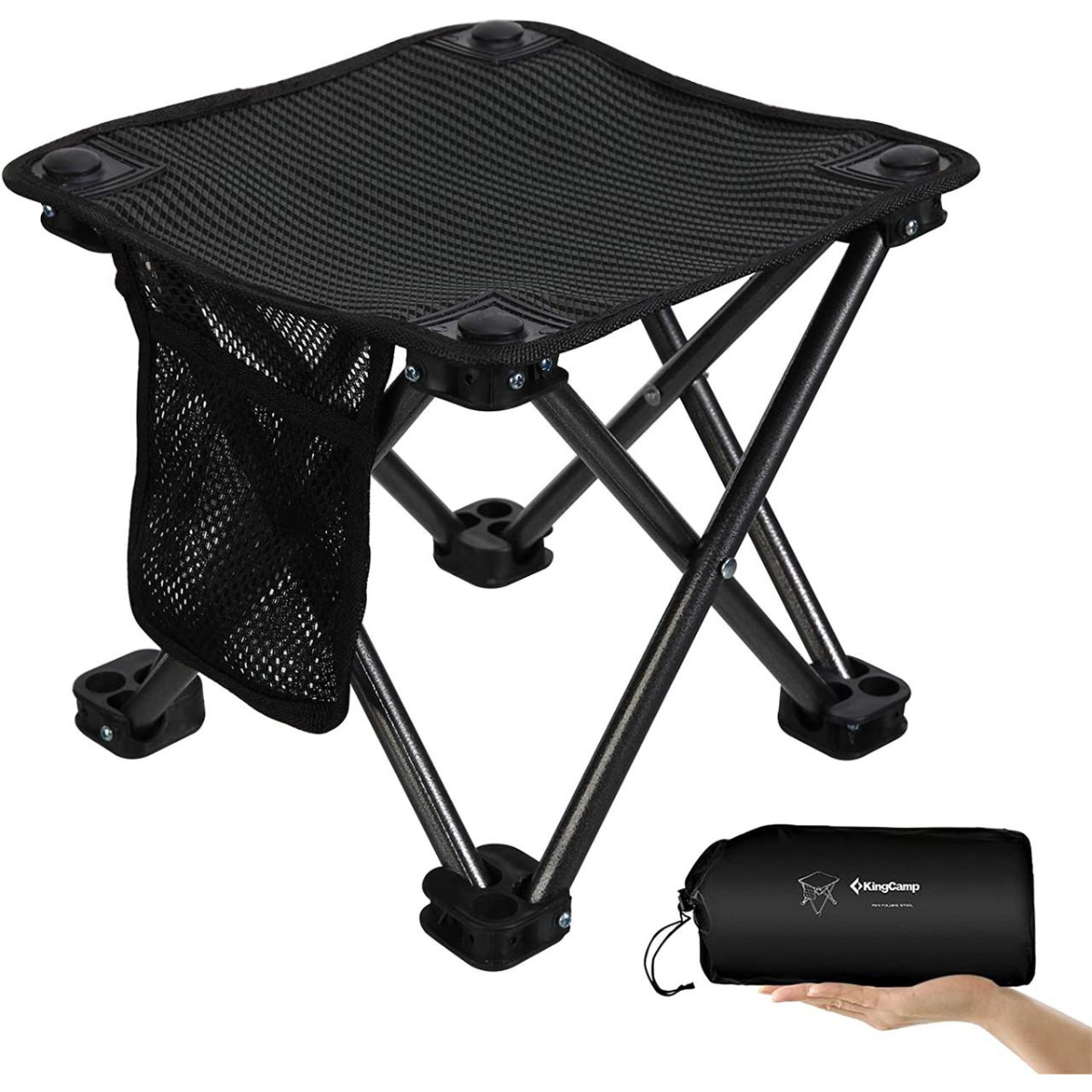 Weighing only 1.4 lbs, the KingCamp Camping Stool is incredibly durable and lightweight. But don't be fooled by its small, space-saving design! Featuring a rugged steel frame and high-quality 1200D Oxford fabric, it can support up to 330 lbs of weight, earning it a place on our list of best fishing stools. 
It doesn't require any assembly and opens and folds in seconds, making it extremely easy to use as well. It also comes with a side mesh pocket for your phone, keys, and drinks, while the included carry bag makes it easier to carry and store the stool. 
Final Thoughts
Ideal for fishing, camping, and hiking, the KingCamp Camping Stool is an excellent gift for outdoor enthusiasts looking for a portable and comfortable folding chair. It opens up and folds down quickly, and is small enough to fit in your backpack. However, keep in mind that it's tiny, so it may be more suitable as a footstool than a seat for some people. 
Pros:
✔️ Small and portable design. 
✔️ Extremely strong and sturdy. 
✔️ Does not require any assembly. 
✔️ Can support up to 330 lbs. 
Cons:
❌ Might be too small for some adults.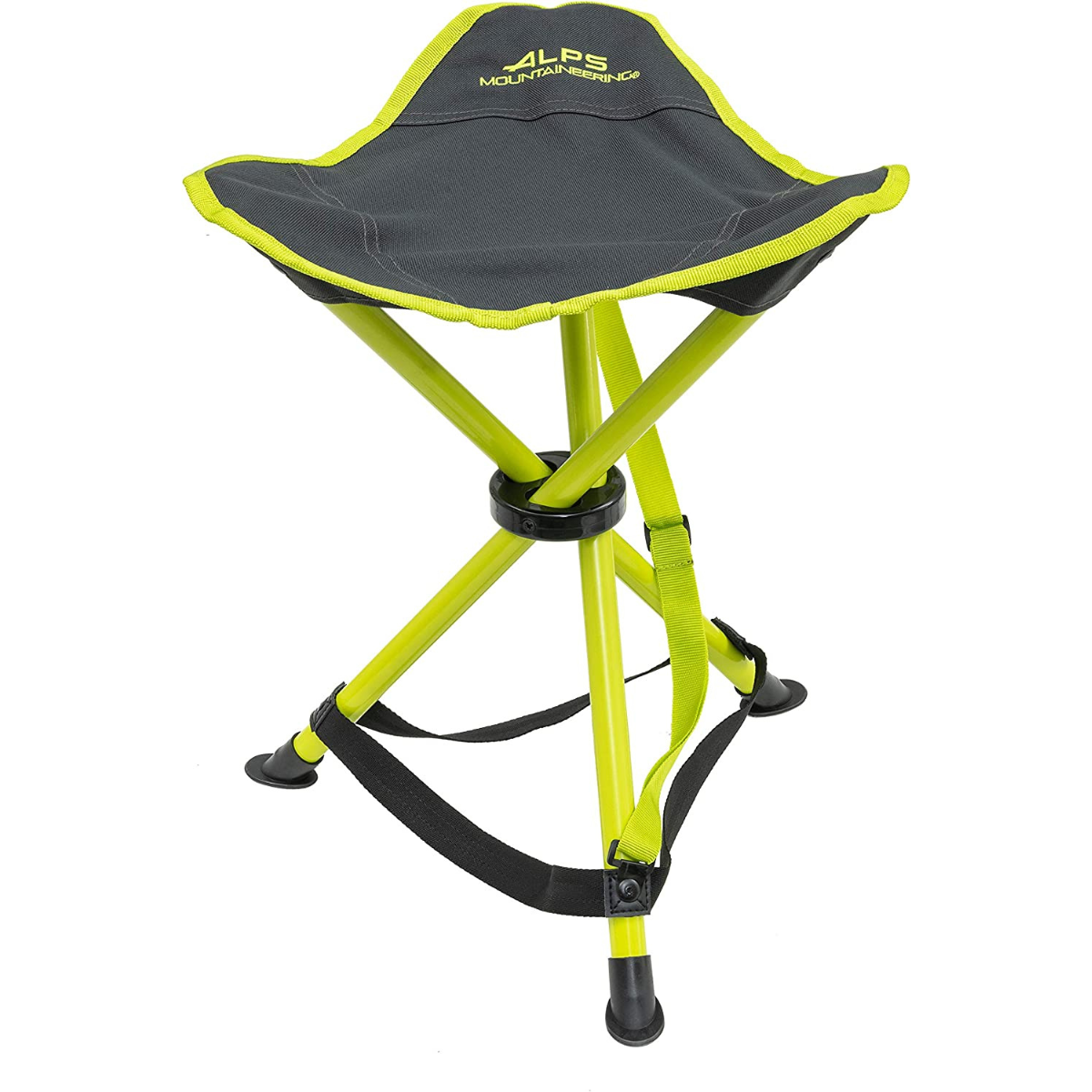 The Tri-Leg Stool from ALPS Mountaineering boasts a powder-coated steel frame with both leg support and center support, making it perfect for anglers of a more stout build. Thanks to its enhanced webbing system and 600D polyester fabric, it's extremely durable and can withstand up to 250 pounds of weight. 
It weighs only two pounds as well, so you can comfortably take it with you on your camping and fishing excursions, or any place where you might need a chair. It's also designed with a carry strap, making it easier to carry and allowing you to skip the carry bag altogether.
Final Thoughts
With a lightweight and compact design that's perfect for taking along on fishing adventures, the ALPS Mountaineering Tri-Leg Stool allows you to sit, relax, and take in your surroundings while you wait for your prize catch. It folds up and fits into a convenient carry bag, making it perfect for excursions where space is limited. 
Pros:
✔️ Heavy-duty steel legs and polyester seat offer comfortable support. 
✔️ Adjustable shoulder strap for convenient carrying. 
✔️ Hook-and-loop strap ensures the stool stays closed for easy storage. 
✔️ Comes with a stuff sack. 
Cons:
❌ Carry strap could have a better design. 
❌ Short height might make it difficult to use for taller people.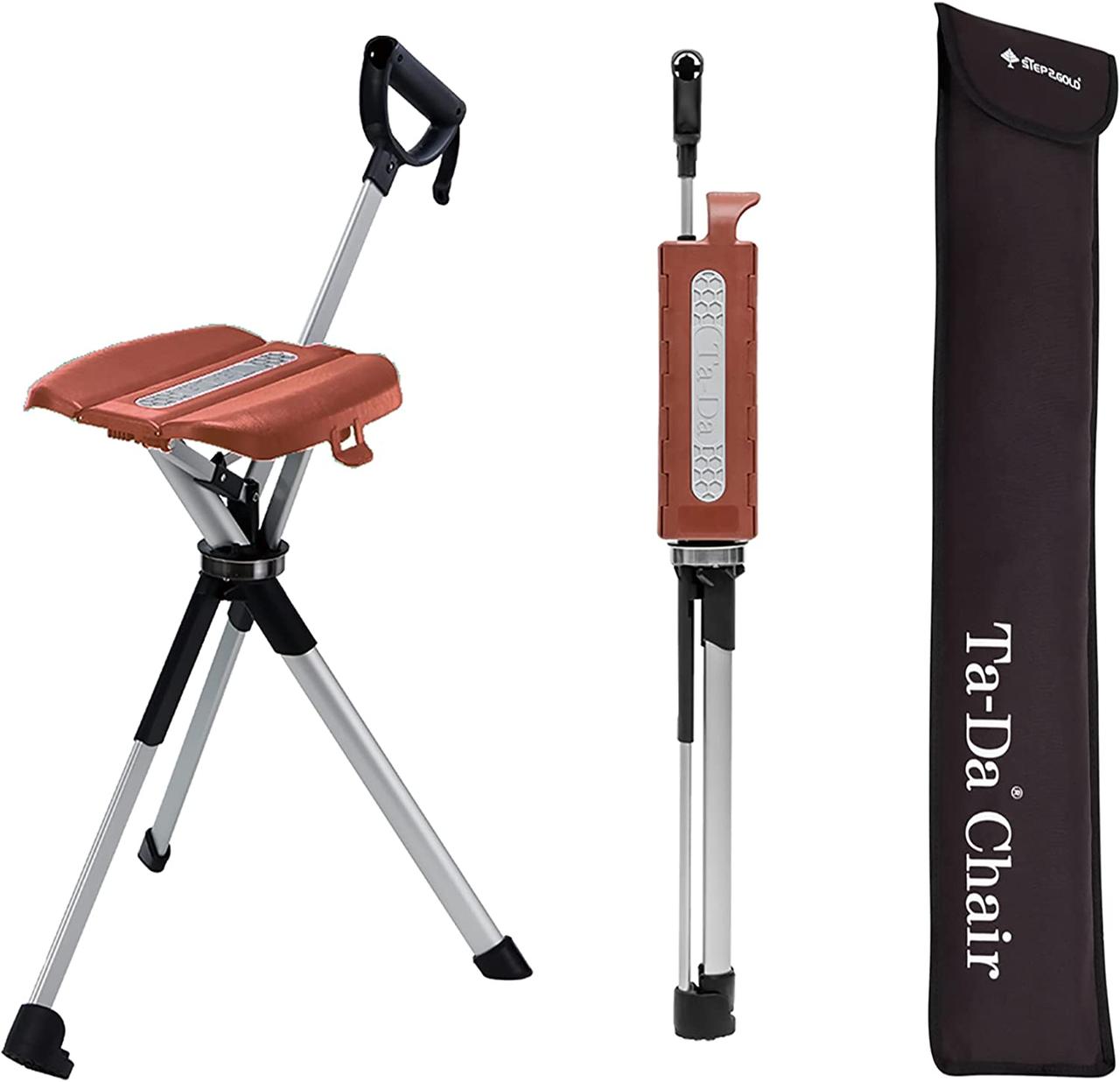 An incredibly versatile product, the Step2Gold Ta-Da Chair provides both a hiking stick for support and a seat for resting. The innovative design, which innovatively transforms the hiking stick into a chair, allows you to rest your tired knees and legs at a moment's notice.
As a hiking stick, it features an ergonomic handle with a grain texture and special tilt angles, making it easier to hold and reducing the effort needed to use and carry it. As a chair, it has one of the largest seats among similar products, providing additional comfort and ensuring a better sitting experience.
While most fishing stools and chairs sit low, the Step2Gold Ta-Da Chair sits 50cm off the ground, so you don't need to scrunch your legs or overly bend your knees to get up. Its aircraft-grade aluminum alloy structure further holds its position and prevents the chair from collapsing easily. 
Designed with a safety buckle and stainless steel rim, the stool weighs only two pounds but can support an impressive weight of up to 300 lbs. Its anti-sink and anti-slip rubber feet also provide stability, allowing you to place the stool anywhere from a beach's pebbled path to a boat's smooth surface. 
Final Thoughts
An ideal combination of portability and functionality, the Step2Gold Ta-Da Chair opens up quickly and easily, making it perfect for all ages. It innovatively folds down into a slim hiking stick that provides support without taking up any of the precious space in your backpack, making it suitable for all kinds of outdoor activities. 
Pros:
✔️ Ergonomic, anti-slip handle is incredibly easy to hold. 
✔️ Anti-slip rubber feet provide better drainage capacity. 
✔️ Safety clip enhances stability. 
✔️ Stainless steel design ensures durability and longevity. 
✔️ Unique handle hook allows you to hang it anywhere. 
Cons:
❌ Bit expensive than other fishing stools.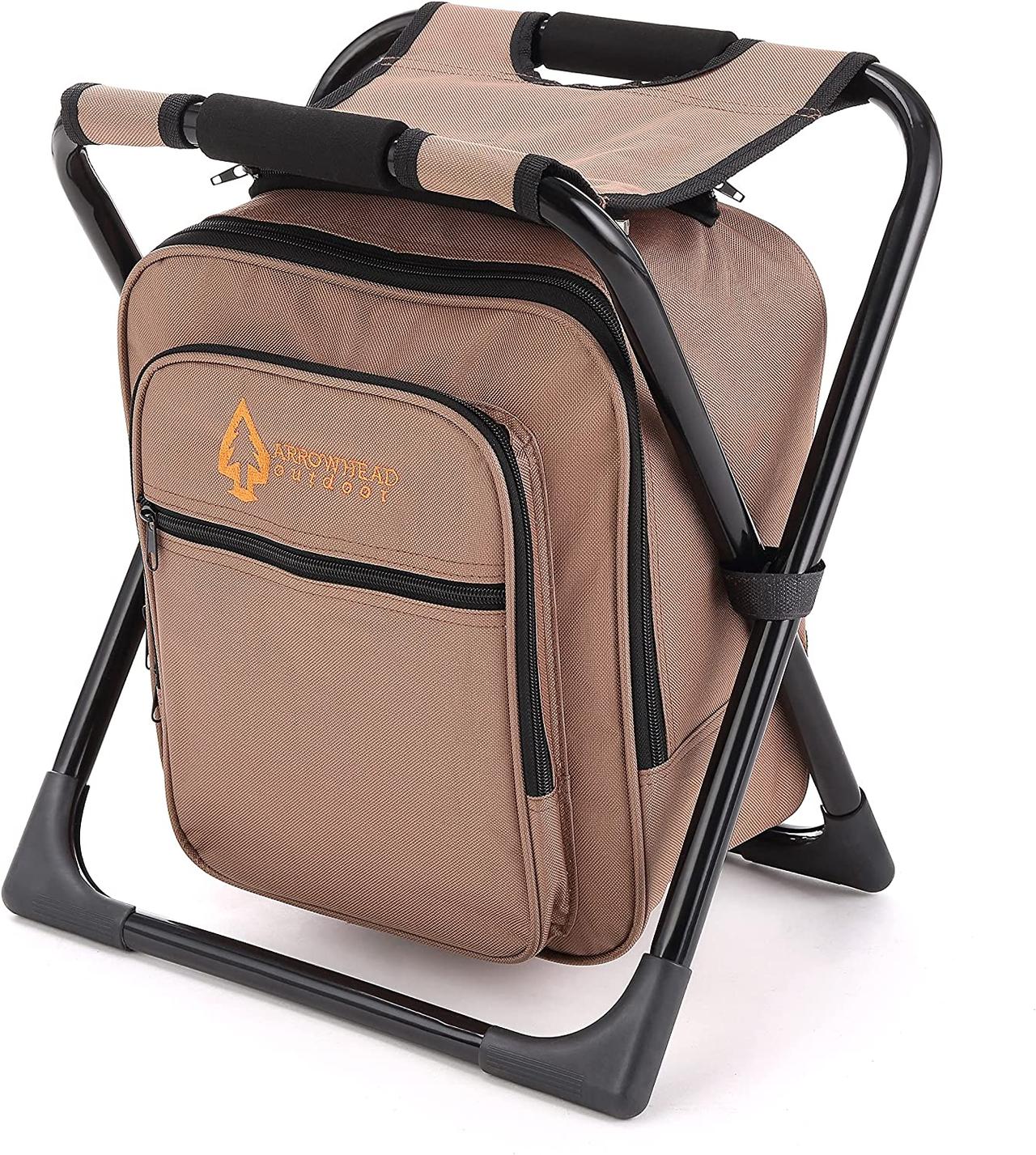 Extremely lightweight, portable, and comfortable, the Arrowhead Outdoor's 3-in-1 Chair is great for fishing, tailgating, camping, hiking, sporting events, BBQs, and cookouts. 
Its rugged and weather-resistant 600D Oxford fabric can support an impressive weight of up to 400 lbs, while its stabilizing, heavy-duty vinyl feet make it perfect for anglers who fish in mucky, muddy, or sanding bodies of water.
The chair also folds up, so you can easily carry it around like a backpack and keep your hands completely free for carrying fishing rods and other important gear. The added backrest further allows you to comfortably kick back and relax, while the easy-access bottle pocket keeps your beverages and water bottles close at hand.  
You can even use the Arrowhead Outdoor's 3-in-1 Chair as a footrest to elevate your tired feet. Its velcro straps prevent it from flopping around, while its ease of use and lightweight design make it one of the best fishing stools available today. 
Final Thoughts
Lightweight and durable, the Arrowhead Outdoor's 3-in-1 Chair offers excellent value for money. It's lightweight and folds down for easy storage, but is still sturdy enough to hold a considerable amount of weight. The included cooler pack earns it a place on our list of best fishing stools, as it allows you to keep your bait cool while offering you a comfortable seat wherever you are. 
Pros:
✔️ Convenient backpack straps ensure easy hands-free carrying. 
✔️ Large insulated compartment for bait or beverages. 
✔️ Outer storage pockets can hold fishing tackle and other gear. 
✔️ Padded grip handles offer additional comfort. 
✔️ Stabilization feet protectors make it ideal for use on gravel and dirt.
Cons:
❌ Closes very easily, so avoid knocking into it. 
❌ Too small for some people to comfortably sit in. 
William O'Reilly is an Australian land-based fishing enthusiast. He discovered his passion for fishing from the shore as a child, when his grandfather would take him out on the water and teach him the ropes. He encourages others to try land-based fishing and believes it is a unique and sustainable way to connect with nature.
He also advocates for responsible fishing practices and conservation. His passion for land-based fishing led him to pursue a career in writing about it, sharing his experiences, knowledge and thoughts about the sport, and inspiring others to appreciate and explore it.
You Might Also Like
If you enjoyed reading this blog post on the Best Fishing Stools, you might also be interested in:
Tags:
#Best Fishing Stool, #Best Fishing Stools 2023, #Best Fishing Stool Guide, #Best Fishing Stool Buyers Guide,