Are you struggling to catch yellowtail kingfish in Australia? Do you feel like you've tried everything and still can't seem to get a bite? Well, don't worry – you're not alone! and we're here to help. In this blog post, we'll give you nine "How to Catch Kingfish tips" to turn you into a pro – even if you're a beginner.
Read on to learn the best tips and tricks on how to catch kingfish.
---
How To Catch Kingfish Tip #1 (aka Yellowtail Amberjack)
About Yellowtail Kingfish (aka Yellowtail Amberjack)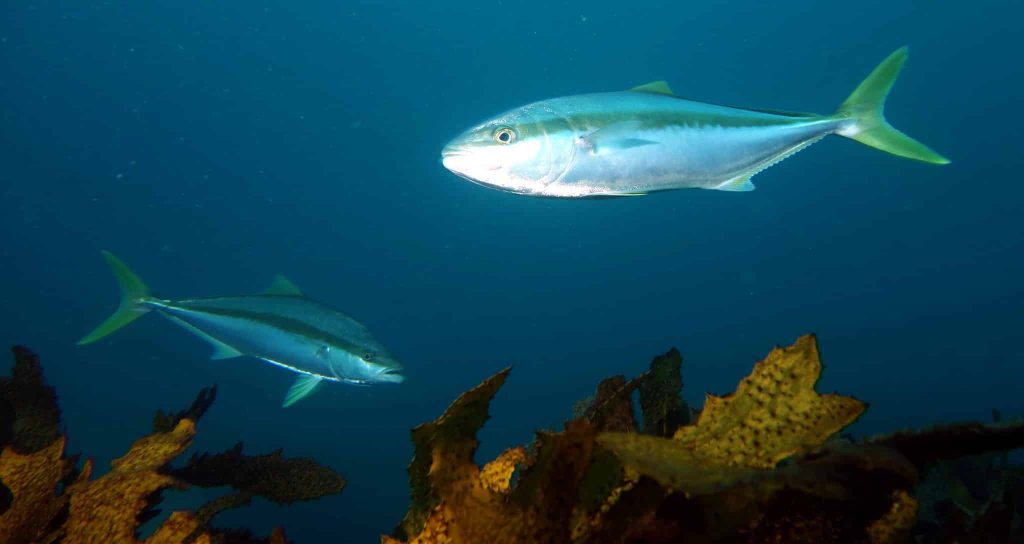 Before we dive in, it's important to note that yellowtail kingfish are also known as yellowtail amberjack. The scientific name for the Kingfish is Seriola lalandi. These fish can be found throughout Australian waters and are highly sought after by anglers due to their strength and fighting ability.
The yellowtail kingfish is an open-water schooling species that inhabits mostly rocky areas. They prefer environments with plenty of food and shelter, such as reefs but will move into shallows when necessary for survival purposes up to 50 meters deep! (There are reports of them being seen as deep as 300m!)
These fish can grow up 2 metres long, weighing 70 kilograms – so make sure you always keep your eyes peeled if you see one close by because they're really difficult targets at times !!!
How To Identify a Yellowtail Kingfish (aka Yellow Amberjack – Seriola lalandi)
There are a few key ways in which you can identify a yellowtail kingfish, even if you're not an expert angler.
Firstly, kingfish have a long, streamlined body with a distinctive yellow, forked tail.
They are usually greenish and golden yellow in colour with white/silver underbodies.
Their robust dorsal, pectoral and caudal fins are a distinct greenish-yellow colour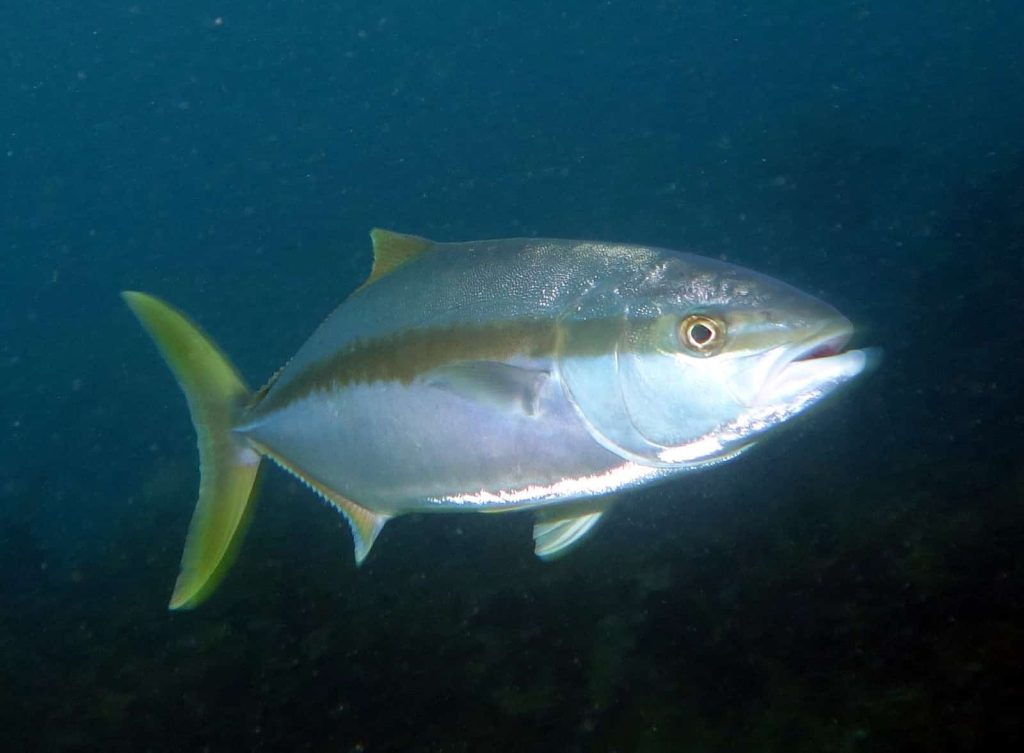 ---
How To Catch Kingfish Tip #2 (aka Yellowtail Amberjack)
How To Catch Land-Based Yellowtail Kingfish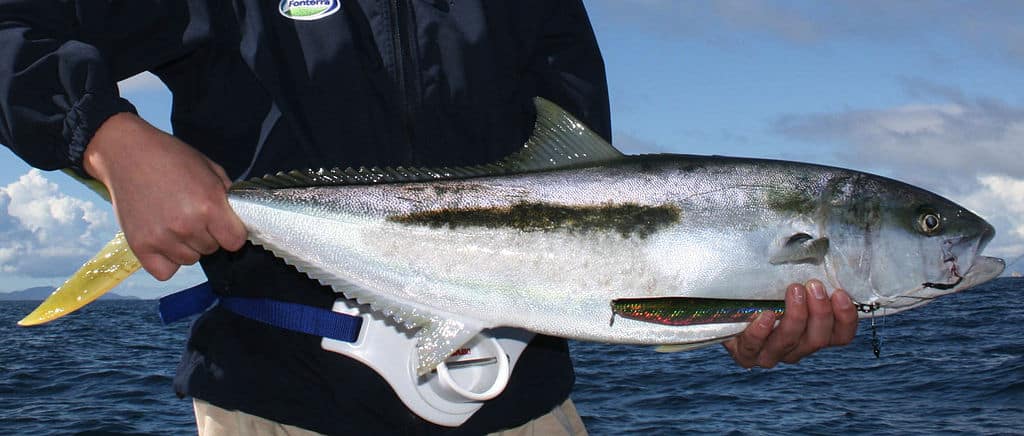 Live Bait
The best way to start catching yellowtail kings is by live baiting. Kings will typically go after any well-presented live bait, so choose your bait wisely depending on the fish you're trying to catch. The following can be used as effective bait:
Squid
Mackerel
or Yellowtail scad (aka Yackas)
Slow trolling is an extremely effective method – you can cover ground and find fish while driving the boat around using your electronics to locate them. When you've persuaded a king to take your bait, be sure to allow them time to adequately consume it before setting the hook!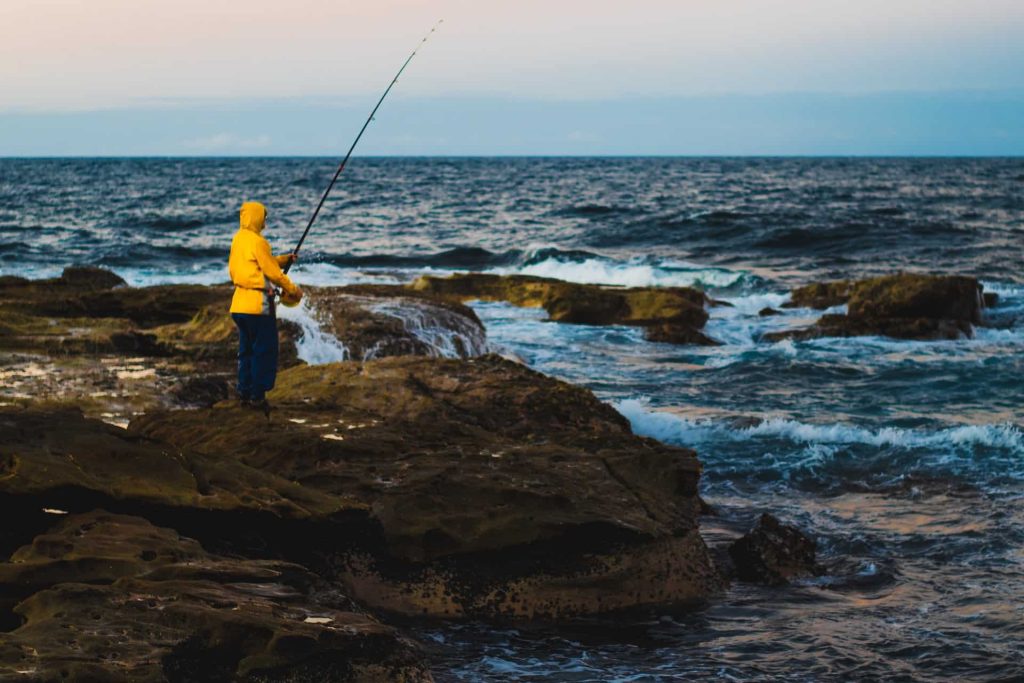 Topwater Action
Topwater fishing for kingfish is often a physically demanding task. You'll need to be in top mental and physical shape, as well as your equipment! Though when you manage a victory over the large Yellowtail Kingfish with an intense battle that lasts longer than anyone could have expected it would, all pain instantly disappears into thin air, and the work you put in to get there makes it all worthwhile!
Topwater fishing can be exciting but also frustrating. If you get the lucky day when they are hitting everything in sight, then it will make for an excellent ride! Other times though, they may just follow your lure back or show little interest in any snacks presented before their eyes. One thing is certain, the feeling of success when a large Yellowtail King tastes topwater and takes your bait is unmatched.
Cast large stickbaits and medium-large sized poppers as far as you can, varying your retrieve speed from cast to cast. It's amazing how kingfish respond to different retrievals; sometimes, they are triggered by a fast and aggressive sweep of the rod, while other times, it's more relaxing with slow walk dog action!


Big Kingfish are hard to catch and even harder if you're land-based. Make sure you're confident in your knots and your tackle because these fish can weigh up to 70kgs!


To be successful with Kingies, you need to know what kind of lures will work. There are a few primary things to consider when choosing your lure: the action, durability, reliability, and, some would argue, the colour.

---
How To Catch Kingfish Tip #3 (aka Yellowtail Amberjack)
Where To Catch Yellowtail Kingfish In Sydney & NSW
Some Kingfish hotspots around Sydney & New South Wales Include:
The Piers on Walsh Bay at Sydney Harbour
Spit Bridge & surrounding moorings
From North Head around to Quarantine Bay
Clifton Gardens in Mosman
Shark, Clarke and Garden Islands
Parsley Bay in Valcouse
Bantry Bay in Killarney

---
How To Catch Kingfish Tip #4 (aka Yellowtail Amberjack)
What's The Best Season To Catch Yellowtail Kingfish?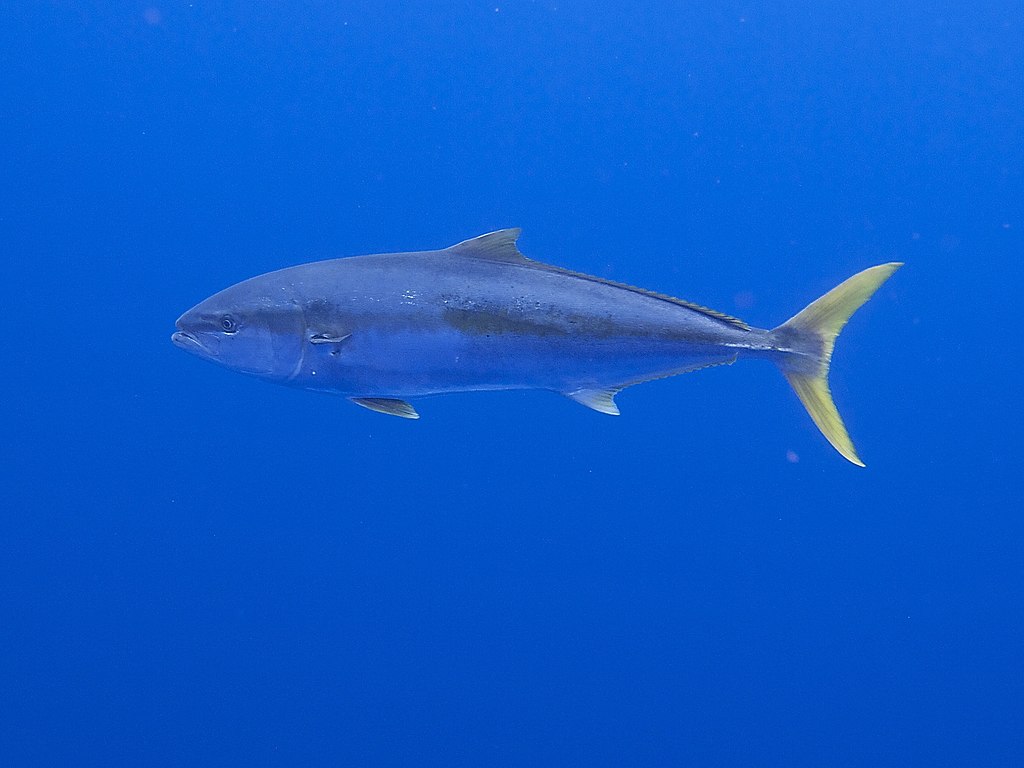 If you're looking to try your luck catching Yellowtail Kingfish in Sydney, you should remember:
Peak seasons are from Summer through to Autumn
The peak months are from January and April
Off-peak season is from May through to November
Kingfish are often best targeted during dawn or dusk when the water temperature is just right, and there's a change in tide.
From spring to the summer months ( September-February), schools will surface feed. However, they can still be caught until June by jigging or bait fishing the lower water columns as the schools begin to feed lower. The larger kingies are often found offshore during the autumn and winter months.
Catching a Yellowtail Kingfish in Sydney can be a fun and rewarding experience, but it's important to remember when the best time to go out is. The peak season for catching these fish is from January to April when they are usually most active. If you're looking to try your luck during off-peak season, May through November may still yield some success, but you'll need to target them differently depending on where they are located. Remember: before heading out, be sure to always check the tides and forecast.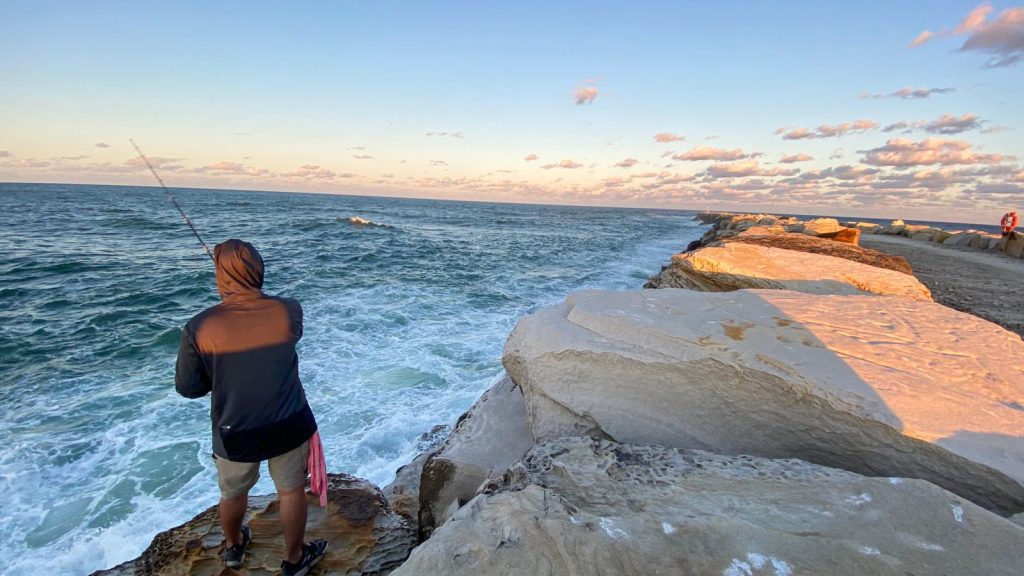 ---
How To Catch Kingfish Tip #5 (aka Yellowtail Amberjack)
What's The Best Rod To Catch Yellowtail Kingfish?
When it comes to fishing for Yellowtail Kingfish in Sydney, the right gear can make all the difference.
It's recommended that you use a rod and reel combo with at least 15kg breaking strain capability, as it will need to hold up against the strong fights these fish put up.

If you're targeting smaller kingies inshore, then a lighter action rod could work, but it's always safer to have a sturdy and reliable rod ready.

For the best and most lively swimming action, use a rod with a responsive and springy tip.

A stiff or heavy-rated tip can result in underperforming swimming actions from your lures and ultimately result in fewer bites.

A great all-around choice for beginners and experts alike is a 9 to 12-kg rated rod with 6000 size reel. With this setup, you will be able to fish anywhere from shallow waters near the shoreline up into deeper waters without fear of losing your catch due to it being too heavy!

Now that you know the best rods for catching Yellowtail, it's time to get out there and start reeling in some Kingies today! Make sure you have a sturdy and reliable rod with at least 15kg breaking strain to fight these monster fish head-on. A responsive and springy tip will give your lures the most lively swimming action, enticing more bites in the process. With the gear mentioned above, you'll be able to fish anywhere successfully.
---
How To Catch Kingfish Tip #6 (aka Yellowtail Amberjack)
What's The Best Reel To Catch Yellowtail Kingfish?
The Yellowtail Kingfish is arguably one of the toughest and most intense fighting fish that can be encountered by anglers in Australia. Its fierce, brutal fight requires an appropriate rod and reel with high-end gear to stop these beasts from taking your line or hook before it's too late!
An appropriate fishing reel is essential if you want to catch big Kingfish (Larger than 130cm and over 20kg). Fishing reels come in different sizes and models with varying drag capabilities for stopping large kingfish or other game species like Giant Trevally.
A quality fishing outfit is essential if you want to catch hard-hitting fish such as kingfish whether you're rock fishing, jetty fishing or other land-based locations. . A 5000-8000 size spinning reel will do just fine to catch these tough prey with lures, although a 10000-size reel is a better choice for targeting big Kingfish with bait.
These reels would work well when for experts and beginners learning how to catch kingfish:
Shimano Revolution 641
Shimano Revolution 1002
Shimano Jewel 701SP
Shimano Raider 762
Daiwa Saltiga 10,000
Daiwa Saltiga 14,000
---
How To Catch Kingfish Tip #7 (aka Yellowtail Amberjack)
What's The Best Line To Catch Yellowtail?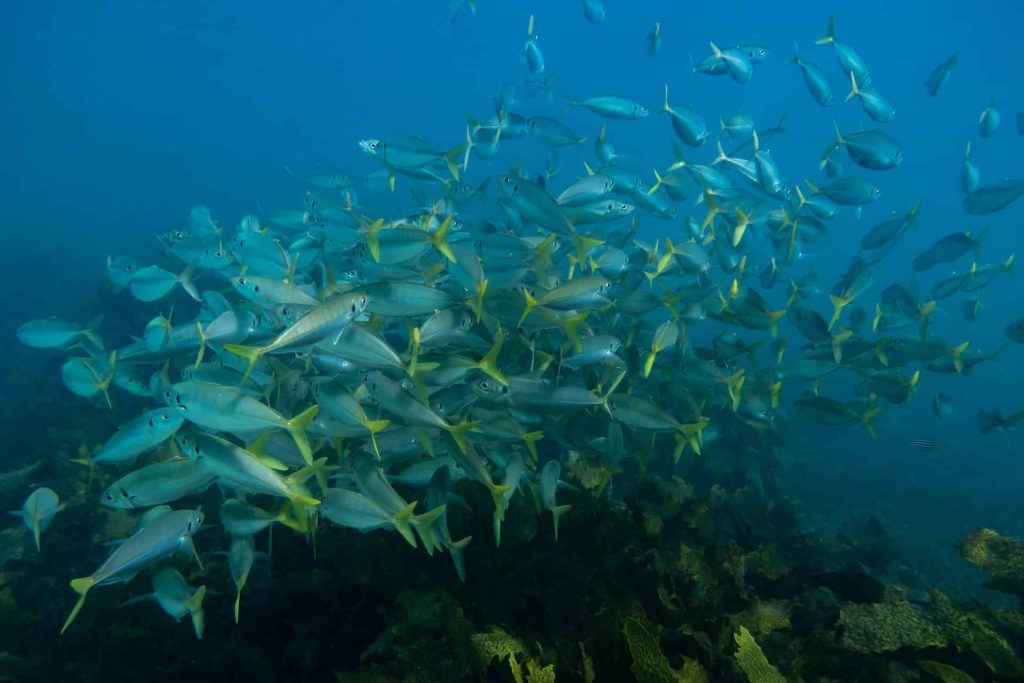 The brand of braid you choose comes down to personal preference, but 8-ply fused braids work well for most applications.
The fight against a Yellowtail Kingfish is not one that should be taken lightly. In order to win their freedom, they will do whatever it takes and can burrow through weeds, rocks and reef structures. With that in mind:
A good starting point for braid and leader would be a 65lb-80lb braid,
With an 80lb-100lb (or higher)Monofilament leader.
The FG knot is the best way to join braid and mono.
---
How To Catch Kingfish Tip #8 (aka Yellowtail Amberjack)
What's The Best Bait For Yellowtail Kingfish?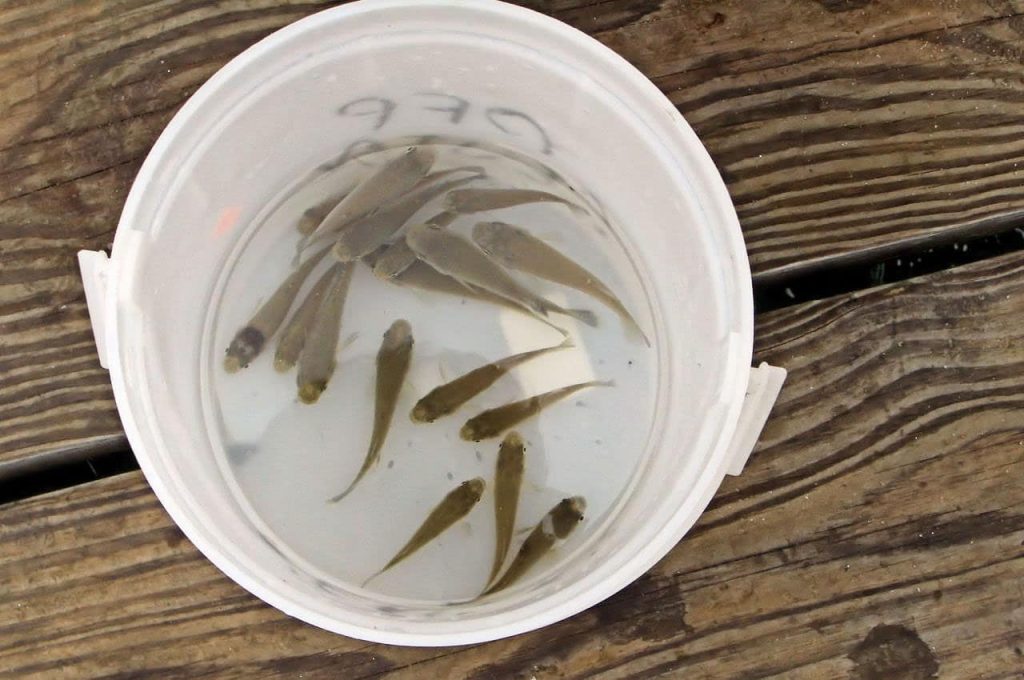 Live bait is always a great option for Yellowtail Kingfish and can be caught using small dropper rigs or Sabiki rigs. Popular live baits include:
Slimy mackerel,
Yellowtail scad,
Garfish,
Salmon trout,
Garfish
Mullet
Herring
Silver Trevally
and, of course, Squid
Kingfish are known for being fussy eaters, so it's worth securing some good live bait at the beginning of your day. You want to have a few options to entice them when they start feeling hungry again!
---
How To Catch Kingfish Tip #9 (aka Yellowtail Amberjack)
What Are The Best Lures For Yellowtail Kingfish?
Lures are often favoured by anglers when targeting Yellowtail Kingfish as they allow for a more hands-on approach to catching these strong fighters.
Proven types of lures for Kingfish include:
Stickbaits
Surface poppers
Hardbody Lures
Metal jigs
Skirted trolling lures,
Hardbody Lures
Lures that imitate small fish or squid are also effective for targeting these aggressive predators. Experiment with different colours, sizes, and retrieval speeds to find the best lure for your target area and conditions. And don't forget to always have a good supply of extra hooks and split rings on hand in case those intense-fighting fish do some damage to your gear!
---
How To Catch Kingfish (aka Yellowtail Amberjack)
Conclusion
Catching Yellowtail Kingfish requires the right tactics, equipment, a bit of preparation and a whole lot of patience, but the excitement and thrill of landing one of these powerhouse fish is well worth it! These fish can be finicky and picky, but when they hit your line, it will definitely be a fight to remember!
Now that you know how to catch kingfish, what are you waiting for? Head out on the water, catch some live bait or grab your favourite lure, and start reeling in some Kingies today! Good luck and tight lines!
---
You Might Also Like:
If you enjoyed reading this blog post on How To Catch Kingfish, you might also be interested in:
---
Tags: How To Catch Kingfish, How To Catch Kingfish Land-Based, How To Catch Kingfish For Beginners, How To Catch Kingfish Amberjack, How To Catch Kingfish Sydney NSW