Top 7 Best Beach Fishing Rods
If you want to go fishing at the beach there are a few things you absolutely must have: bait, line, a reel, and a rod. Trying to discuss all of these things at once can get overwhelming so in this article, we are going to focus on fishing rods. 
Rods are a classic symbol of fishing. Everyone knows something big is on the line when a fisherman's rod is bent over toward the water. Fishing rods let anglers know when something has taken their bait- the tapping seen at the top of the rod when a fish is biting creates an exhilarating feeling every angler knows and wishes for. 
Whether you are just getting started on your fishing journey or you are a veteran angler, our product review and buyer's guide will simplify your hunt for the best beach fishing rod. With so many options to choose from, there is a lot to cover. Let's get started!
Disclosure: We only endorse products we've personally used or that have come highly recommended by our trusted peers. We're proud affiliates for some of the products on our site, and as such, we may get a small commission if you purchase through one of our referral links. However, there's no extra cost to you. Check out our affiliate disclaimer in our Privacy Policy if you'd like to learn more. 
PENN Prevail II Surf Rod 14ft (10-25kg) 

At a bargain price of under $300 (AUD), the PENN Prevail II Spinning Surf Rod is an excellent choice for a beach fishing rod. It is made from a graphite composite and features an ergonomic grip with an x wrap shrink tube for maximum traction when wet.
Stainless steel guides complete with aluminium oxide inserts keep the fishing line, rated between 10 – 25 kg, running smooth. The 14ft 6in the version of Prevail II Spinning Surf Rod separates into three pieces for easy storage. It also features a graphite reel seat that is strong enough to keep your reel in place under intense pressure from massive fish.
Final Thoughts
The PENN Prevail II Spinning Surf Rod landed at number one on our list because of the quality features it offers for a relatively cheap price. The Prevail II's graphite composite material allows for both the sensitivity of a graphite rod and the strength of one made from fibreglass. Sensitivity is especially important while beach fishing in order to differentiate between the tapping of the waves and the cautious bites of a fish.
The extra strength provided by the fibreglass component means anglers won't have to worry if they hook a fish bigger than expected. For its price, the PENN Prevail surf rod is truly out of its league when it comes to performance and durability when pitted against the harsh conditions of saltwater fishing.
Pros:
✔️ Reasonable price

✔️ High-quality features
✔️Durable in beach fishing conditions
✔️3-piece for easy travel and storage 
✔️Graphite composite allows strength and flexibility
Cons:
❌ Slightly heavy for some users
❌ Price range better suited for serious anglers
Abu Garcia Veritas 4.0 Surf Rod 12ft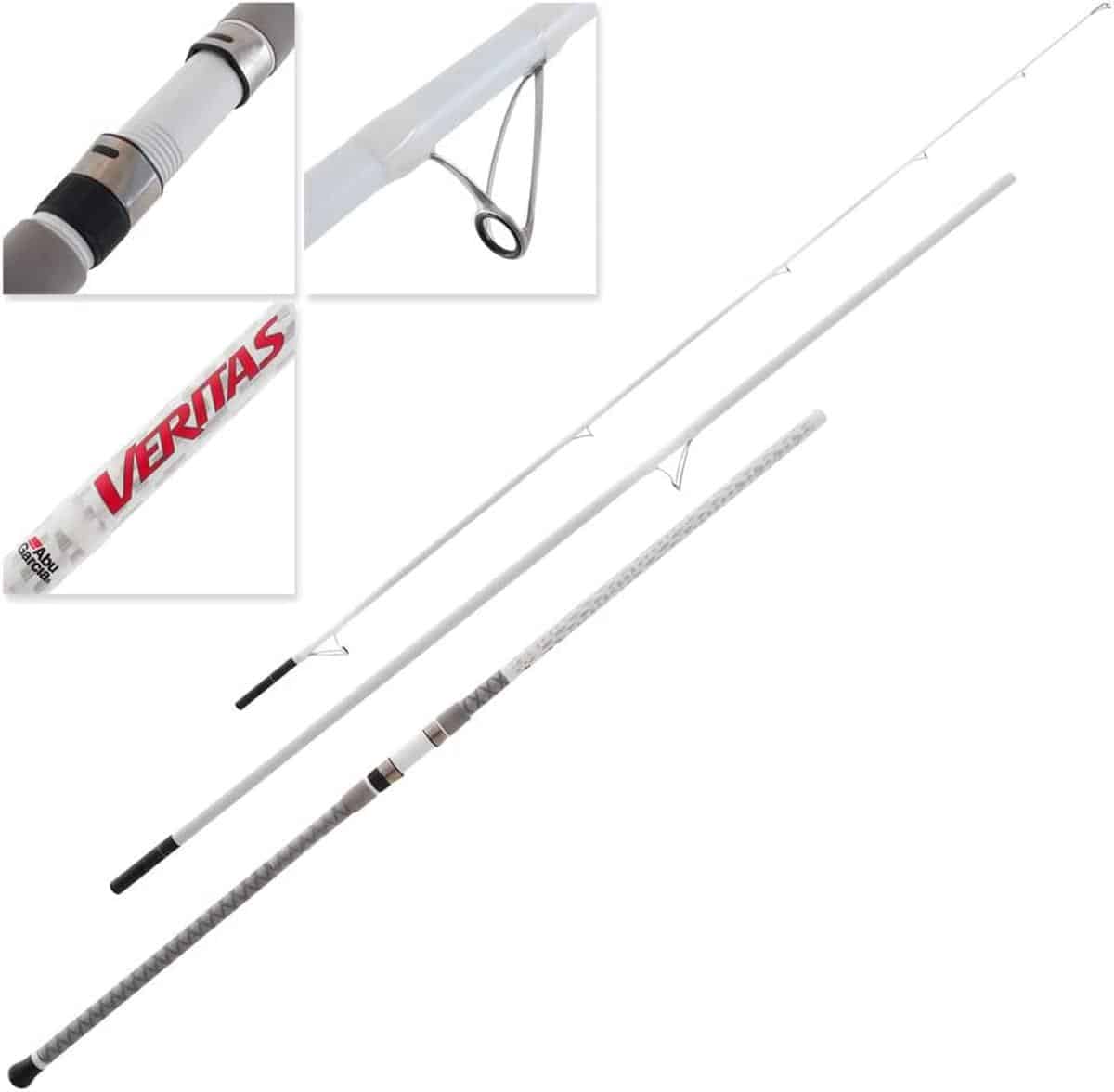 Coming in at under $200 AUD, the Abu Garcia Veritas 4.0 Surf Rod is a fantastic beach fishing rod to add to your arsenal. The Abu Garcia Veritas 4.0 Surf Rod, which is made from high-density graphite, is host to three variants: 9 ft 3 in, 10 ft, and 12 ft models. Depending on the rod length, models are meant to handle fishing line rated from 6 to 20 kg.
The Veritas 4.0 Surf Rod also features stainless steel guides with alconite inserts that keep fishing line friction at a minimum, along with a double-locking reel seat for maximum reel security. The 9 ft 3in and 10 ft variants break down into two pieces while the 12 ft version breaks down into three pieces. The 9 ft 3 in and 10 ft models also differ from the 12 ft variant in that they are both rated as heavy power while the 12 ft is rated as medium heavy power.
Final Thoughts
Abu Garcia's Veritas 4.0 Surf Rod fits in at number two on our best beach fishing rods list because similar to PENN's Prevail II, it is an absolute bang for its buck! We recommend going with the 12 ft model for beach fishing because more length will allow for longer casts which can make or break your surf fishing trip.
The Abu Garcia Veritas 4.0 Surf Rod's high-density graphite build provides its user with unmatched sensitivity for detecting even the slightest of fish bites. Despite the high-density graphite blanks, the Veritas 4.0 Surf Rod is a comfortable weight and anglers will appreciate the control it gives while staying relatively easy to operate for long periods of time. While there is not much bad to say about the Veritas 4.0 Surf Rod, it can be a little stiff at the base for the likes of some anglers.
Pros:
✔️ Balanced weight

✔️ Sensitive
✔️ Good price point
✔️Available in 9ft, 10ft, and 12ft
Cons:
❌Slightly stiff base
PENN Allegiance III Surf Rod 12ft (8-12kg)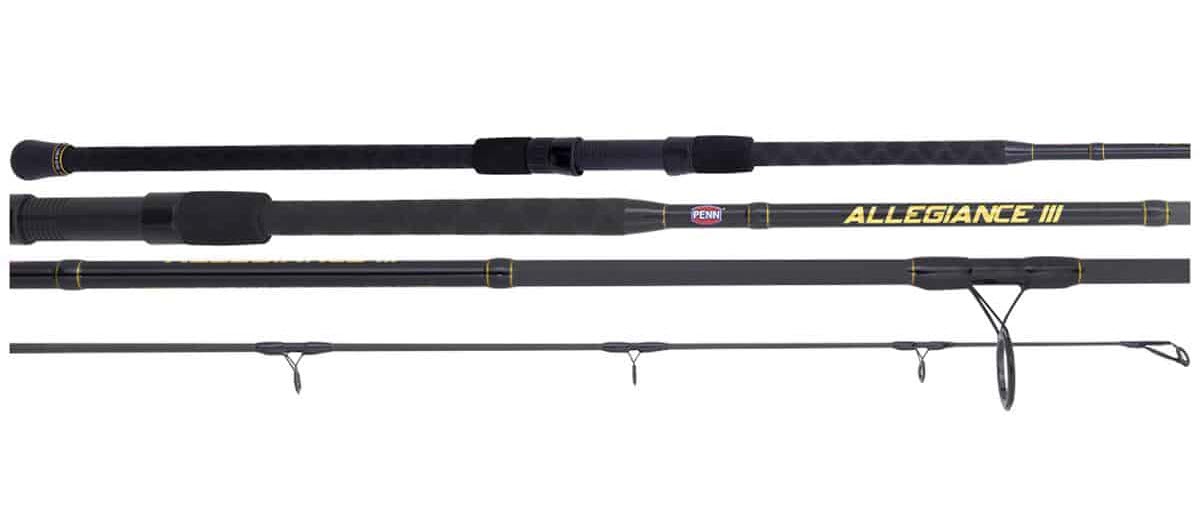 With a price point of under $200 AUD, PENN's Allegiance III Surf, 12 ft and 13 ft models, are a spectacular choice for beach fishing. The Allegiance III Surf rod is made from high-modulus graphite blanks and boasts Fuji O-guides, rated for 12-20kg line, for maximum casting distance.
It is a highly sensitive rod that is also stiff enough to handle powerful casts without over-bending. The Allegiance III Surf rod comes with a shrink rubber grip so that no slippage while casting in wet conditions occurs. 
Final Thoughts
We placed the PENN Allegiance III Surf rod at number three on our list of best beach fishing rods because of its amazing performance at a solid price. The Allegiance III Surf rod is capable of handling just about anything that will come your way while surf fishing. As with most PENN products, it is built to last, perform, and be an all-around workhorse. 
Pros:
✔️ Quality materials
✔️Strong but sensitive 
✔️Superb Value  
Cons:
❌ Nothing bad worth mentioning here
Okuma Cedros CSX-S-1102MH Surf Rod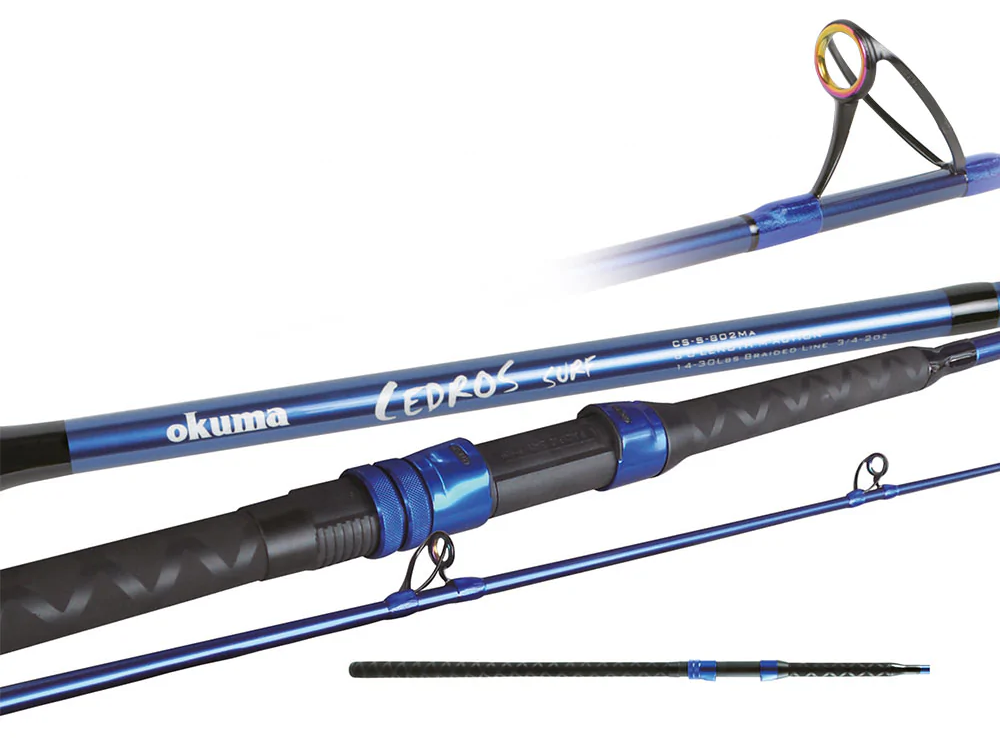 At under $200 AUD, Okuma Cedros CSX-S-1102MH Surf Spinning Rod is one of Okuma's best products. This beach fishing rod is made with high-quality materials, including 30 Ton carbon fibre blanks and 316-grade stainless steel guide frames. The custom handle set makes it even more comfortable and convenient to use. Any surf angler would be lucky to have this rod!
The Cedros Surf CSX Rod's carbon fibre construction allows for quicker action when compared to a graphite rod. A smooth taper plus stainless steel guides with zirconium inserts make for an exceptional casting experience. The guide system on the Cedros Surf CSX rod is specifically designed for braided line. According to Okuma's official website, this rod was tested continuously for 1200 hours in salt water spray and remained without corrosion. 
Final Thoughts
We highly recommend giving the Okuma Cedros CSX-S-1102MH Surf Spinning Rod a shot on your next beach fishing trip. It's hard to go wrong with a surf fishing rod that is so durable with fantastic performance features.
Though it is more expensive than many of the other rods on our list, it will most likely last longer than the cheaper options, therefore justifying its slightly bigger price tag. Especially for anglers who make frequent trips to the beach and like to fish while wading in the surf, this beach fishing rod is an amazing choice. 
Pros:
✔️ Highly durable
✔️ Carbon fibre build

✔️ high-quality materials
✔️Amazing corrosion resistance
Cons:
❌ Meant only for braided line
❌ Slightly higher price tag
PENN Spinfisher SSM Spinning Rod 13ft (8-12kg) 3pc

The 13 ft PENN Spinfisher SSM Surf Spinning Rod is a solid beach fishing rod that is rated for 8-12kg line and can break down into three pieces. The Spinfisher SSM Surf Spinning Rod retails at under $100 AUD but performs better than most other beach fishing rods in its price range.
It is made from high composite graphite with glass blanks for extra stability. The Spinfisher SSM Surf Spinning Rod's reel seat is lightweight but durable enough to last a long time under pressure. Line flows smoothly through the rod's stainless steel guides fitted with ceramic inserts.
Final Thoughts
PENN's 13 ft Spinfisher SSM Surf Spinning Rod is a great addition to any angler's beach fishing lineup. It is a classic PENN rod that will get the job done in a strenuous environment. However, as with many rods in the lower price range, it will likely not last as long under constant intense fishing conditions as a higher quality rod.
That is not to say that the Spinfisher SSM Surf Spinning Rod cannot go head-to-head with more expensive alternatives; it certainly can!
Pros:
✔️ Very affordable 
✔️ Great entry-level beach rod

✔️ Built well
Cons:
❌ Not very durable over time
SARATOGA CAM IIS 12ft (10-15kg) Surf Rod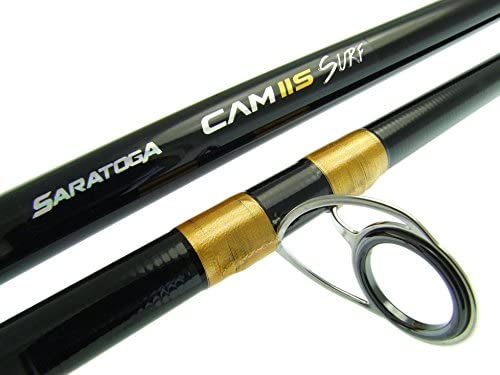 The SARATOGA CAM IIS Fibreglass Surf Fishing Rod can be purchased for under $100 AUD. The 12 ft model is rated for 10-15 kg line and is made from reinforced fibreglass blanks. The tip of the rod features an integrated yellow glass system for an extra fast taper.
The rod features a total of seven Gunsmoke insert guides to keep the fishing line in control as it exits the reel. The reel seat is built for graphite for a tight placement of the reel that is much more secure than a plastic reel seat. At the bottom of the rod is a split-butt grip for reduced weight, but it is strong enough to make long-distance casting a reliable feat. The butt's elastomeric polymer material makes for an easy grip in wet conditions.
Final Thoughts
The SARATOGA CAM IIS Fibreglass Surf Fishing Rod is featured in the number six spot on our list because of its reasonable retail price in addition to its quality components. It is surprisingly lightweight for a fibreglass rod and still maintains the strength that fibreglass rods traditionally provide.
A possible negative depending on your fishing style, is the split-butt style grip. Since the elastomeric polymer material does not cover the middle of the handle area in wet surf conditions, it may make for a more slippery grip.
However, if you are a beach fisherman that doesn't like to go into the surf and stays dry on the beach, this will probably not inhibit your fishing experience. Other than this, the SARATOGA CAM IIS Surf Fishing Rod is an excellent choice for a beach fishing rod.
While a graphite build may be better for detecting the difference between the thumping of the waves and a small fish pecking at the bait, the fibreglass construction will ensure the rod does not break under the stress of fighting large marine fish.
Pros:
✔️ Highly durable
✔️ Great strength

✔️ Fibreglass construction
✔️ Very affordable
Cons:
❌ Split-butt aka Split-grip rod 
❌ Not very sensitive 
Fiblink Spinning Surf Rod 3pc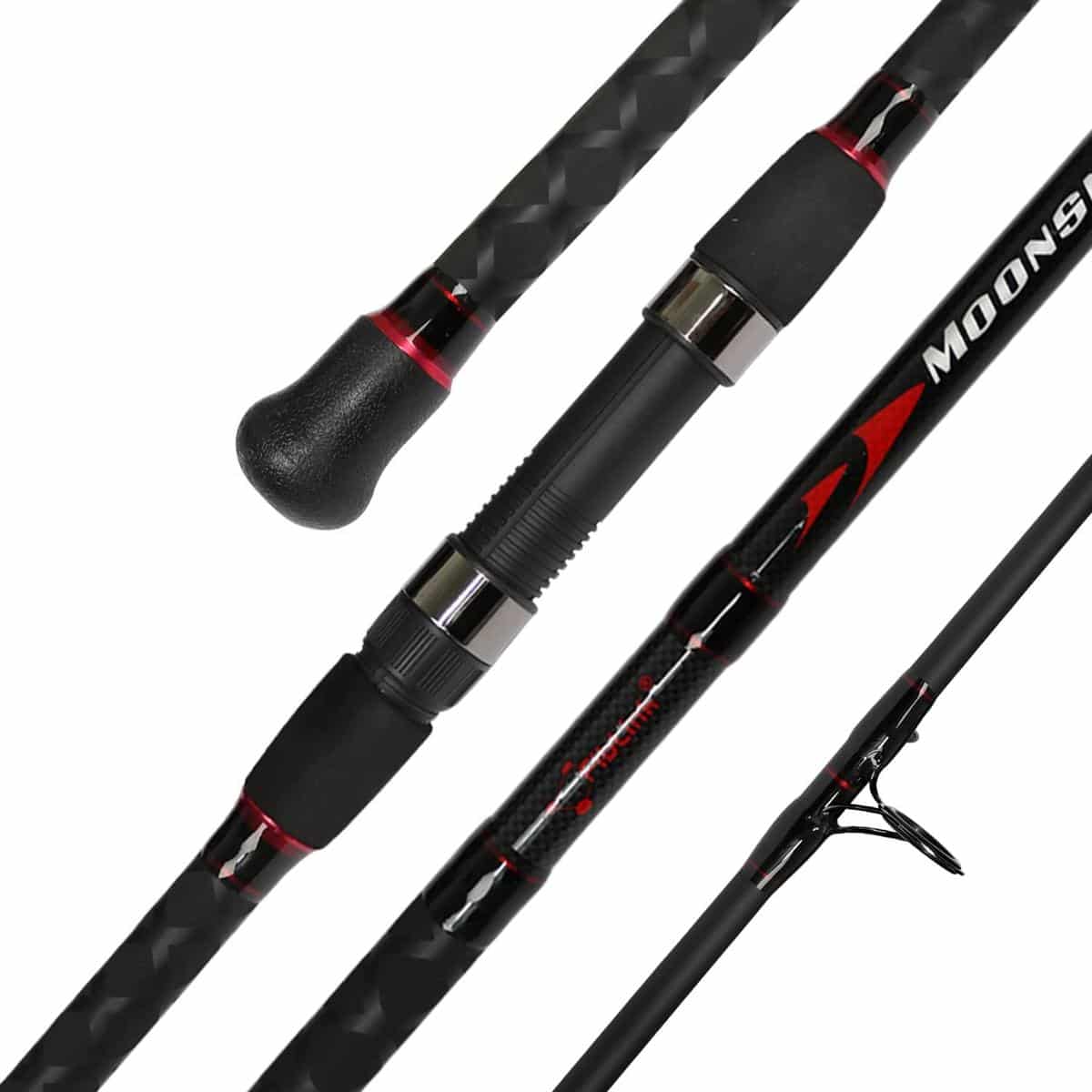 Fiblink's  3-Piece Surf Spinning rod comes in 9 ft, 11 ft, and 13 ft variants. It is made from a solid carbon fibre construction technology that results in a lighter and stronger rod. Carbon fibre is known for being ultra-light with formidable strength- pound for pound, and carbon fibre is one of the strongest materials you will find in a beach fishing rod.
In addition, the Fiblink Surf Spinning Fishing Rod comes with stainless steel guides featuring ceramic inserts. The guides are aligned with precision to be straight from top to bottom, ensuring that vibration from fish bites travels equally from the tip of the rod down to the angler's hands. A rubber shrink tube handle allows for a secure grip even in slippery conditions. Where foam may fail or absorb water, the rubber shrink handle excels and actually increases traction. 
Final Thoughts
The Fiblink Surf Spinning Fishing Rod comes in at number seven on our list because of its low price point but impressive features. While it is not as durable as some of the other rods on this list. Though, at under $100 AUD, which is cheap for a beach fishing rod, considering some can cost up to $1000, it is expected to have some flaws.
Some customers reported on Amazon that their Fiblink Surf Spinning Fishing Rod, which came as three pieces, did not fit together very well. Though, for anglers who are looking for a casual fishing experience on a budget, this rod will work just fine! 
Pros:
✔️ Sensitive action
✔️ Carbon fibre build

✔️ Cheap price point
✔️1 year warranty
Cons:
❌ Not the most durable
❌ Some reviews ,mention loose fitting between pieces

Best Beach Fishing Rod – Buyer's Guide
The old saying goes, you shouldn't bring a knife to a gunfight, and you shouldn't bring a freshwater fishing rod to a beach. The main reason for this is freshwater fishing rods are not built out of the same corrosion-resistant materials that beach fishing rods are built from.
Keep in mind, when surf fishing, the equipment needs to be able to withstand the damaging properties of salt water. Just like a car rusts if near the ocean for too long, freshwater fishing rods will corrode and be rendered useless by the salty environment.
Now that the main difference between freshwater and beach fishing rods is cleared up let's get into the most important factors when thinking about buying beach fishing rods.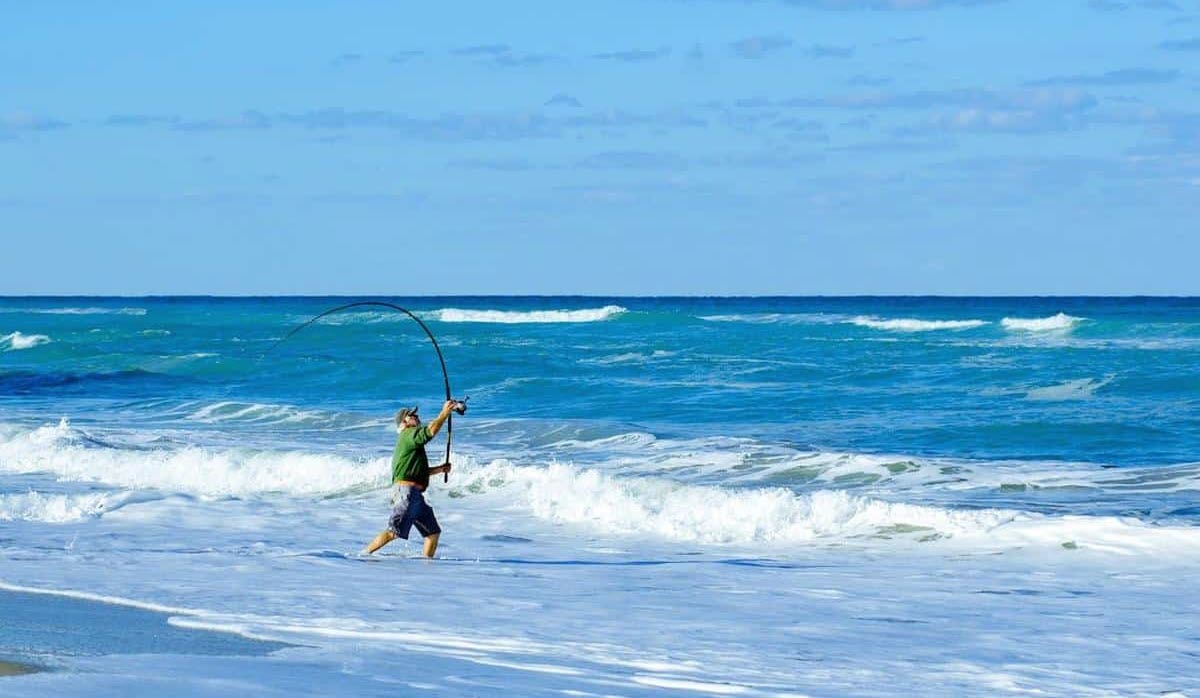 What Should You Consider Before Buying a Beach Fishing Rod?
1. Target Species 
Target species is the most crucial factor when determining which beach fishing rod is best because the type of fish you are chasing will determine what you will need to look for in all the other factors that go into your purchase. Unlike a lot of freshwater fishing spots, fishing at the can yield a wide range of results.
Depending on your location, you may hook anything from a tiny pompano or whiting to an adult shark. If you are someone who wants to be surprised by the species every time you land a catch, consider an all-around rod best suited for the most common species in your area, but also one that will be strong enough to handle something big if it bites. For this scenario, a rod made for bottom-fishing from the shore may be the best option.
If you are targeting a species that requires more finesse and a lure to catch, you will need to consider this as your number one requirement when looking for beach fishing rods. For example, the beaches of New England are often great fishing grounds for striped bass, which are typically caught on lures. As you are beginning your search for the perfect beach fishing rods, make sure to figure out what type of fishing you will do based on your target species.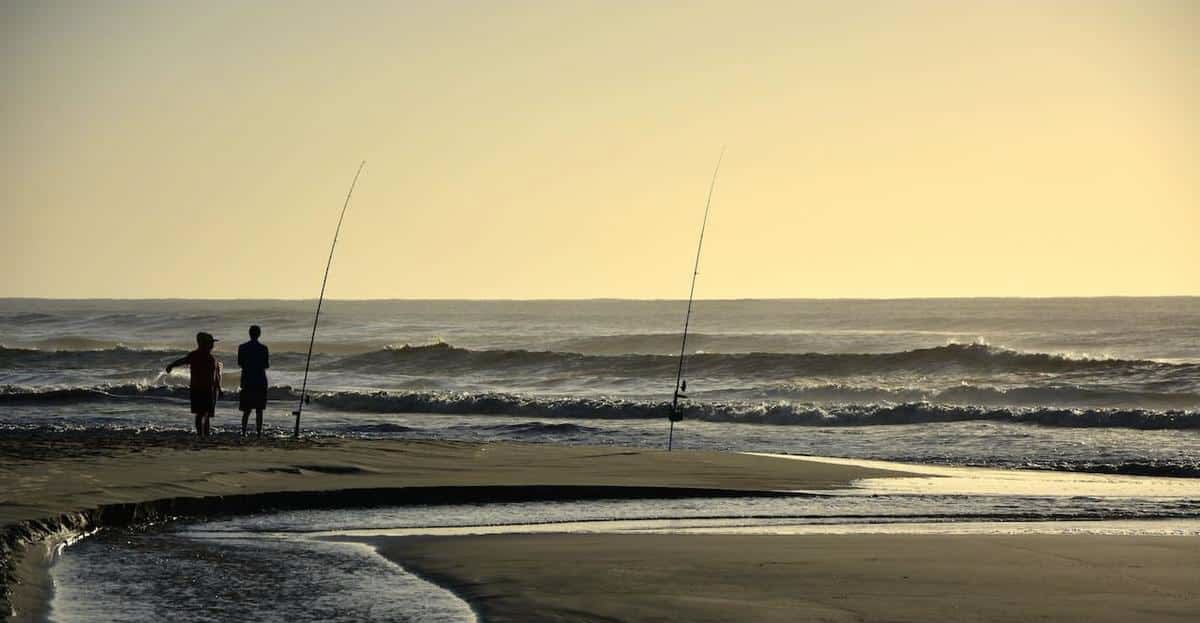 2. Rod Length 
Choosing the right length for a beach fishing rod can be daunting since they range anywhere from 6 – 20 feet! Shorter lengths are more suited for catching fish closer to shore, while longer lengths allow you to cast much farther. 
When deciding which rod length is most fit for your situation, make sure to take a look at the topographic features of your beach fishing spot. Look out for sandbars, channels, rocks, and if there is a river nearby- where it empties into the ocean.
These features are often more important than casting distance when it comes to catching fish so base your rod length around your observations. If you're not sure what to look for and would rather have standard-size beach fishing rods as your go-to, 10 feet is typically a good length. However, if you need to cast far in order to reach these features, don't be afraid to try a 14-foot or longer rod to reach your target.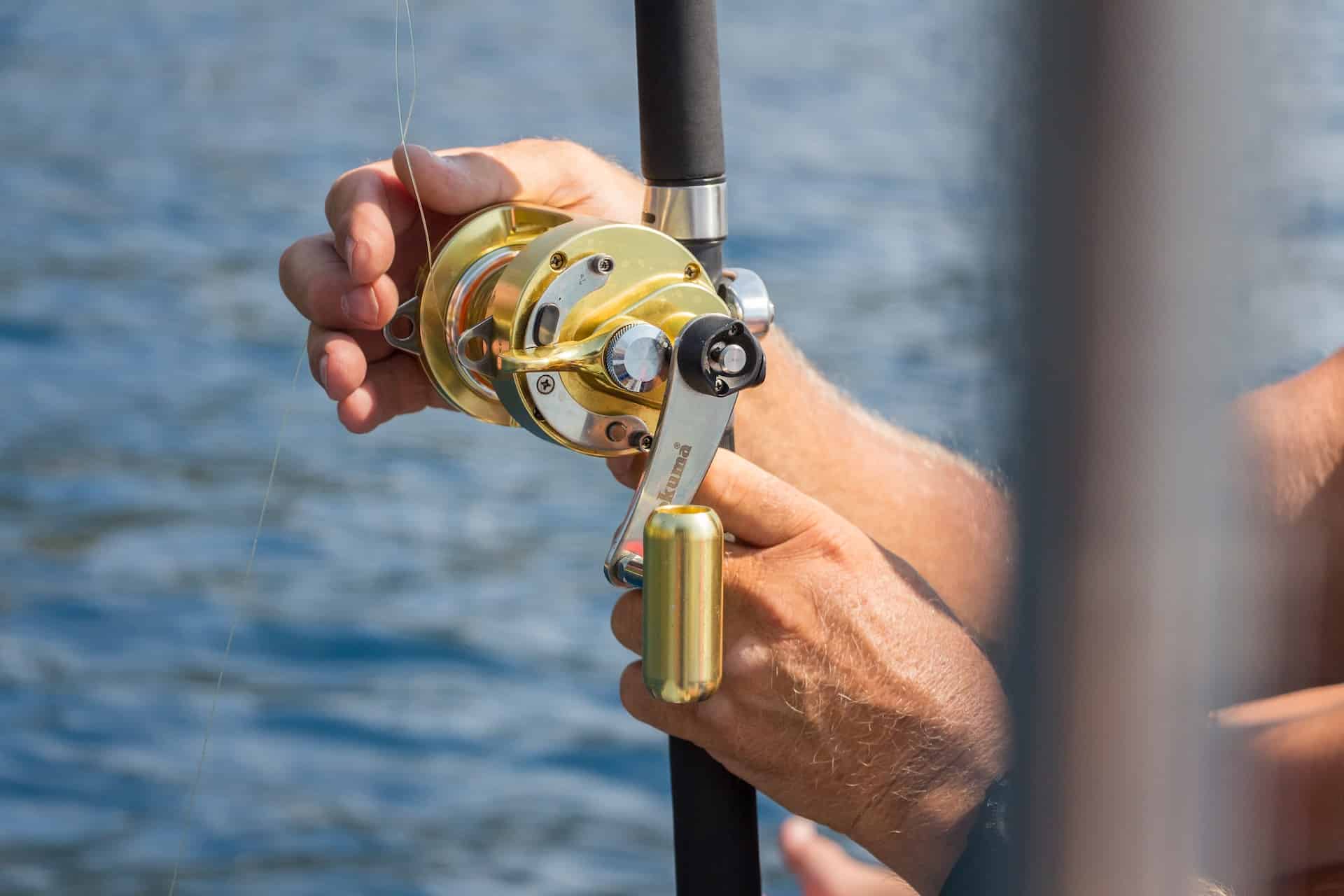 3. Spinning vs Conventional 
The two main types of reels you will be looking at to pair with your beach fishing rods are spinning and conventional. 
For beach fishing, the most common reel you will find attached to a fisherman's rod will be a spinning reel. Spinning reels are by far the easiest to use when beach fishing because you don't have to worry about getting a "bird's nest" (a messy knot of fishing line) when casting, and are generally much easier to handle on shore than conventional reels. 
Conventional reels are better suited for experienced fishermen with very specific beach fishing demands. Casting a conventional reel from shore takes a lot of practice and a lot of times when doing so, the fisherman will wear protection on their thumbs so as not to get burned by the line.
Just as these two types of reels are very different, so are the rods they are attached to. Rods for spinning reels are typically lighter and shorter than rods for conventional reels. Spinning rods also allow for more flexibility in fishing style than conventional rods. When choosing a beach fishing rod, make sure you are able to pair it with the type of reel you have.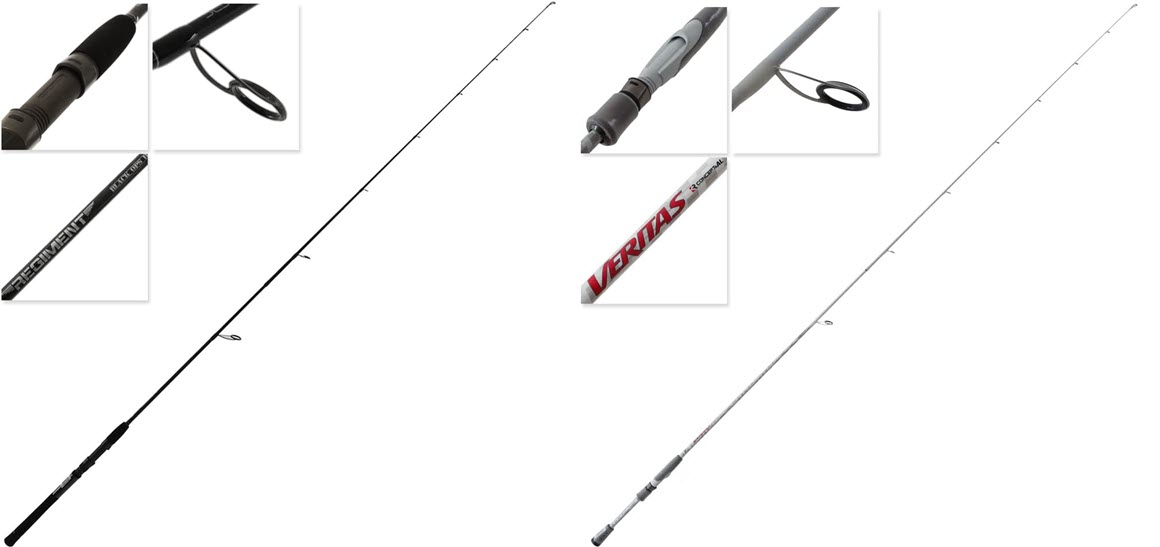 4. Graphite vs Fiberglass 
The two most common rod materials you will find when searching for beach fishing rods are graphite and fiberglass.
Fiberglass rods are great for those who are on a tight budget but lack the sensitivity of a graphite rod which lets the angler know when a fish is biting. However, fiberglass rods are very durable and in most cases last longer than their graphite counterparts. Though if you are planning on battling big fish for long periods of time, a graphite beach fishing rod may be the way to go since you will get less tired than with the heavier fiberglass option.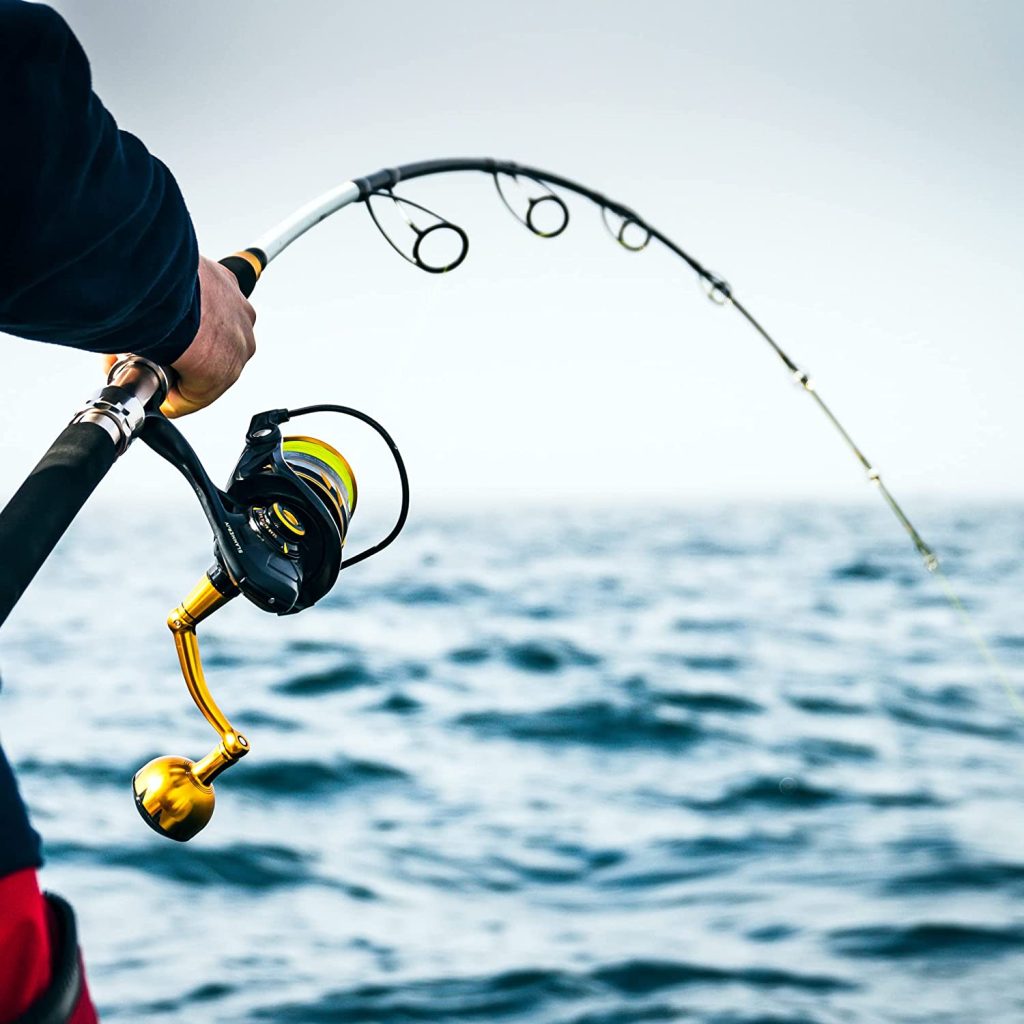 5. Action 
After coming to a conclusion on what material you want your beach fishing rods to be made of, next look to the best "action", also known as the speed of the rod, for your saltwater fishing situation. A rod's "action" describes its flexibility. The standard categories of rod action are fast, medium, and slow. 
Fast-action rods are ideal for fighting large fish where the angler requires a stiff rod to physically turn the fish. For surf fishing, this rod speed is good for handling sharks, tarpon, bull redfish, and other big inshore species. 
Medium-action rods are best for an all-around beach fishing setup that may require casting a weight or a lure. They are durable enough to handle heavy sinkers, but also sensitive enough to maneuver certain lures and baits.
In saltwater environments, slow-action rods are the best choice when it comes to fishing with lures or live bait. Slow-action rods are very sensitive and will allow you to feel any twitch or small bites on the end of your line.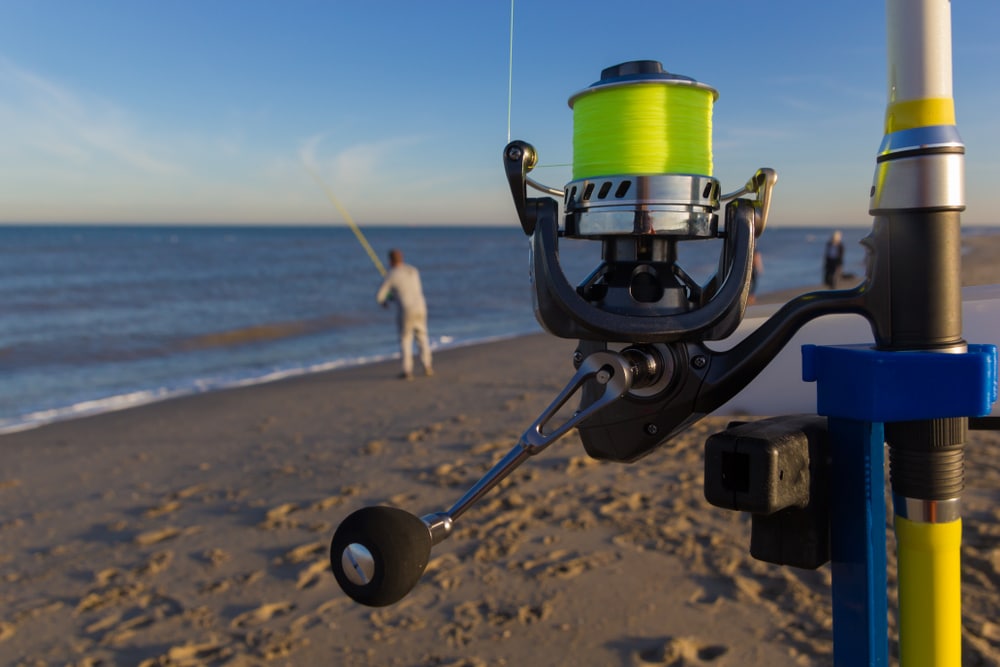 6. Power 
The power of a rod is directly related to the rod's action. The rod's "power" is the amount of force it takes to bend the rod. The options for a rod's power are light, medium, medium-heavy, heavy and extra-heavy. For beach fishing, unless you are targeting a specific species that requires the finesse allowed by a light rod, go for a medium or medium-heavy rod.
Medium and medium-heavy rods will provide enough strength to take on the majority of the saltwater species you will come across in the surf. However, for a species such as pompano, you may want to opt for a light rod to better control your bait placement and be able to react faster to small bites.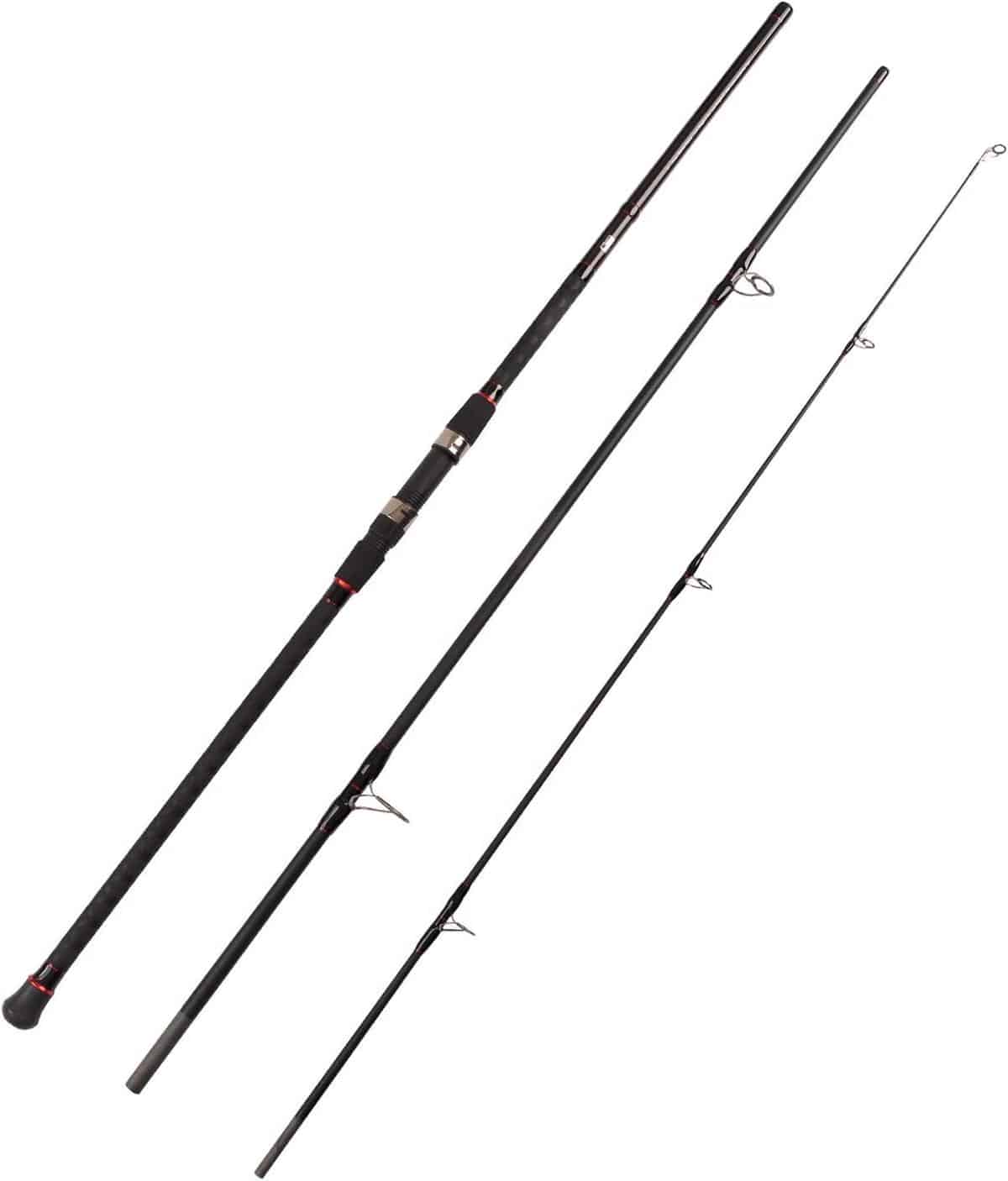 7. One Piece or Two Piece 
The main difference between one-piece and two-piece beach fishing rods is how easily they can be stored. As the name suggests, two-piece rods can be broken down into two segments and therefore enable you to store it as half the length of its original size.
One-piece rods will be a little harder to store if you are tight on space but do not require the bit of extra maintenance that two-piece rods do. Especially for beach fishing, if you are unpacking and assembling a two-piece rod you will risk getting saltwater and sand inside the rod.
8. Price Points 
Just like rod length, beach fishing rods have a vast price range. Depending on material quality and availability, you can find a beach fishing rod for anywhere between $20 and over $1000. If you can't afford a top-of-the-line rod for your saltwater adventures, do not fret!
Cheaper fishing rods can do a fantastic job and often are competitive with the abilities of high-end beach fishing rods. Though if you would like to add some luxury to your beach fishing experience, a high-end rod will do the trick! More expensive rods usually come with nicer features such as premium handles and extra-light materials.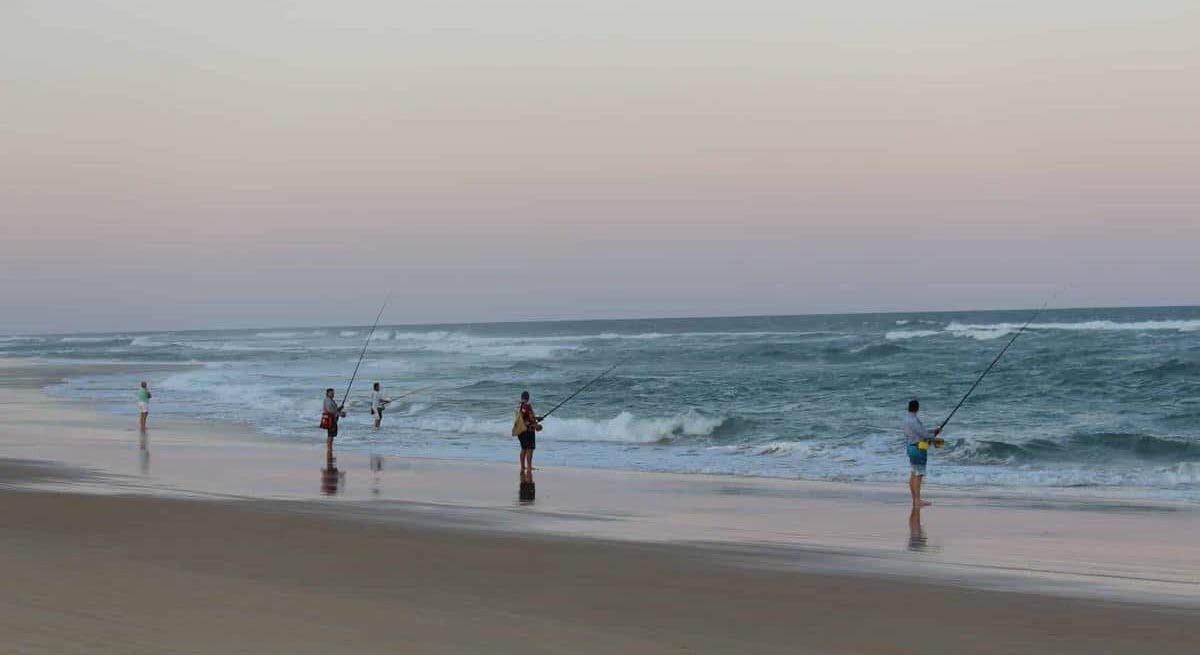 9. Reputation (Reviews)
If you have narrowed down your search for a beach fishing rod, be sure to check the reputations of the options you are considering. After all, the price of a rod is only worth what people are willing to pay for it and if you find that the people who did buy one already would not do so again, that is a good sign to stay away from that beach fishing rod.
On the contrary, if you find a rod that has raving reviews and testimonies from people who have purchased and used one, consider going with that rod.
You Might Also Like
If you enjoyed reading this blog post on The Best Beach Fishing Rod, you might also be interested in:
Tags:
#The Best Beach Fishing Rod 2023, #Best Beach Fishing Rod Guide, #Best Beach Fishing Rod Buyers Guide, #Best Beach Fishing Rod Tips, #Best Beach Fishing Rod For Beginners