Top 10 Best Fishing Shoes In 2023 
When most people think of fishing gear, they imagine fishing rods, reels, line, hooks, and sinkers. However, one of the most important components of a successful day of fishing is actually what you have on your feet! Fishing shoes can make or break a fishing trip.
Trying to fish without the proper footwear is like trying to cook without the correct utensils. Let's discuss our top 10 best fishing shoes and then cover the ultimate guide to the best fishing shoes so you can make the right purchase for your next fishing adventure.
Disclosure: We only endorse products we've personally used or that have come highly recommended by our trusted peers. We're proud affiliates for some of the products on our site, and as such, we may get a small commission if you purchase through one of our referral links. However, there's no extra cost to you. Check out our affiliate disclaimer in our Privacy Policy if you'd like to learn more. 
Korkers Devil's Canyon Wading Boots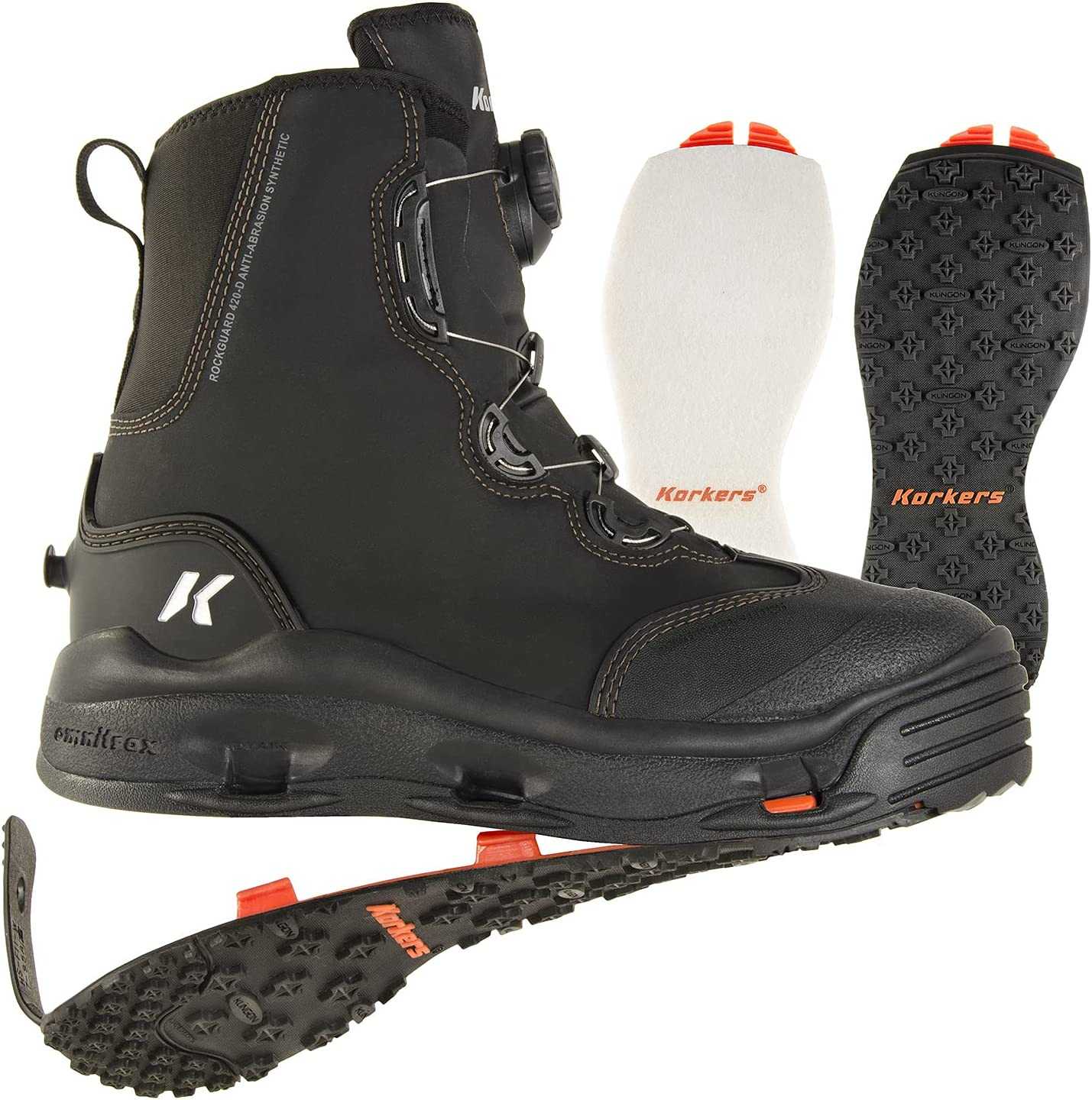 When it comes to the best fishing shoes, you cannot go wrong with Korkers Devil's Canyon Wading Boots! These fishing shoes feature an OmniTrax Interchangeable Sole System that is made with responsive traction that adapts to any fishing environment you may be in. As a bonus, each Korkers Devil's Canyon Wading Boots purchase comes with two outsoles. There is no need to worry about keeping laces tied with these fishing shoes because they feature the Boa M2 Fit system that keeps your boots on securely until you are ready to take them off. The Boa M2 Fit system's dial makes loosening and tightening adjustments with ease without having to remove your shoes.
The Devil's Canyon Wading boots will keep your feet dry with hydrophobic upper materials. Reduced stitching also helps keep water out. This Korkers product utilizes a rubberized anti-abrasion synthetic material to increase durability and its waterproof capabilities. Korkers Devil's Canyon Wading Boots also include an integrated drainage system with lateral drain ports and midsole drain channels to keep the shoes light even after being submerged for long periods of time.
Final Thoughts
We recommend the Korker Devil's Canyon Wading Boots because of their durability, snug fit, and lightweight. The main reason to get fishing shoes in the first place is usually to keep your feet dry, and these fishing shoes do a great job at that.
However, if you have wide feet, consider ordering a size or two larger than normal or looking at one of the other fishing shoes on our list, as these boots are known to be a little tight. It is better to have a slightly large shoe that you can tighten than one that is too small. 
Pros:
✔️ Reasonable price

✔️ Highly waterproof
✔️Very durable for most fishing conditions
✔️Lightweight
Korkers Greenback Wading Boots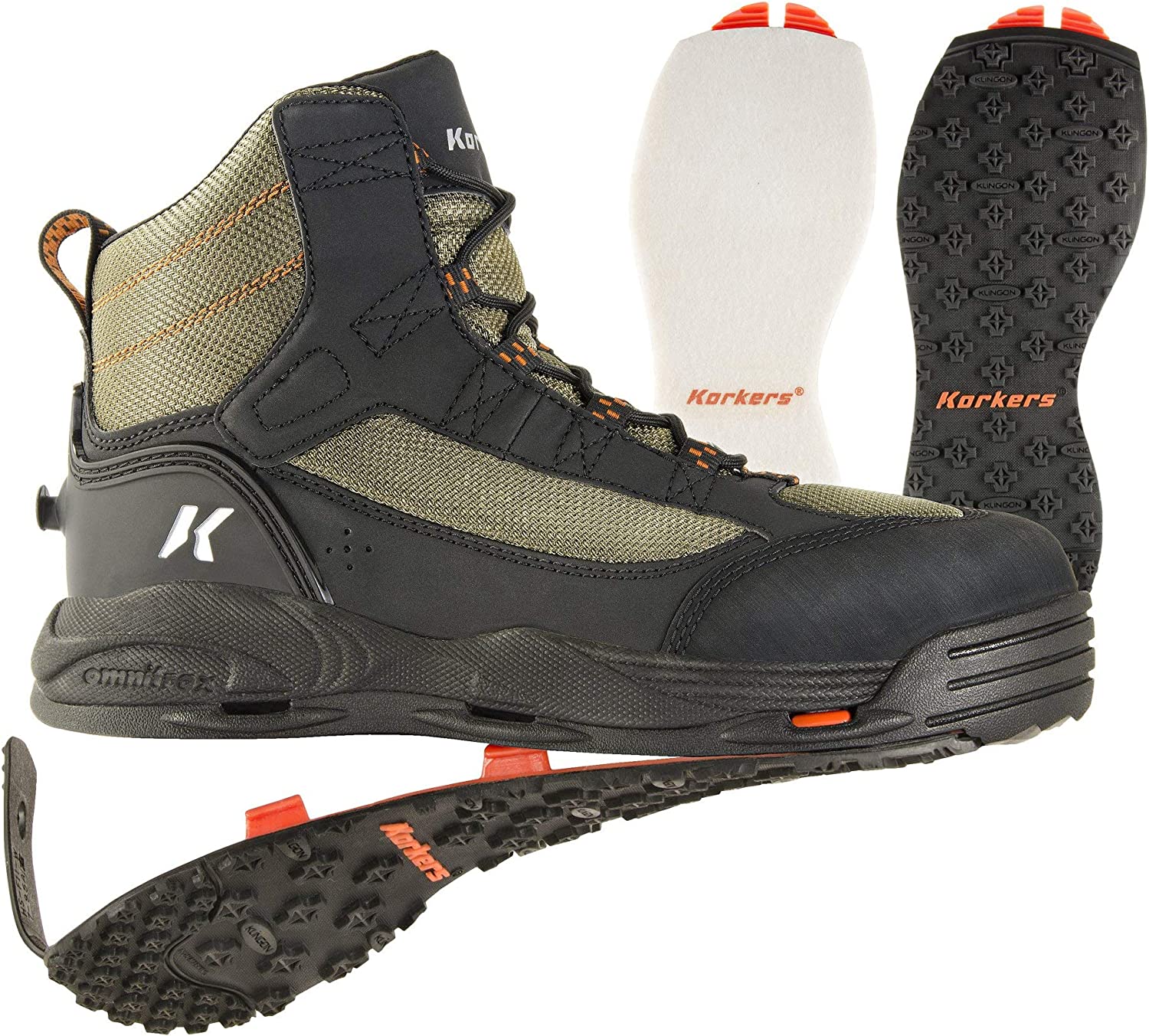 Next up, we have another Korkers product on the list. The Greenback Wading Boots share some of the same features and technologies as the Devil's Canyon Wading Boots which Korkers also make. Similar features include the OmniTrax Interchangeable Sole System for great traction no matter the situation and internal drainage that allows water to flow out through the midsole ports.
However, this shoe does not feature lateral draining ports. It is made out of hydrophobic materials to reduce drying time after being wet. The Greenback fishing shoe's Quick Cinch laces help to keep feet dry by allowing the wearer to customise a secure fit. While there are a lot of seams on these fishing shoes, they are strategically placed to minimise wear. Abrasion-resistant materials also add to improved durability.
Final Thoughts
While we highly recommend the Korkers Greenback Wading Boots, like their Devil's Canyon relatives, they should be purchased a size up for the best fit. The Korkers brand of fishing shoes tends to run smaller than typical for sizes, and when sized correctly, makes for an excellent pair of boots. The Greenback Wading fishing shoes are just as light in the water as they are out of the water. 
Pros:
✔️ Waterproof 

✔️ Very Durable 
✔️ Lightweight 
Redington's Palix River Wading Boots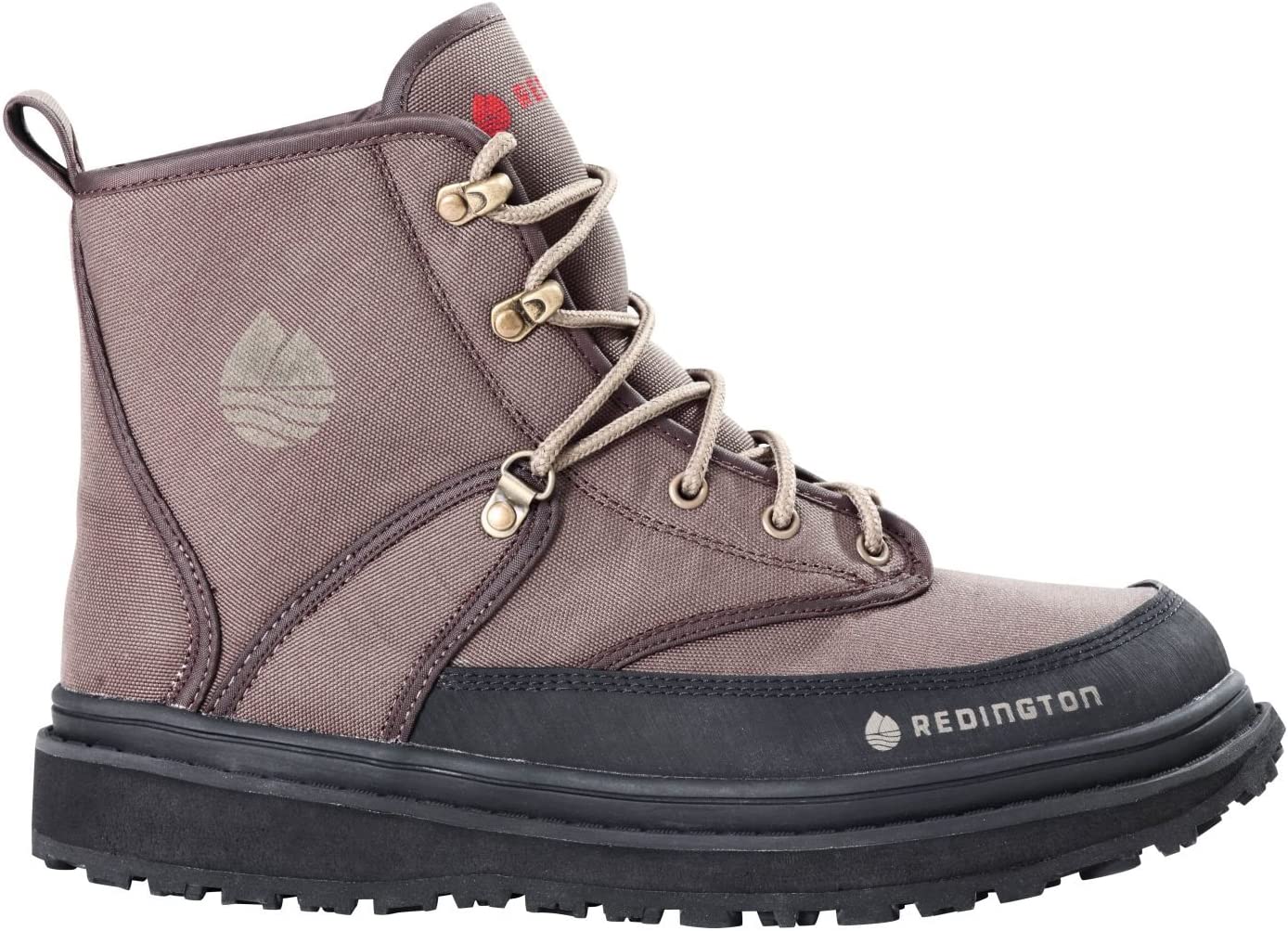 Redington's Palix River Wading Boots are an excellent choice when looking for the best fishing shoes. The Palix River fishing shoes are made from a combination of rubber and waterproof canvas. These fishing shoes feature standard but durable laces with webbing pull loops to easily and securely fit the shoes to your feet.
The rubber soles are great for traction on slippery surfaces and can even be fitted with metal studs for extra treacherous fishing conditions. The Redington Palix River Wading Boots can last over an hour underwater before water begins to seep in. The metal components of these fish shoes are made to be corrosion resistant which is essential for lasting long while constantly being placed in wet conditions. 
Final Thoughts
The Redington Palix River  Wading Boots are on this list of best fishing shoes because of their versatility and ability to perform well in a multitude of fishing environments. These fishing shoes run true to size but may be slightly wide at the toe box. For people with wide feet, this should be a good fit and provide relief from the tightness of narrower shoes.
Pros:
✔️ Option to add metal studs
✔️ Waterproof for over an hour
✔️Easily tightened or loosened  
Cons:
❌ Slightly wide toe box

❌ Laces are not as secure as a dial system
Frogg Toggs Hellbender Wading Boots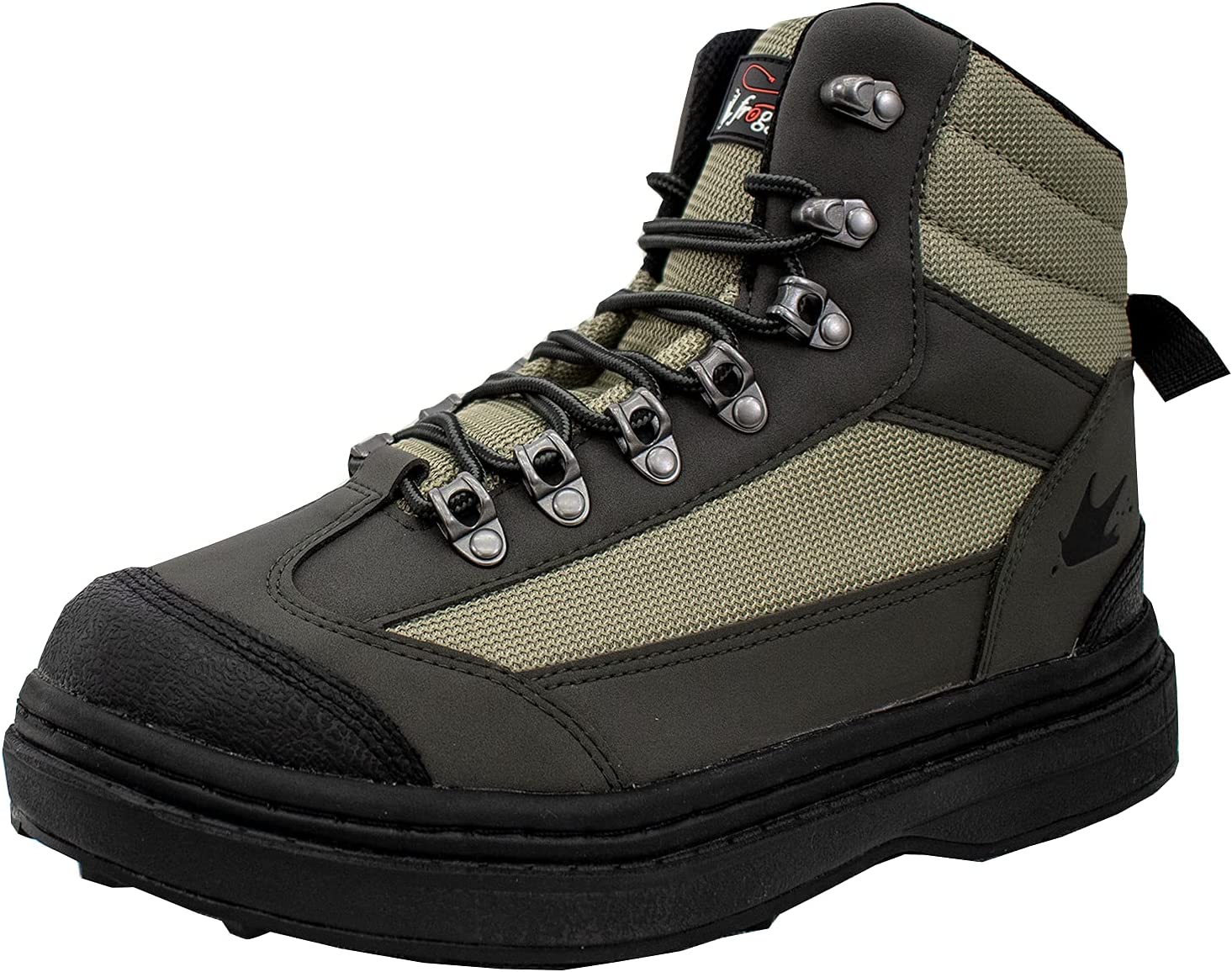 Frogg Toggs Hellbender Fishing Wading Boots are made from rubber, lightweight mesh, and PVC materials. The Hellbender boots are some of the most comfortable fishing boots you will find on the market. Padded ankle collars make for a snug fit that isn't painful and reduces blisters from rubbing. A polyurethane midsole provides maximum comfort without sacrificing stability. The rubber soles of the Hellbender fishing shoes are cleated for great traction even underwater.
Final Thoughts
The Frogg Toggs Hellbender Wading Boots are a super solid choice when it comes to the best fishing shoes. The Hellbender excels at comfort, which is very important if you are a fisherman that likes to spend hours at a time catching fish. Unfortunately, these fishing shoes tend not to be as durable as some of their competitors. There are reports of the soles peeling off after relatively short periods of use.
Pros:
✔️ Very comfortable 
✔️ They come cleated

✔️ Lightweight build
Cons:
❌ Not as durable as competitors
Frogg Toggs Anura II Technical Wading Shoes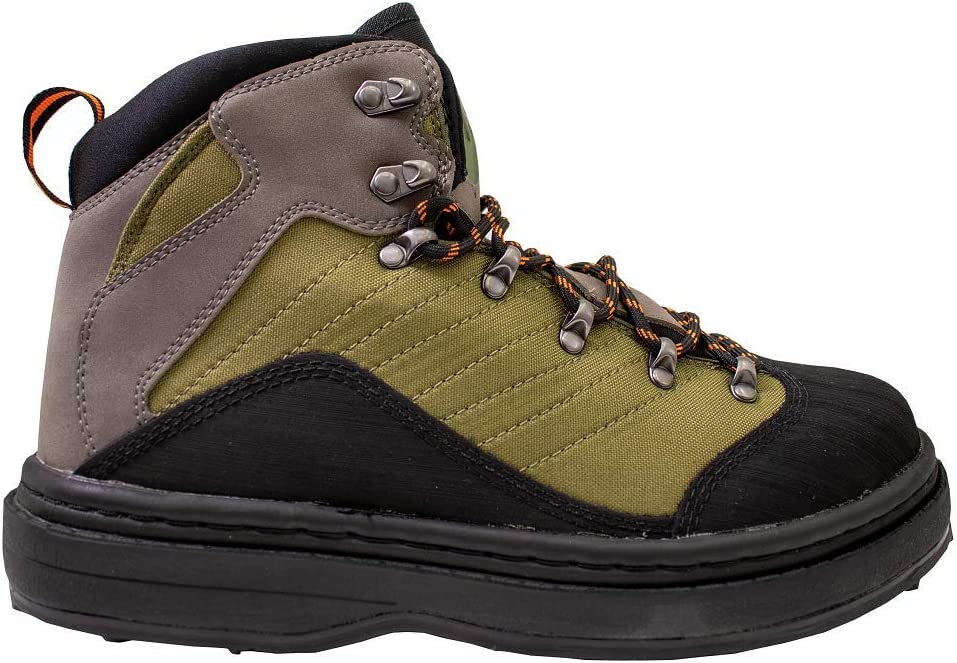 Frogg Toggs Anura II Technical Wading Shoes are another great choice when looking for a practical but comfortable fishing shoe. Made from rubber, leather, and nylon, the Anura II Technical Wading Shoes are rugged with a clean design. Reinforced rubber over the toe box helps protect the wearer from any rocks or other hard obstacles that may be submerged underwater or hidden in the underbrush.
Cleat-compatible rubber soles give anglers the option for increased traction when needed or lighter-weight shoes when traction is not an issue. The Anura II fishing shoes can be fastened with a classic shoelace.
Final Thoughts
Frogg Toggs Anura II Technical Wading Shoes made this list because of their comfort and ease of use. While the Anura II has a lot to brag about, it is unfortunately not fully waterproof. If having wet feet while fishing bothers you, this may not be the fishing shoe for you. Other than this, however, the Anura II excels at what it's meant to do!
Pros:
✔️ Super comfortable 
✔️ Lightweight

✔️ Reinforced rubber toe box 
Orvis Men's Ultralight Wading Boot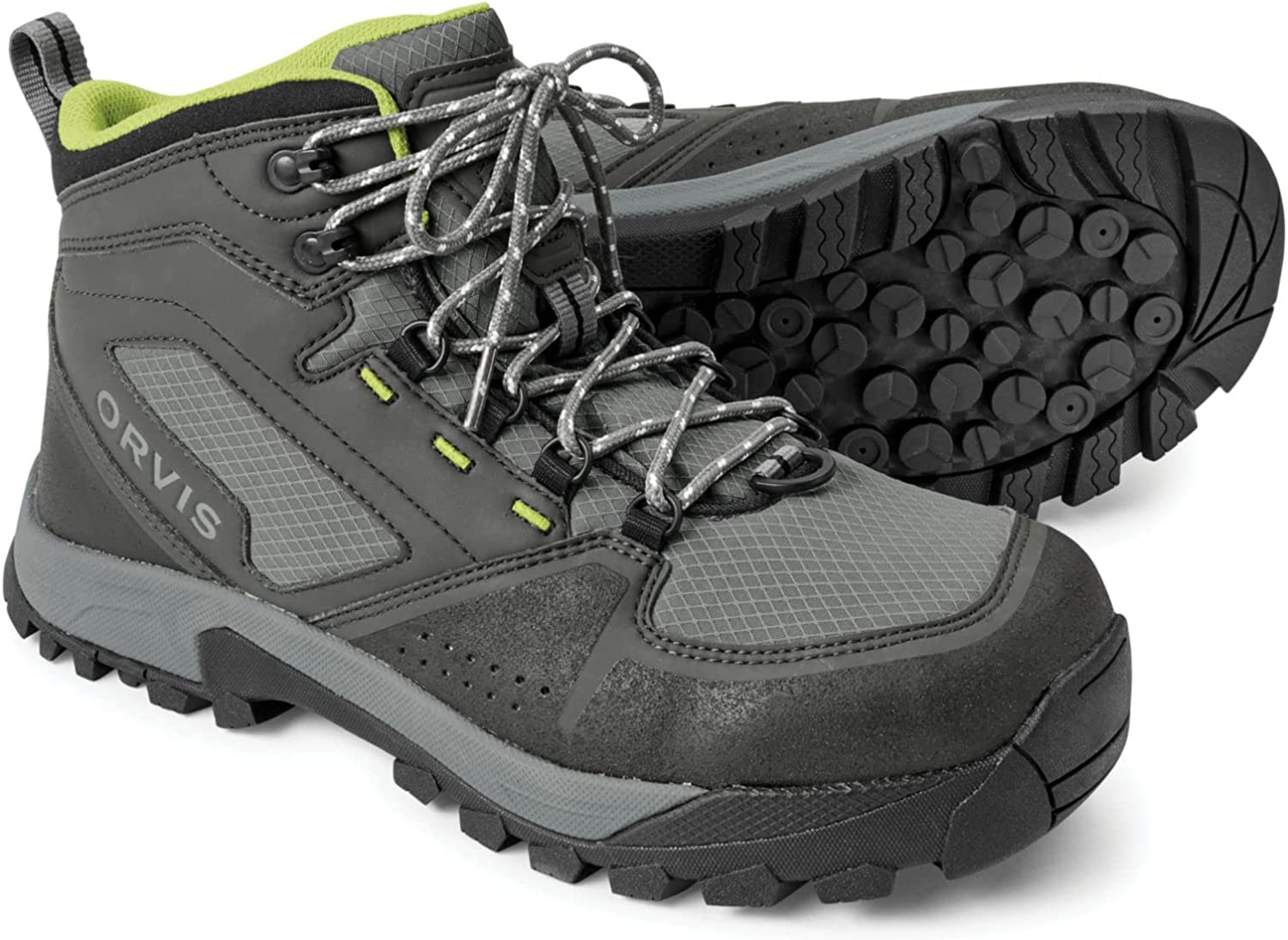 The Ultralight Wading Boot made by Orvis are a pair of lightweight fishing shoes, as their name suggests. Ultralight Wading shoes are much less bulky than many other fishing shoes but still maintain a high quality of materials and performance. The lightweight of these shoes can partially be credited to the mini ripstop inserts it features.
The Orvis Ultralight Wading Boots also boasts a custom Vibram EVA midsole for high levels of comfort and a TPU plate that provides improved stud retention when more traction is needed. These fishing shoes do not come studded but are compatible with studs if you would like to add them.
An abrasion-resistant rubber spray adds improved durability in areas that are likely to face more wear and tear. The Ultralight Wading Boot is made from polyester mesh, leather, and nylon. The leather is a special variant made from Clarino microfiber, which is stronger and more lightweight than traditional leather.
Final Thoughts
The Orvis Ultralight Wading Boot is a fantastic choice for fishermen who do not spend much time with their fishing shoes completely submerged underwater and want a lightweight but high-quality boot. Like the previous fishing shoes on this list, the Ultralight Wading Boot is not fully waterproof, so keep that in mind. It also has a lower-cut ankle area which may allow for splashes of water to make their way in if the waders are not properly worn. 
Pros:
✔️ Comfortable
✔️ Extremely lightweight

✔️ Stud compatible
Hodgman Aesis H-Lock Wading Boot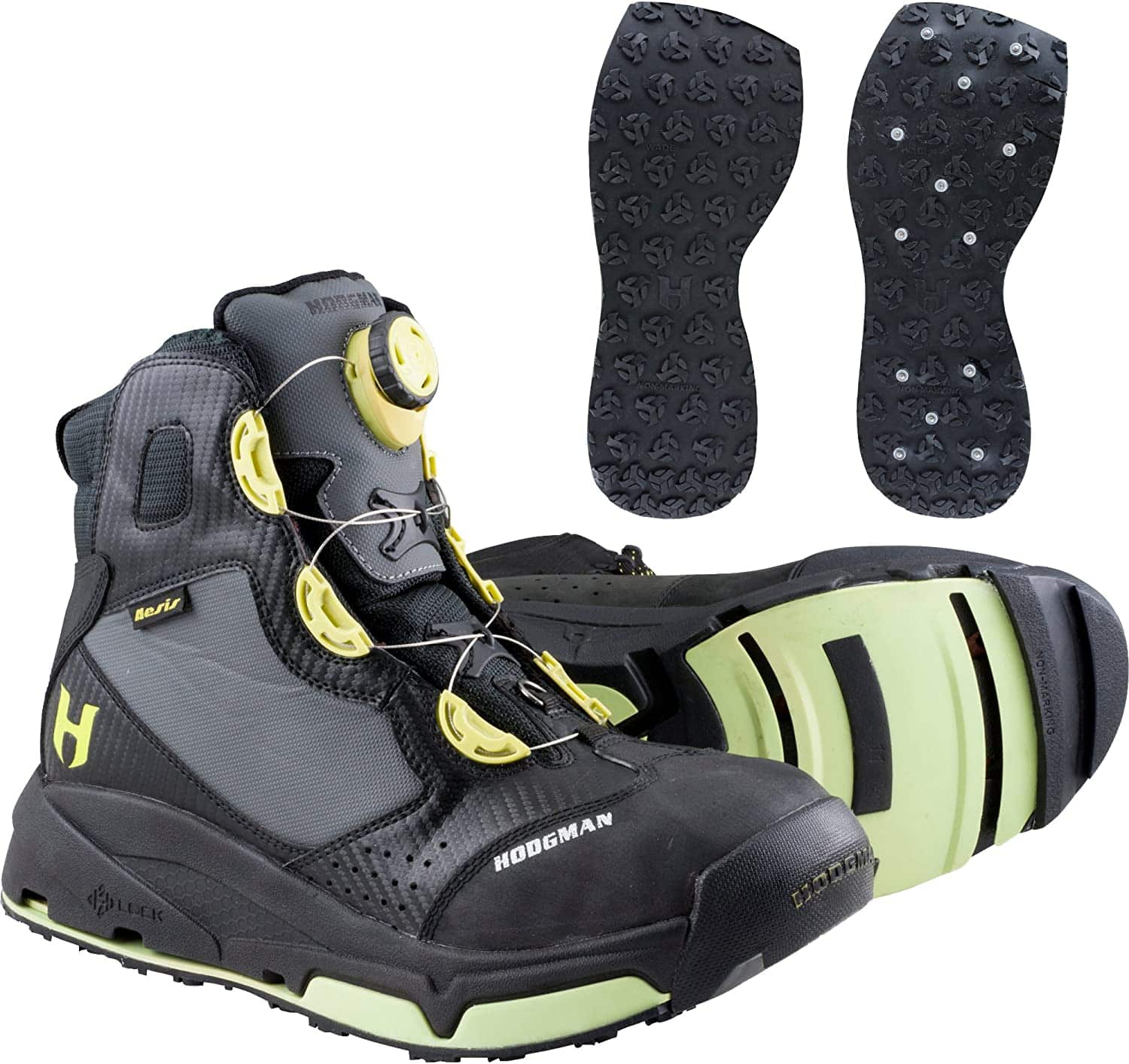 Hodgman's Aesis H-Lock Wade Boa Boot are a heavy-duty pair of fishing shoes ready to handle any situation an angler may come across. The Aesis fishing shoes feature an interchangeable sole system for continued traction over long periods of time. When one sole is nearing its end, simply replace it with a new one, and you will have fresh traction again. The soles are also stud-compatible.
The H-Lock system comes with drainage ports that quickly empty water to reduce weight when fishing. The durable synthetic upper is host to a BOA dial system for easily securing or loosening the fishing boot's fit. The Hodgman Aesis H-Lock Wade Boa Boot is also made to be abrasion-resistant for long-lasting durability.
Do not worry about your feet getting wet in the Aesis fishing shoes because of quality waterproofing. The stitches are also doubled up to help keep water out. The midsoles are shock-absorbing to help protect your feet in case of any hard stomping required by slippery surfaces. A reinforced rubber toe adds a layer of protection when walking around in areas full of debris or rocks.
Final Thoughts
We highly recommend the Hodgman Aesis H-Lock Wade Boa Boots because of their heavy-duty waterproof features. Though these boots are heavier than your standard pair of fishing shoes, they will likely last longer and perform better under more intense conditions. These shoes make a great pick for fishermen who fish often and in dangerous conditions.
Pros:
✔️ Heavy-duty
✔️ Waterproof

✔️ Highly durable 
Cons:
❌ Heavier than competitors
❌ Higher price point
Hodgman Neoprene Wade Shoes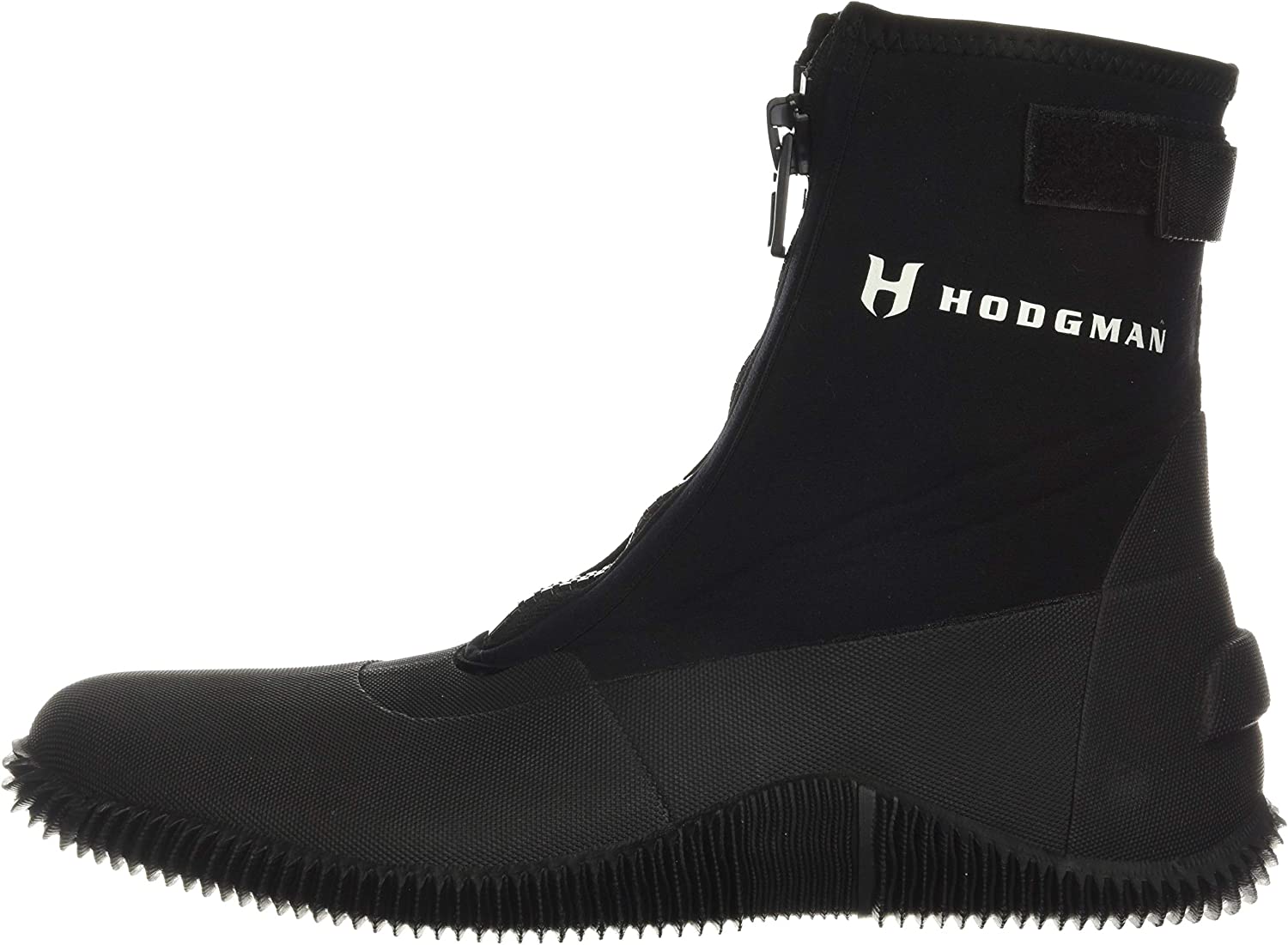 The Hodgman Neoprene Wade Shoes are the lightest fishing shoes on this list, with just one-kilogram weight. Its super lightweight can be attributed to the fact that it is mostly made out of neoprene, a waterproof material commonly used in wetsuits. Although neoprene is a type of rubber, it is more durable than standard rubber.
The Hodgman Neoprene Wade Shoes feature a zipper rather than a BOA dial or a lace system. For adjustments to fit, these fishing shoes have hook-and-loop cuffs which can be tightened and loosened. The soles are made of grippy rubber but are not stud-compatible.
Final Thoughts
The Hodgman Neoprene Wade Shoes are great for flats or warm-weather fishing. They are not very suitable for frigid environments with lots of debris or rocky surfaces. While the neoprene build is perfect for keeping cool and dry, it does not do a good job of protecting against sharp edges or blunt objects that your feet may collide with underwater.
If you are someone who enjoys fishing in shallow creeks or by rivers, consider purchasing the Hodgman Neoprene Wade Shoes for your next fishing trip.
Pros:
✔️ Super lightweight
✔️ keeps cool in hot weather

✔️ Waterproof
Cons:
❌ Not protective against edges
❌ Will not keep warm in cold temperatures
8Fans Non-Slip Wading Shoes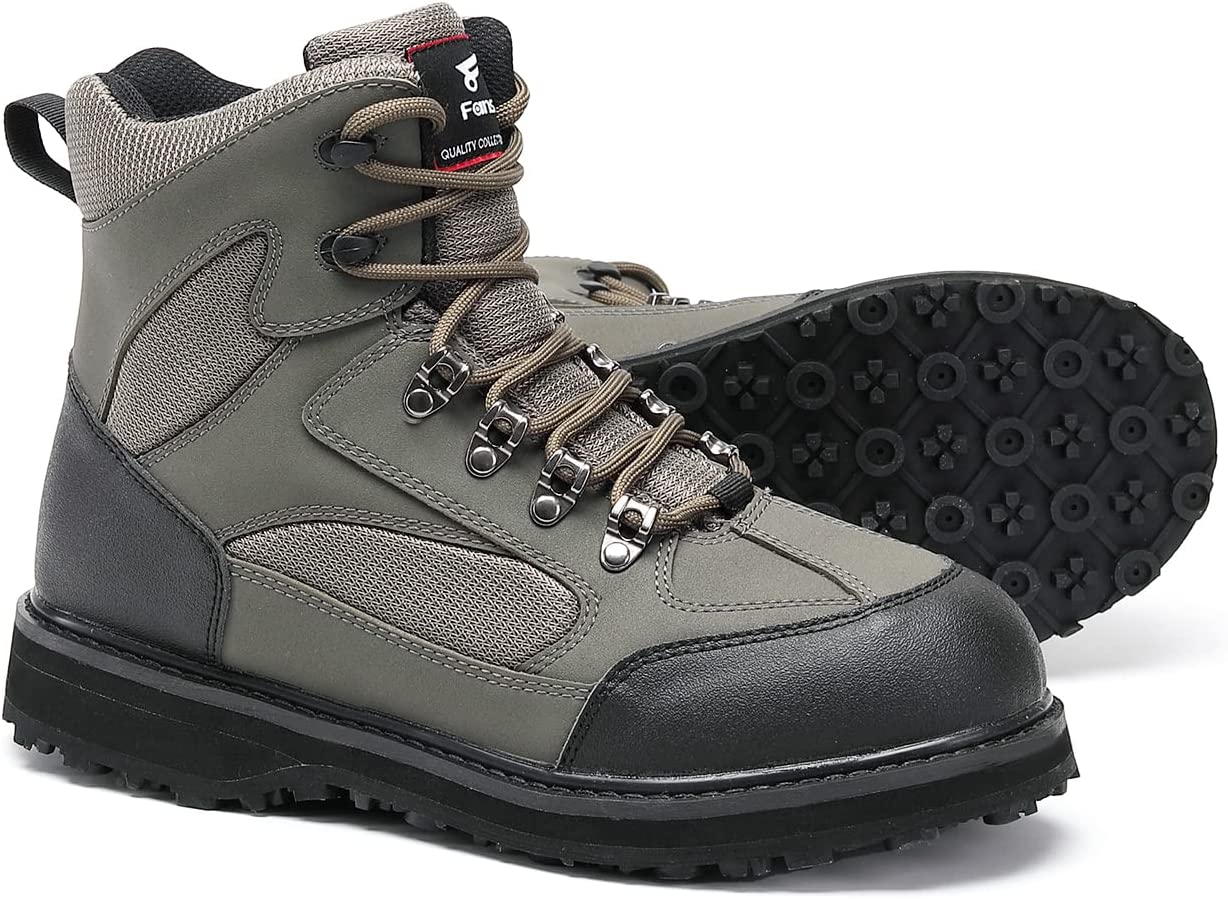 8 Fans' Fishing Wading Shoes are awesome for any outdoor activities, but especially fishing. As fishing shoes, these boots feature lightweight, super comfortable soles that are ideal for anglers who want to fish for a long time without a break. 8Fans Wading Shoes are complete with draining ports for fast relief from waterlogging.
These fishing shoes are made with PVC upper and a reinforced rubber toe for excellent durability. The speed laces are great for anglers who prefer traditional laces over other boot security systems. The 8 Fans Fishing and Wading Shoes are made with an extra-strong padded ankle collar for superior ankle support and protection.
This is very helpful in case of a fall and will reduce the chance of a broken ankle. The soles are created from anti-slip rubber but are not stud-compatible. The 8Fans Wading Shoes were designed with a neoprene sock in mind to be worn for extra protection from the water since the shoes themselves are not waterproof. Their wide collar design allows for a wide range of matchups with waders.
Final Thoughts
8Fans Wading Shoes are a solid all-around choice for fishing in wet environments. If you are someone who does not want to get your feet wet but wants the durability of these shoes, wear a pair of waterproof neoprene socks. The 8Fans Wading Shoes are a fantastic choice for anglers who need strong protection from obstacles and debris when fishing.
Pros:
✔️ Highly durable and protective
✔️ Space for neoprene socks
Cons:
❌ Not waterproof
❌ Not compatible with studs
Body Glove 3T Barefoot MAX Water Shoes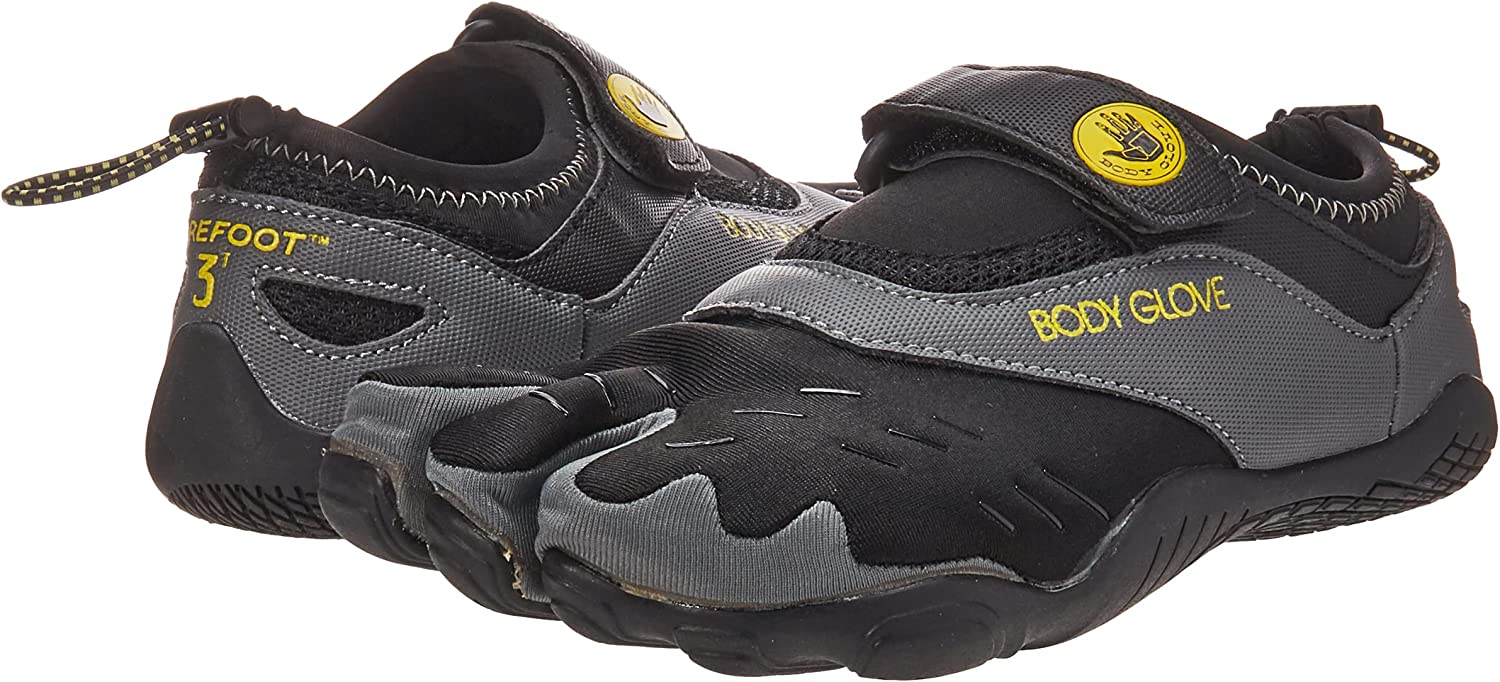 The Body Glove 3T Barefoot MAX Water Shoe is unique from any other fishing shoe in this list because it is shaped to have a minimalist barefoot feel. These fishing shoes feature a three-toe design meant to imitate the feeling of walking barefoot while providing the protection and grip of shoes.
The Body Glove 3T Barefoot MAX Water Shoes are meant to be used in the water. It is incredibly lightweight and can be used when kayaking, stand-up paddle boarding, fishing, swimming, and more. After use, these fishing shoes dry extremely fast because of an integrated drainage system. An adjustable shock lace system makes for easy adjustment to a perfect fit.
Final Thoughts
The Body Glove 3T Barefoot MAX Water Shoes made our list of best fishing shoes because of their high performance in fishing conditions where heavy-duty protection and waterproofing capabilities are unnecessary. These fishing shoes excel in situations where anglers want to feel as if they are not wearing shoes but still want protection from possible hazards such as broken glass or sharp rocks.
Pros:
✔️ Super lightweight 
✔️ Barefoot feeling

✔️ Highly versatile
Cons:
❌ Minimal protection
❌ Not waterproof
❌ Not compatible with studs

Buyer's Guide For The Best Fishing Shoes

Type
When trying to find which pair of fishing shoes will work best for your needs, you should know there are several types of fishing shoes to choose from. For anglers who are going to be spending a lot of time with their feet in the water, wading shoes are a great option as they are often waterproof. If you are a fisherman who mainly fishes on a boat in choppy waters, consider a pair of waterproof boots for your excursions. If you do not need to worry about getting your feet wet at all when fishing, look for a comfortable pair of shoes that will grip well on a boat's surface or whatever you will be standing on. 

Material
The best fishing shoes are made from all kinds of materials that each serve a different purpose. Neoprene, nylon mesh, rubber, leather, and felt are all very commonly used materials in fishing shoes. Neoprene, rubber, and leather are great for waterproofing, while felt improves traction, and nylon mesh reduces weight.

Traction and grip
Before buying a pair of fishing shoes, figure out what kind of traction or grip you will be needing for your fishing spots. Especially for places where you will be fishing on slippery surfaces, it is important to wear shoes that are cleated and if necessary, studded for extra grip. Since fishing always involves water, even if you are not going to be standing on wet rocks it is a good idea to get shoes that have solid traction.

Foot support
Support for your feet can be a game-changer when fishing for long periods of time. If you are on a boat during a choppy day, it is likely that your feet will start to get tired from stabilizing your stance. Shoes that support ankles and the balls of your feet will help reduce the fatigue from fishing for long periods at a time.

Durability
If you want your fishing shoes to last as long as possible, they will need to be durable. Shoes that have seams that are double stitched, rubber and soles that are reinforced will last longer than others. 

Additions
Be sure to determine what kind of security system such as traditional laces, a BOA dial, or another option, you feel will fit you best. Some people prefer the extra security of a BOA dial, while others enjoy the feel of laces. Drainage systems are another addition to look out for in fishing shoes. Though this may seem unnecessary, drainage systems can vastly reduce the water weight of shoes that are submerged. 

Washability 
Is it super important to wash fishing shoes after use therefore, the washability of fishing shoes must be considered when choosing a pair. Shoes that are only made of rubber will be simple to wash, while shoes with more complex components and made of multiple materials will require more care and time after use. 

Fit and comfort
Fit and comfort are paramount when choosing a quality fishing shoe. If your fishing shoes do not fit and are not comfortable, then you will not be able to fish very long without possibly sustaining an injury such as a blister. Make sure the shoes you are buying are the correct size, as sometimes certain shoe companies' products run smaller or larger than others. A good way to see if this is a problem is to look at reviews from others who have already purchased the shoes.

Foot Protection 
Reinforced toe boxes are a good feature for foot protection, especially if you might be at risk of hitting hidden rocks or debris. Another foot protection feature to look for in fishing shoes is padded ankles which can keep your feet stable and reduce the chance of injury if a fall occurs.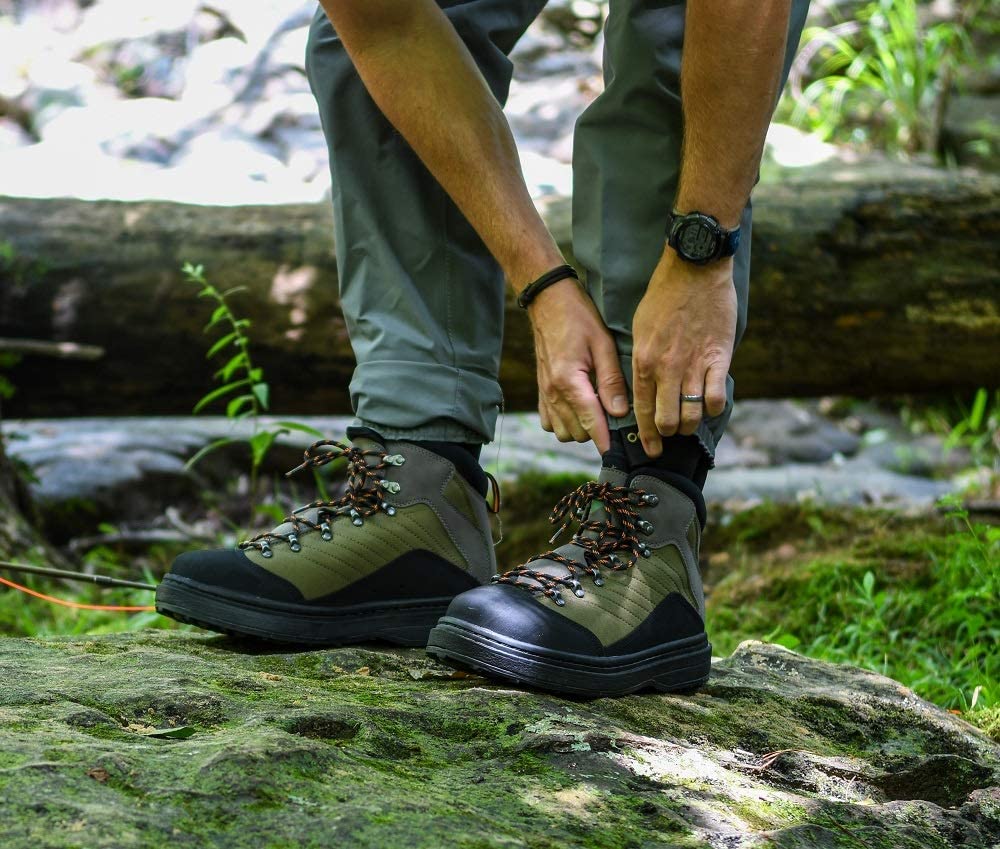 What Are Important Features of The Best Rock Fishing & Hiking Shoes?

Felt Sole Wading Boots
Felt-sole wading boots are the best fishing shoes when having to hike on slippery rocks. The felt material is much more slip resistant than rubber and acts as a type of velcro when there is moss or plant matter present.

Rubber Sole Wading Boots
Rubber sole wading boots are best for situations that are less slippery but have sharp objects or rocks in the area. Rubber is strong enough to stop pointy rocks from penetrating the shoe and will also help insulate heat for when it is cold.

Studded Sole Wading Boots
If you are dealing with both slippery and sharp rocks, studded-sole wading boots are the best fishing shoes because they have enough traction to grip slippery rocks and are also strong enough to protect against sharp edges.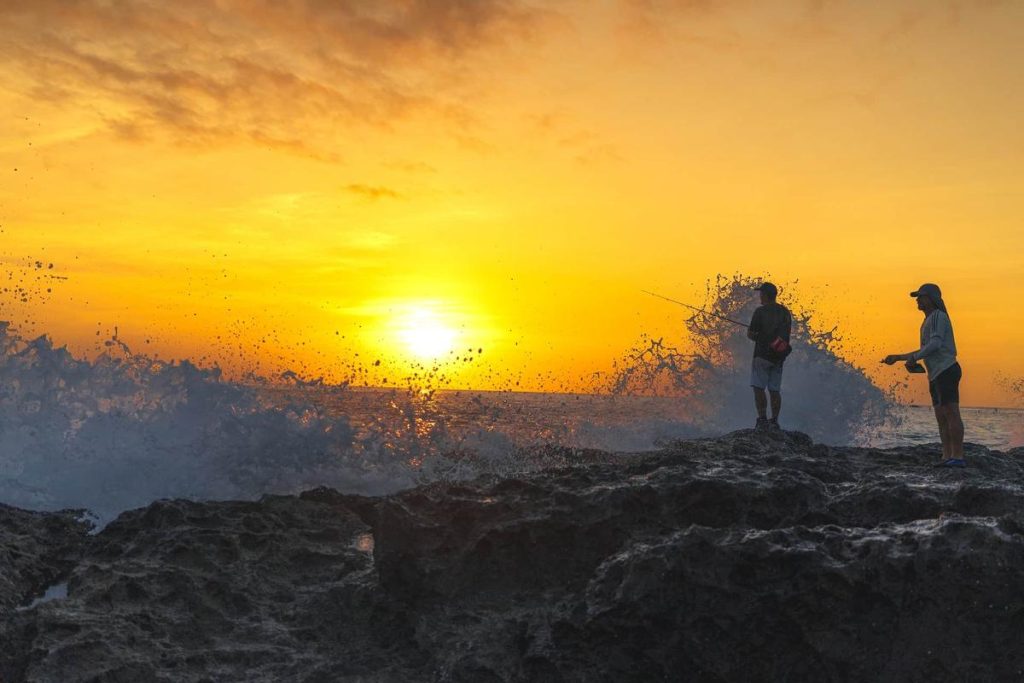 Ankle Support
Ankle support is crucial when fishing in an area where falling has a high possibility of occurring. Fishing shoes with ankle support can be the difference between a couple of bruises and a broken ankle. Ankle support also helps to stabilize you to reduce the chances of falling in the first place.
Heels and Toes Protection
Protection for heels and toes should be a top priority when fishing in areas that have lots of hidden debris and rocks. It is possible to break your heel or toe by hitting a hidden rock or object hard enough, and therefore, anglers should take extra precautions by ensuring their fishing shoes have protection where it's needed.
Lightweight
For anglers that will be wading or fishing in very wet conditions, lightweight shoes can be the difference between getting tired after an hour or a day of fishing. Unless shoes are 100% made of rubber, they will likely absorb some amount of water and gain weight, so it is important to start out with as little weight as possible for your fishing shoes.
Secure Laces
Having secure laces is a major part of fishing safety that every angler should check off. If your laces come loose while wading or hiking, it will increase the chances of a painful fall.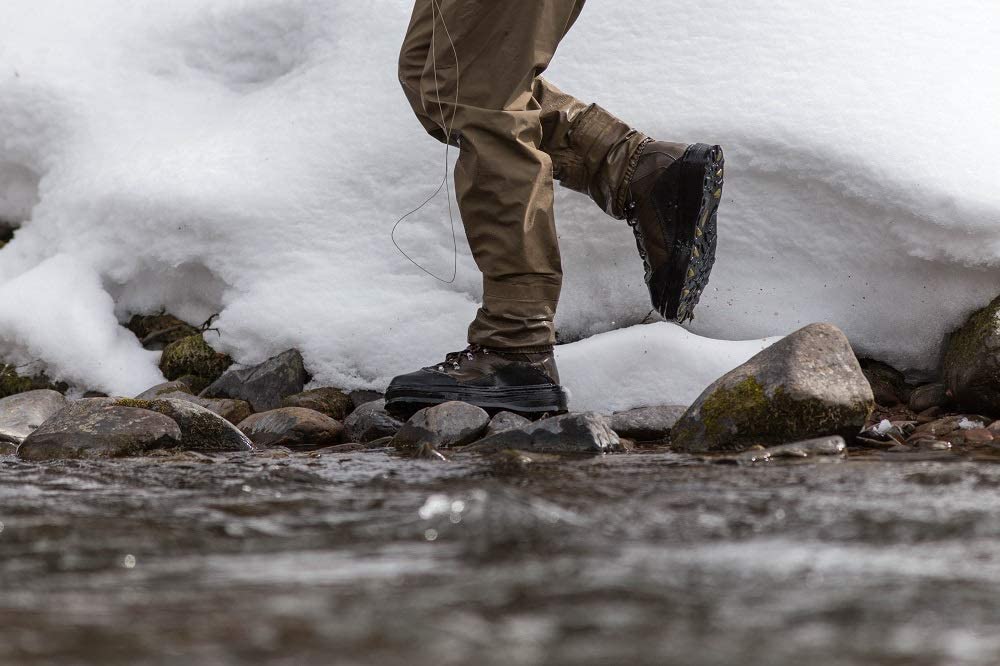 What Are The Different Types of Fishing Shoes?
Low-Cut Fishing Shoes & Boots or Waders
Low-cut shoes, boots, or waders are the best fishing shoes for anglers who like to fly fish or need to get in the water in order to achieve their fishing objectives. When waterproof and paired with wading pants, they can keep an angler completely dry even though submerged underwater.
Mesh Fishing Shoes
Mesh fishing shoes typically are not waterproof but can dry very fast. These are the best fishing shoes for fishermen who will be getting their feet wet but not submerged. The quick-drying mesh keeps your feet mostly dry and are lightweight. 
Deck or Boating Fishing Shoes
Deck or boating shoes are meant for fishing on boats. Since boats typically have very flat, slippery surfaces, the best fishing shoes for boats are made with a lot of traction. They are also usually fast-drying and lightweight since being on a boat increases the chance of getting your feet wet.
Water Fishing Shoes
Water shoes are a good option for anglers who want to fish while in the water and do not care about getting their feet wet. While not very protective or particularly grippy, water shoes provide fishermen with a lot of freedom to move around and will shield your feet from potential hazards such as broken glass. 
Aquatic Sandals & Clogs
Aquatic sandals and clogs are similar to water shoes but provide some more protection. They are heavier but, depending on their build, can guard against sharp rocks and debris.
Rock fishing shoes & boots 
Rock fishing shoes, as their name implies, are made for rock fishing which is one of the most dangerous types of fishing. Since rock fishing takes place on slippery surfaces, the best fishing shoes for these conditions are cleated and usually stud-compatible. They are also waterproof to keep the shoes from becoming waterlogged.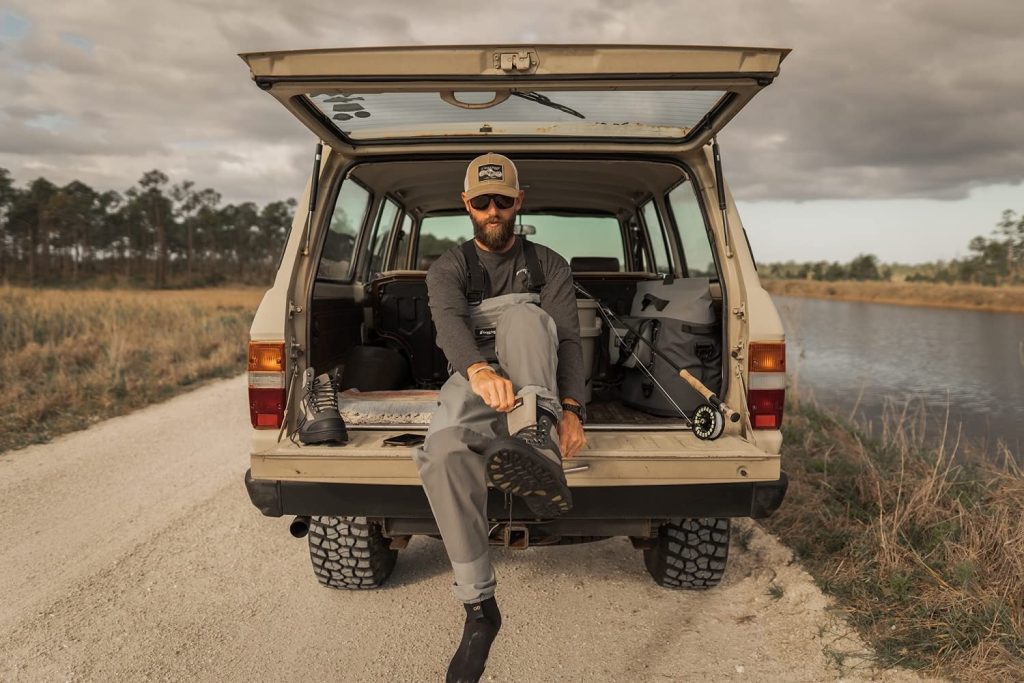 Conclusion
There are so many types of fishing shoes to choose from, so the best fishing shoes will be what fits your typical fishing scenario. If you like to fish in various environments with multiple styles of fishing, it may be best to purchase a pair of fishing shoes for each situation since shoes that are meant for rock fishing will not perform well when fly fishing.
All in all, safety is number one, so when picking the best fishing shoes for you, keep in mind what hazards you may be facing when heading out for your next fishing trip.
You Might Also Like
If you enjoyed reading this blog post on The Best Fishing Shoes, you might also be interested in:
Tags:
#The Best Fishing Shoes 2023, #Best Best Fishing Shoes Guide, #Best Fishing Shoes Buyers Guide, #Best Fishing Shoes Tips, #Best Fishing Shoes For Beginners